Welcome to our very first Wedding Theme Wednesday | Feather Wedding Inspiration!
Wednesdays usually consist of breathtaking cakes, but we have decided to switch it up a bit and incorporate amazing wedding inspirations styled around a individual theme. We are super excited to bring future "brides to be" stunning visions of just how their Big Day can come to life.
Today's Wedding Theme Wednesday has a fall bohemian feel emanating from it. As the leaves fall off of our autumn trees we start to see beautiful hues of coppery chestnut browns, beige & touches of gold. For our feature we wanted to show our brides different ways to integrate these beautiful patterned plumes throughout their decor.  Our brides bouquet is bursting with unique elements and delicate flowers, her grooms boutonniere showcases contrasting feathers with twine to bring them together. We love the added quills to the place setting & invitations even these fluffy wisps adorn the perfect little cake.
For more amazing inspiration flow along with us on Pinterest at The Wedding Concierge.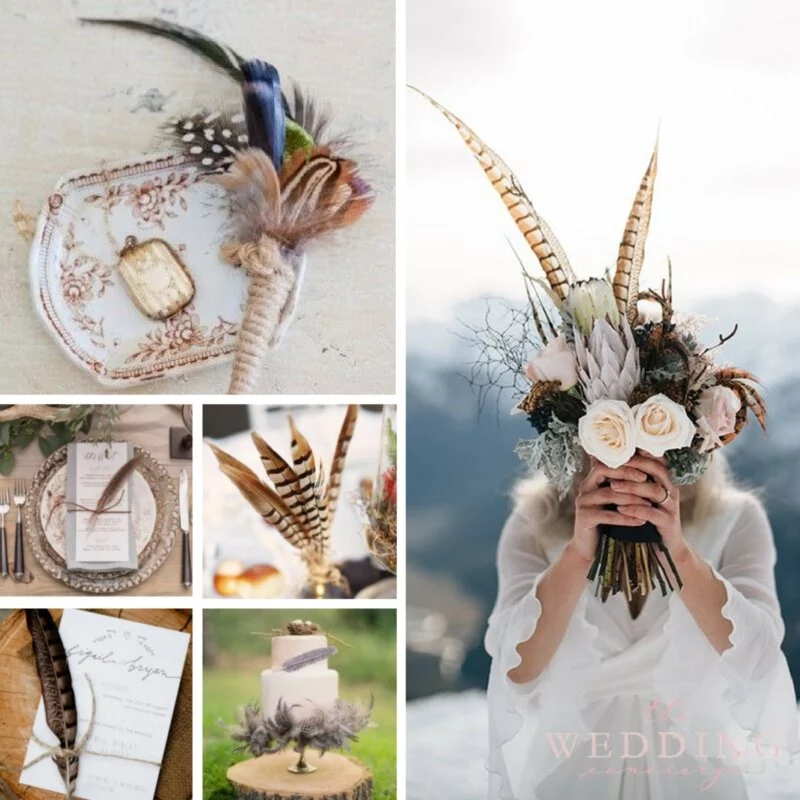 Image Credits:
Bouquet – Crimson Wedding Flowers – Photography – James Frost via Magnolia Rouge // Boutonniere – Garden on the Square – Planner – Elizabeth Demos Events – Photography – Jade + Matthew Take Pictures via Martha Stewart Weddings // Place Setting- Heather Durham and Lisa Smith Thorne – Invision Events Birmingham and Invision Events Auburn – Thorne & Thistle – Marked via Weddings Unveiled // Centerpiece – Rebecca Shepherd Floral Design – Photography – Alexandra Meseke Photography via Style Me Pretty // Invitation- Ruffled Ink – Planner – Ella Bella Floral & Wedding Design – Photography – Cascio Photography // Cake – Erica OBrien – Photography – Jose Villa via Green Wedding Shoes