We're so excited to introduce to you yet another fabulous contributor to our brand new Love + Lifestyle blog! Alyssa Thomas Doorhy joins us to share her insights on all of the latest fashion trends for styling bridal and the everyday woman! Alyssa is the Owner of CoChic Styling, a personal styling service located in Chicago.
***
Keeping up with the ever-changing fashion trends is not always easy but luckily, many bridal trends tend to overlap from season to season. In 2016 we'll see a slight shift from a soft, romantic look towards more vibrant color schemes as well as current ready-to-wear trends that are making their way to bridesmaids dresses. But there are also some hot bridal trends that are here to stay – for now. Introducing my 2016 Bridal Party Trends| What's In and What's Out edition.
COLORS
Every spring and fall, Pantone provides a Fashion Color Report which dictates the trending colors of that season. There is a little bit of overlap in the Spring 2015 to Spring 2016 Pantone Fashion colors, but 2016's are bolder and less feminine than what we saw last spring.
Rose Quartz and Peach Echo are pink and coral hues that were trending in 2015 and will still be on trend in 2016. Last year brides incorporated pops of darker pink and coral hues but this year I think we'll see full on coral bridesmaid dresses.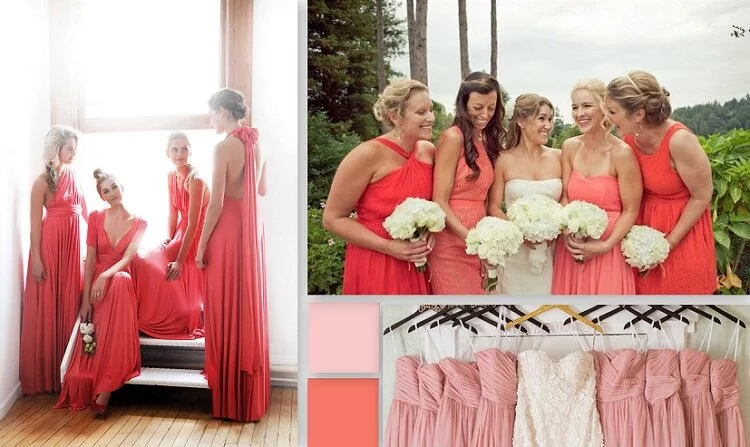 Clockwise from left to right: Two Birds Bridesmaid // Carlie Statsky // Hillary Gaskins Photography // Pantone
Blue tones are still trending, but they're a bit brighter. Rather than classic navy, brighter, maritime blues, like Pantone's Snorkel Blue and Limpet Shell (a turquoise hue) are trending for 2016.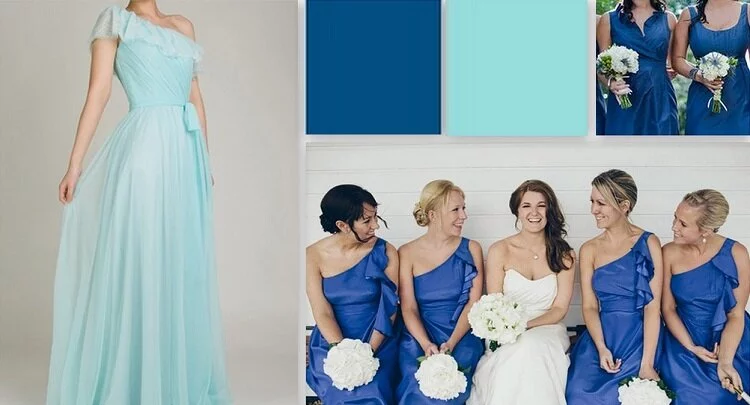 Clockwise from left to right: Tulle & Chantilly // Pantone // Corbin Guikin Photography //
New colors we're seeing are sunny yellow, fiesta red, and apple green. I wouldn't recommend putting these three dress colors together, but it would be pretty to incorporate them in flowers and decor! These vibrant colors are definitely new for 2016 as many brides chose soft, romantic hues of blush, ivory and metallic tones for their bridesmaids in 2015.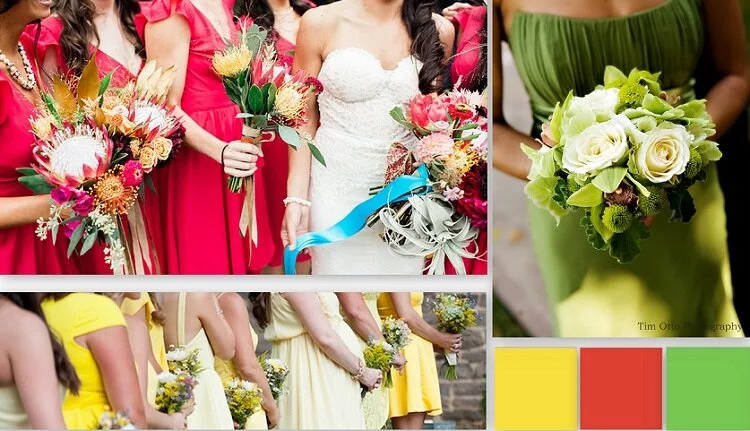 Clockwise from top left: Lauren Fair Photography // Tim Otto Photography // Pantone // Leanna Theresa Photography
MISMATCHED DRESSES
Having mismatched bridesmaid dresses is not a new trend for 2016 but it is still in style. Whether a bride chooses to have each bridesmaid wear a completely different dress or different styles of one designer's dress in the same color, this choice allows bridesmaids to feel more comfortable in what they're wearing. Not every bridesmaid will have the same body type, so allowing each 'maid to choose a style that fits her best makes so much sense! Everyone will be more confident, they'll be happier and the photos will look better. It's a win-win for everyone!

This is my bridal party from my wedding I styled in June! // Photos by Darcy Demmel
TEXTURE
Bridesmaid dresses with varying fabrics is a trend that is holding steady for 2016. Adding texture to some – or all – of the bridesmaid dresses adds dimension to the photos and creates interest. As a bonus, textured fabric, like lace and chiffon, allows for a beautiful backdrop for the bridesmaid's flowers.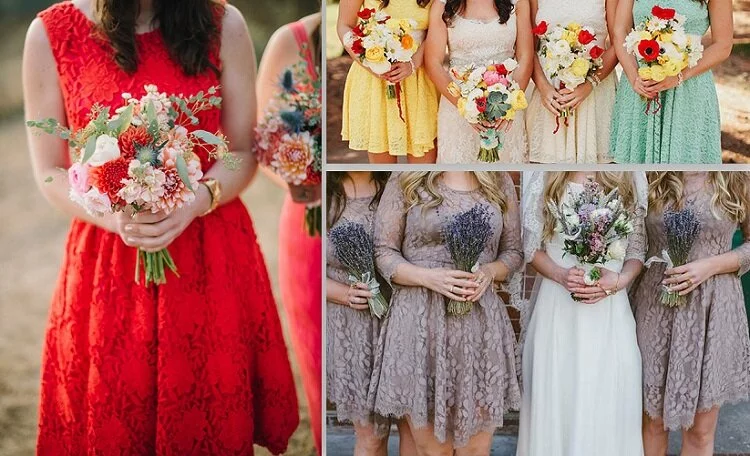 Clockwise from left to right: Delbarr Moradi // Matthew Morgan // Ellie Gillard Photography
OFF-THE-SHOULDER
A reigning fashion trend for fall 2015, off-the-shoulder dresses are also trending for bridesmaids. Drop shoulder (seen in the lilac-colored Jenny Yoo dress below) is a good way to incorporate this style without being overly trendy.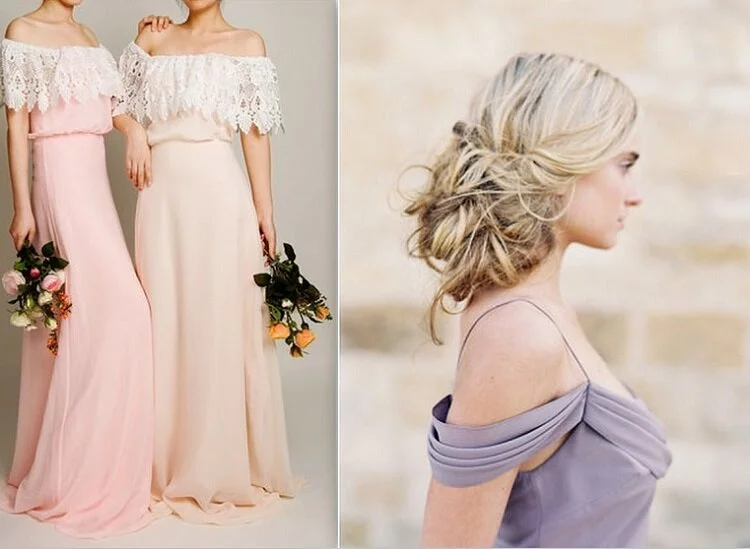 Tulle & Chantilly // Photography by Caroline Tran
WHAT'S FADING OUT
Ombre dresses
Head to toe glitter dresses
Rose gold
All dresses and decor in soft romantic hues
Like I said, bridal trends tend to last a little bit longer than ready-to-wear fashion trends, so there is overlap from season to season. I don't think any of the above are totally OUT of style. If you are in love with a certain style and it makes you excited and happy, go for it! Don't worry about whether it's "in" or "out". It's your day!
What's your favorite 2016 bridal party trend? We'd love to know!
***
Be sure to follow Alyssa's blog & Instagram to stay up to date with her latest styling advice!