Samantha & Trevor met in a very unusual way for most couples, they were both attending an anti-valentine's day party at their college. This may give you the impression that they were both against finding love, but as we all know, when you meet the one, you just can't fight the feeling. After college, they spent about 19 months making their relationship work long distance. Keep reading for their advice on how they were able to make it work.
Sam and Trevor did an amazing job handcrafting every detail of their day, to include special touches from their heritage. Set at each place setting included a homemade jar of pepper paste made from a Guam family recipe, and a bundle of homemade cookies that Sam describes as a Guam delicacy. Her and Trevor also wore celebratory leis to honor her father's heritage. They used a pink and green pallet that was really brought together by their AMAZING florals provided by Karins Florals.
Photography by Callie Hardman Photography
What Was Your Something Blue, Old, Borrowed, & New?
Blue: My mother gifted me a beautiful handmade garter from etsy.
Old: I wore my grandmother's brooch both on my garter and my bouquet.
Barrowed: A close family friend provided a beautiful pearl and crystal cuff.
New: My sister gifted me with my wedding dress and my mom bought my veil.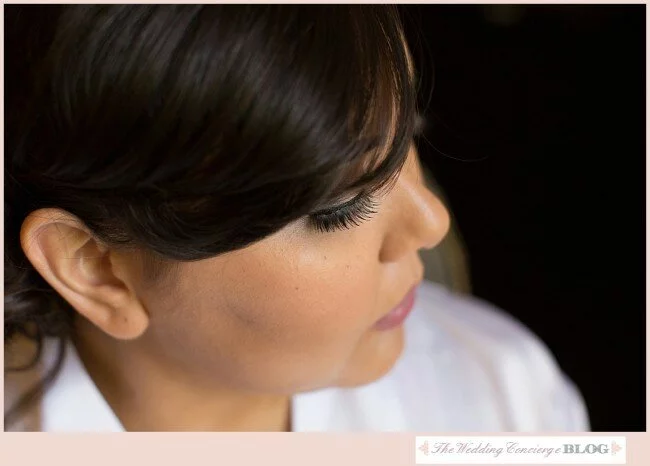 Tell Us About Your Bridal Style
I'm a fan of classic and vintage influenced design so I chose a simple ivory satin dress with a glamorous crystal and lace bolero for my wedding dress; I'm curvy and wanted something to show that off while maintaining a conservative/classic look. I chose a delicate rose petal pink bridesmaid dress with a sleeveless lace bodice. The bridesmaid dress was just above knee length with a high waist cut so it was flattering on all of the girls alike.
What Was Your Vision For Your Wedding Day?
We envisioned a beautiful warm day of celebration with family and friends. We planned to get married in the Church where my two sisters were also married, and we liked the classic/vintage appeal of a manor house for a fun/formal reception. Our biggest priorities were good food, good spirits and good company. One of our favorite mutual books is the Great Gatsby, and it played a big role in our inspiration for style and décor.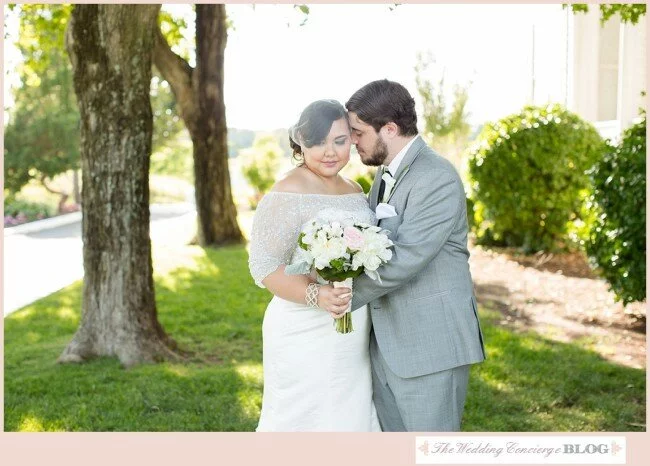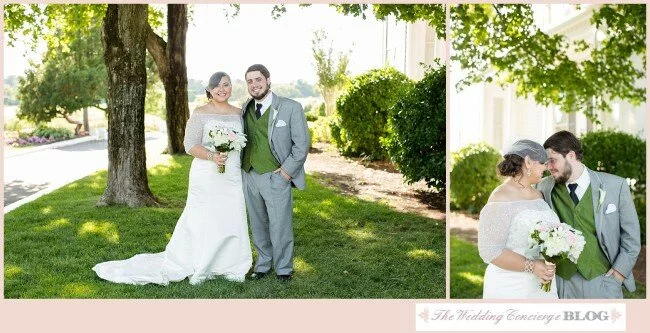 Best Advice For Other Couples Going Through a Long Distance Relationship?
Sam: Be patient and empathetic to your partner's daily experience, and don't be afraid to over communicate…So much about connection is non-verbal and modern technology can only help with that so much. Be honest and upfront about your limits on personal sacrifice; financial stability should be a priority when making long-term decisions, nothing stresses a relationship out like merging a household and finances.
Trevor: Talk every day. Surprise each other with visits. Talk about all the little things that happened during the day even if you think they'll be boring. It's amazing how close you can feel when you share everything with each other, the distance starts to melt away.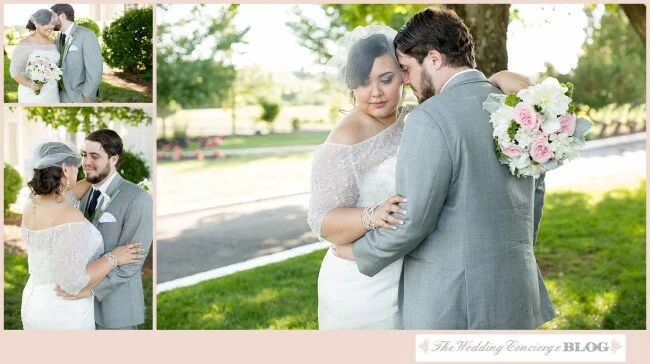 Were There Any Traditions You Incorporated Into Your Wedding Day?
I am a practicing Catholic (Trevor is agnostic), but we chose to get married in the church and we also incorporated a Veneration of Mary into the ceremony.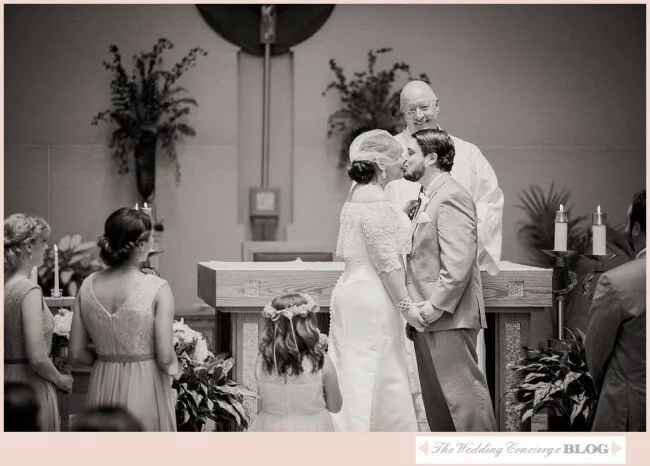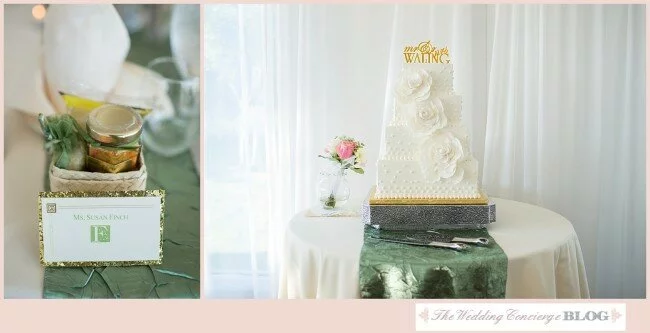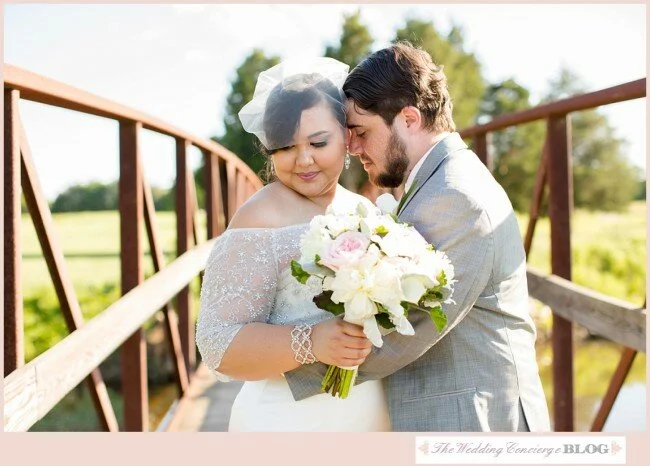 What Was Your Favorite Moments of the Day?
Sam: My favorite moment of the day was immediately after the ceremony when Trevor and I took a town car to the reception and had a moment to just be in each other's presence alone for the first time as husband and wife.
Trevor: The ceremony. As great as the reception/after party was, seeing Sam walk down the aisle is the most vivid memory I have of that day.
What Was Your Favorite Part of the Planning Process?
I am a program/project specialist so planning is a big part of my life…much to Trevor's dismay, haha. In that respect we're perfectly balanced because he loves to be spontaneous and hates to plan, I'm the polar opposite. I loved every bit of it and was probably over organized; Trevor was terrified when I had 3 excel spreadsheets already going within 24 hours of his proposal. If I had to pick one thing it was the favors/gifts, I really love giving presents to friends and family.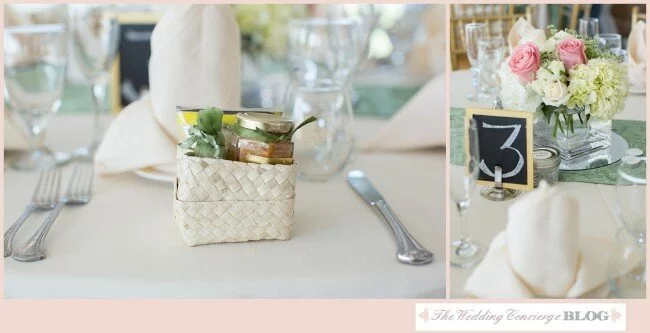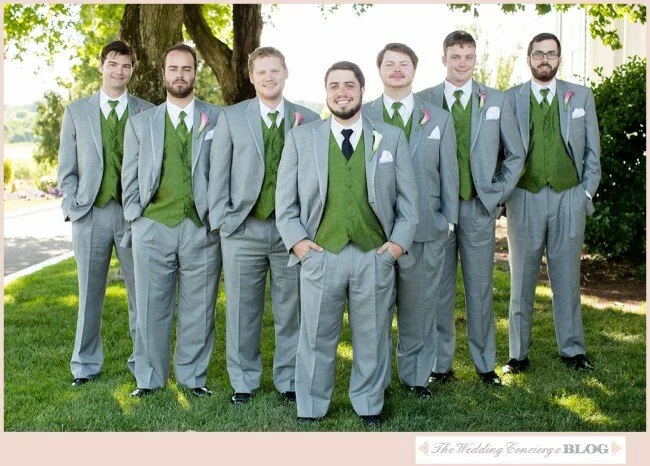 Do You Have Any Advice to Other Couples Planning Their Day?
Sam: Prioritize and set a realistic budget, but don't get hung up on penny pinching or you'll be miserable – decide what items/services are most important and indulge or splurge on those and reserve funds on other things that are less important. The earlier you plan your wedding the more bang for your buck you will get. Decide early on how much you want family and friends involved in the planning process. You and your spouse should lean on each other and remember what it's all about.
Trevor: Guys, be strong and be a rock. Support your fiancé with whatever it is that she needs. No matter how much work you think you are putting in, I can guarantee that she is doing at least double that. Just be there for her to help calm her down and make it alright when she needs it (and she will need it).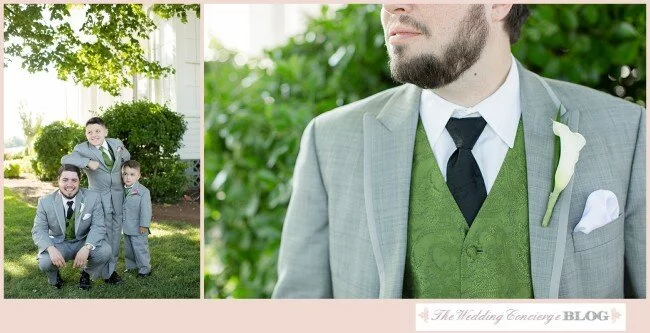 Looking Back, What Was The Best Decision You made When Planning Your Wedding?
Our best decision was to indulge in all great vendors; good service can't be beat, and we got the best. We used a florist and bakery that is very near and dear to our heart; we used a team of great make- up/hairstylists from a friend's boutique spa and salon; we had a great venue that prioritized an amazing atmosphere; we used a band that has special meaning for Trevor and I; we used a great photographer to help us remember every detailed moment of the day that our lives started together.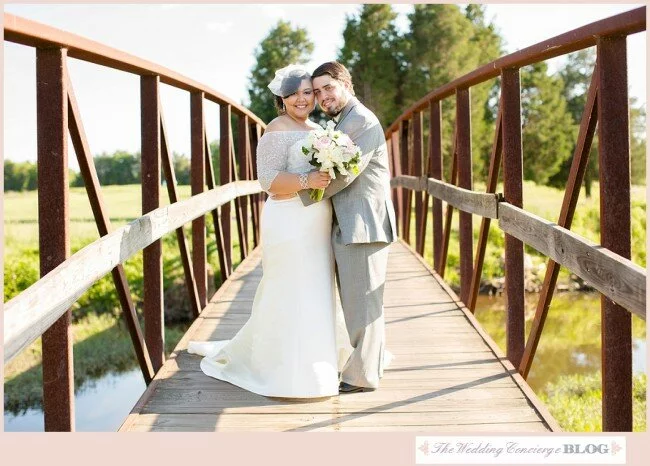 Where Did You Honeymoon?
Ocean Blue & Sand Resort in the Dominican Republic. We highly recommend our honeymoon spot. It was the perfect amount of relaxation and fun needed after a year of wedding planning and saving.
Vendor Credits:
Venue – Bristow Manor Golf Club // Florals – Karin's Florals // Cake – Sweet City Desserts // Hair & Makeup – Lofty Salon // Dress – Oleg Cassini via David's Bridal // Entertainment – Lost in Transit //