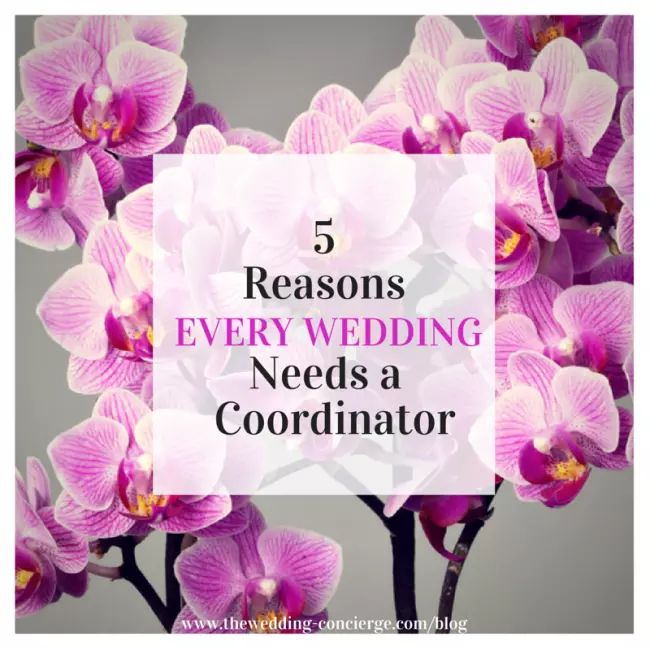 Like every bride, we know how stressful and exciting it can be to start planning the biggest day of your life. Hiring a wedding coordinator can help lesson the stress and give you more time for the exciting parts. Here are 5 reasons every wedding needs a coordinator.
To Ensure Your Vision
A wedding coordinator hired by you is much different from one that is provided by your venue. A coordinator from the venue is there for the best interest of the venue, while a coordinator hired by you is there for the best interest of YOU. They will also help to ensure that you get what you discussed with your venue on previous walk-thru's and is in your contract on the day of. As a bride, you don't want to be dealing with any minor (or major) issues on your wedding day. Let your coordinator take care of it, and you just keep on sipping that champagne!
To Keep the Timeline Flowing
There is A LOT that goes into running an event and making sure it gets executed to perfection. You won't have the time to make sure those centrepieces are exactly as you envisioned when you should be spending time with your girls and getting your hair done. Perhaps another vendor is running late, or having trouble finding the venue? You won't necessarily have the time to be fielding phone calls and directions. Let your coordinator handle these tasks and help make sure your day is running not only smooth, but on time!
To Remove Stress
Alleviate the stress for you and your family members who are busy trying to help you on the day of instead of being with you in the moment and enjoying the day alongside you. Hire a coordinator to take care of all of the days busy ins & outs like vendor check-ins, hunting down a missing groomsman (or Groom!), and alleviate the stress it could cause you and your family. Wouldn't you rather your Mom be present with you as you put on your dress instead of having her in the reception area making sure those napkins are folded just right?
To Give You Peace of Mind
Imagine how much more you could be enjoying your wedding day knowing that someone else is at the helm of the day and taking care of anything that's going on. The bride should be enjoying her day and spending these precious moments with her closest girls and family leading up to her walk down the aisle. Knowing that you have someone on your side throughout your planning process, or at the very least, the day of means more than we can ever describe. The peace of mind a great wedding coordinator can provide is priceless.
They Know What They Are Doing
How many weddings have you planned (okay, don't answer that)…but seriously, let's leave it to the professionals. This is their JOB. They do this for a living and do it weekend after weekend. Let them take over and help give you the most relaxing, beautiful, joyful, and love filled wedding day that every bride deserves. Plus, chances are, they have already established a working relationship with your other wedding vendors, and that means they have a system to becoming a team and making sure your event is one to remember.
One More Thing…
When we say you need a coordinator, we mean you need to hire a professional. We're sure your cousin, aunt, friend, mother's aunt who planned so & so's wedding are nice and well-meaning people, but TRUST US when we say that you don't want the day you have been dreaming of to be left in the hands of a non-professional. If something goes wrong, or work just isn't getting done then this makes for some strained relationships and very difficult conversations. Avoid this altogether by hiring a trusted wedding professional.