Today, we are super excited to have the wonderful Valerie Pritt, owner of Fleur de Lis Event Consulting, guest posting for us. She's not only a talented wedding planner, but she is the queen of organization, especially when it comes to planning your wedding day! Every bride usually starts in the same place when it comes to wedding planning…Pinterest. Are you left wondering how you can  make your pins make sense and turn them into a realistic vision for your wedding day?
Valerie is here to tell you how!
*****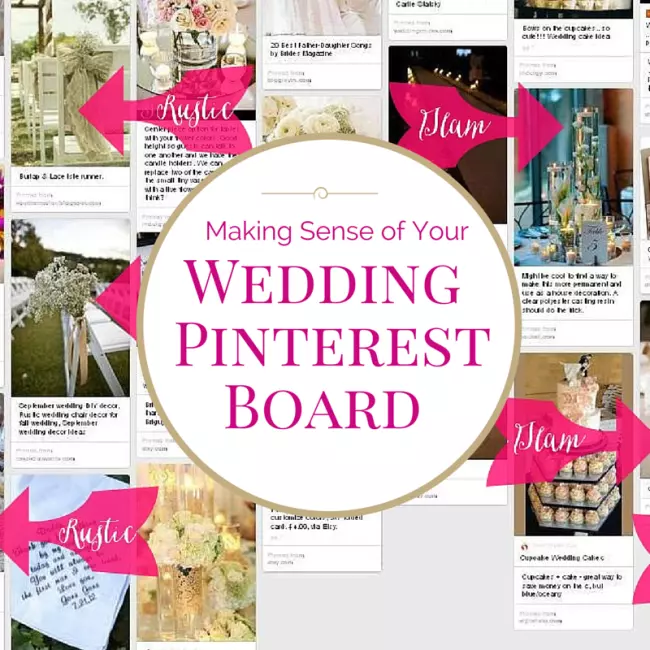 One of the first steps you might find yourself doing once you get engaged is creating a Pinterest wedding board. Pinterest is a great wedding tool (one I wish I had when I was getting married), but with so many ideas and jaw dropping images flooding your feed, it's pretty easy to get carried away. You might pin a brightly colored wild looking bouquet, next a rustic burlap and lace jar of baby's breathe, then a tightly bound bouquet of modern elegance- by the end of your pinning adventure you might have one hot mess. However, you might not realize it until you share the link with your florist and she says, "so, which wedding do you want- the fun bold one, the rustic looking one or the modern elegant one?" Making sense of your pinterest wedding board can be a grueling and daunting task at first but here are some helpful hints when trying to get a clear idea of what you're wanting your special day to be about.
Take a few days to think
Take a break from wedding planning just for a few days. Spend some time reflecting on what color scheme, theme or feel you want your wedding to be without Pinterest distracting you. This wedding is your story; the story of how you two met, how you two fell in love and how your bond is so unique. So take some time and really think about what makes you guys the couple you are and try to incorporate that into your wedding somehow.
Getting Organized
Now that you've had some time to ponder your wedding design, go through your Pinterest page and start labeling your pinned pictures. Ask yourself these questions when cataloging, "What do you see (rustic, shabby chic, modern)? What style do you like? What does this picture mean to you?"  Don't just stick to one wedding board, create a few; create a board for your florist, photographer and planner.
Action Plan
Once you have a clear vision as to what you'd like your wedding design to be, remember to keep that in mind when you start meeting with your vendors. Your vendors will want to see your Pinterest board, but first tell them what you're envisioning. Let them understand the foundation behind your ideas before you jump up and show them on Pinterest. It is important that a vendor grasps your overall vision and not just a single picture because individual budgets will play a huge part in the final design.
*****
 Valerie Pritt is owner and principal planner/designer of Fleur de Lis Event Consulting. She is located in Pensacola, FL and specializes in day of coordination for couples getting married on the gulf coast. Her services also include virtual wedding planning and design for DIY brides across the country. If you want to learn more about Valerie and her company just hop over to her website, www.fldeventconsulting.com.