When we first saw Elizabeth Moore's own baby gender reveal we were speechless! Not only did it involve cake (our favorite!) but it also had the most adorable mini Goldendoodles! Elizabeth and her husband decided to feature their two dogs in a "cake smash" fashion in order to reveal the gender of their upcoming bundle of joy in the best-ever Goldendoodle Gender Reveal.
Thanks so much for sharing your photos with us and we wish you the 5 of you the best of luck!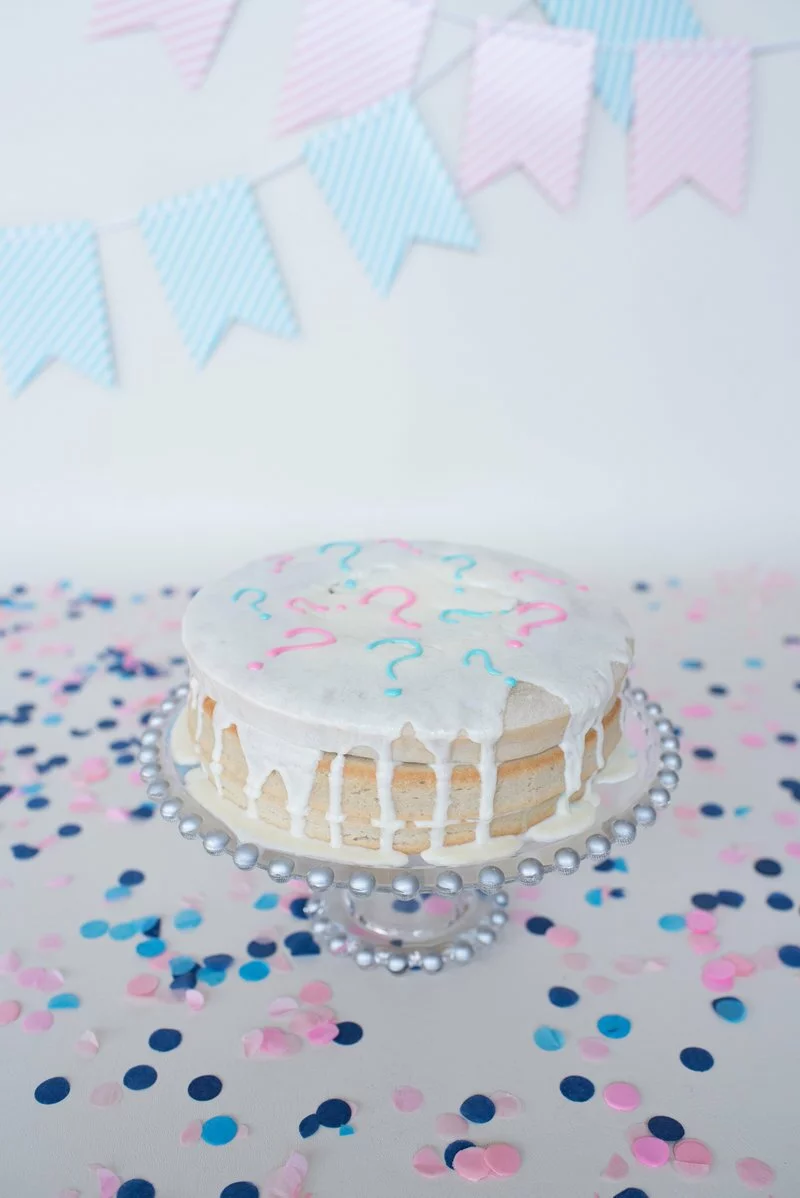 How did you and your husband meet? 
Matt and I met through a mutual friend during our senior year of high school. We were both dating other people at the time, but reconnected during our sophomore year of college and the rest was history!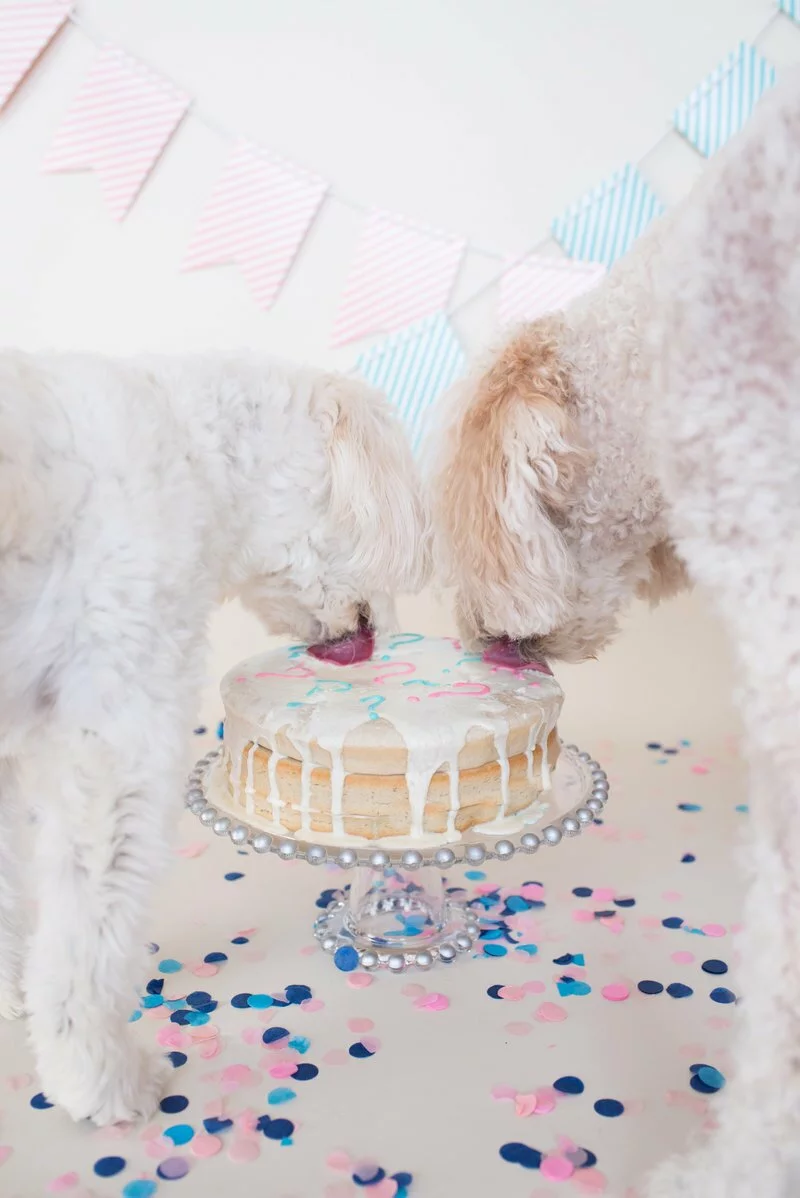 How did you break the news of the pregnancy to your husband and families?
I always told myself that when I found out I was pregnant, I'd wait and tell Matt in a super cute and adorable way. However, when I discovered I was expecting, we were on a family vacation in Texas. I was so afraid that I'd let it slip or Matt would think I was acting strange if I changed my behaviors that I just pulled him aside to tell him within a couple hours after I found out. We were tossing a football back and forth to each other a distance away from our other family members and asked him to come closer to me. I told him right then and there and he started to tear up and hugged me. It wasn't what I had always expected, but it's part of our story now 🙂
For my family, we bought big 40 inch gold letter balloons that spelled out "BABY" and brought them to my parent's house We asked them to come into my old bedroom where it was all spelled out! For Matt's family, we had JUST moved into our first house, so when they came to visit we had a box and gave it to them saying we had found something of theirs in the process of moving. Inside the box were blocks that are a countdown and said "XX days/weeks/months until we're grandparents!". At first they didn't understand since they'd never seen it before and it couldn't be theirs from before we moved, but after a couple seconds they realized what was going on and tears started pouring out!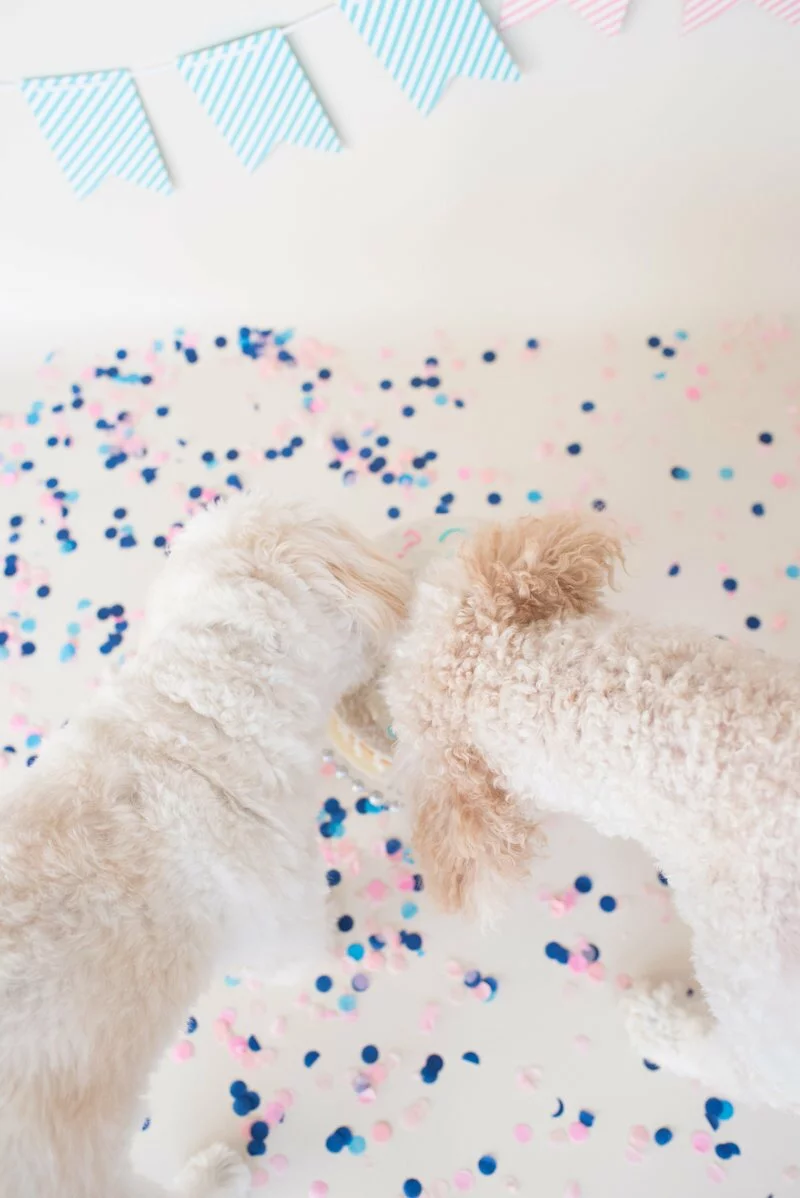 What are you most excited about your new addition to the family? 
We're both so excited to see each other become parents and take that next step in our lives. Ever since we started dating, our favorite thing to do was go on adventures, whether it be to a local park to hike where we haven't before, or to take a trip somewhere. This is a completely new adventure for us, and we're both so excited to go through it together, despite not knowing what to expect!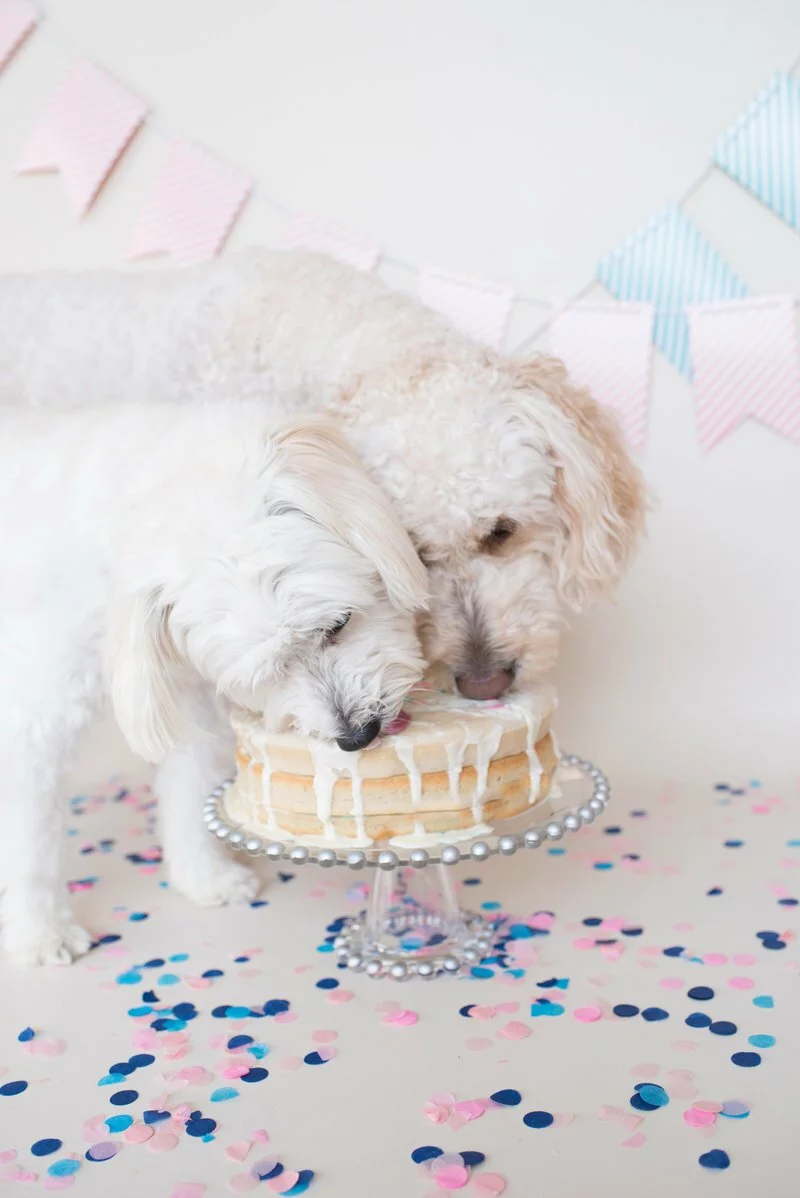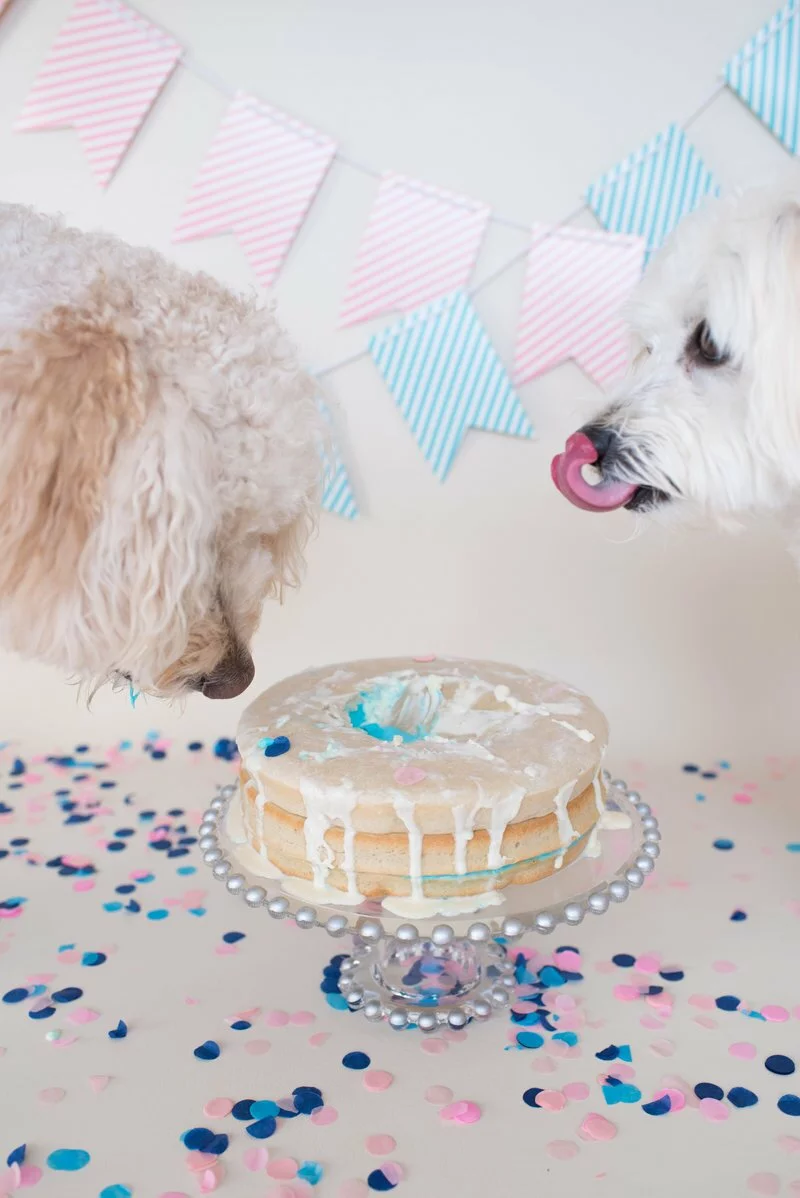 When is your due date?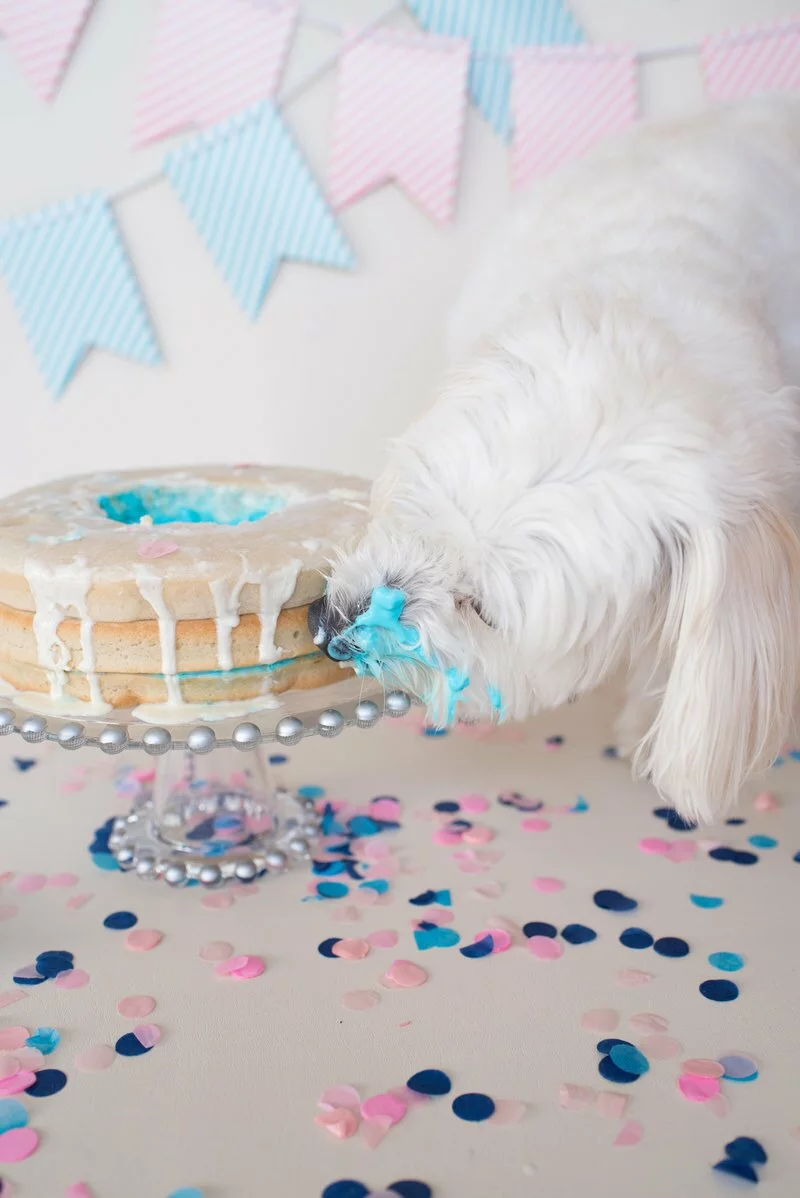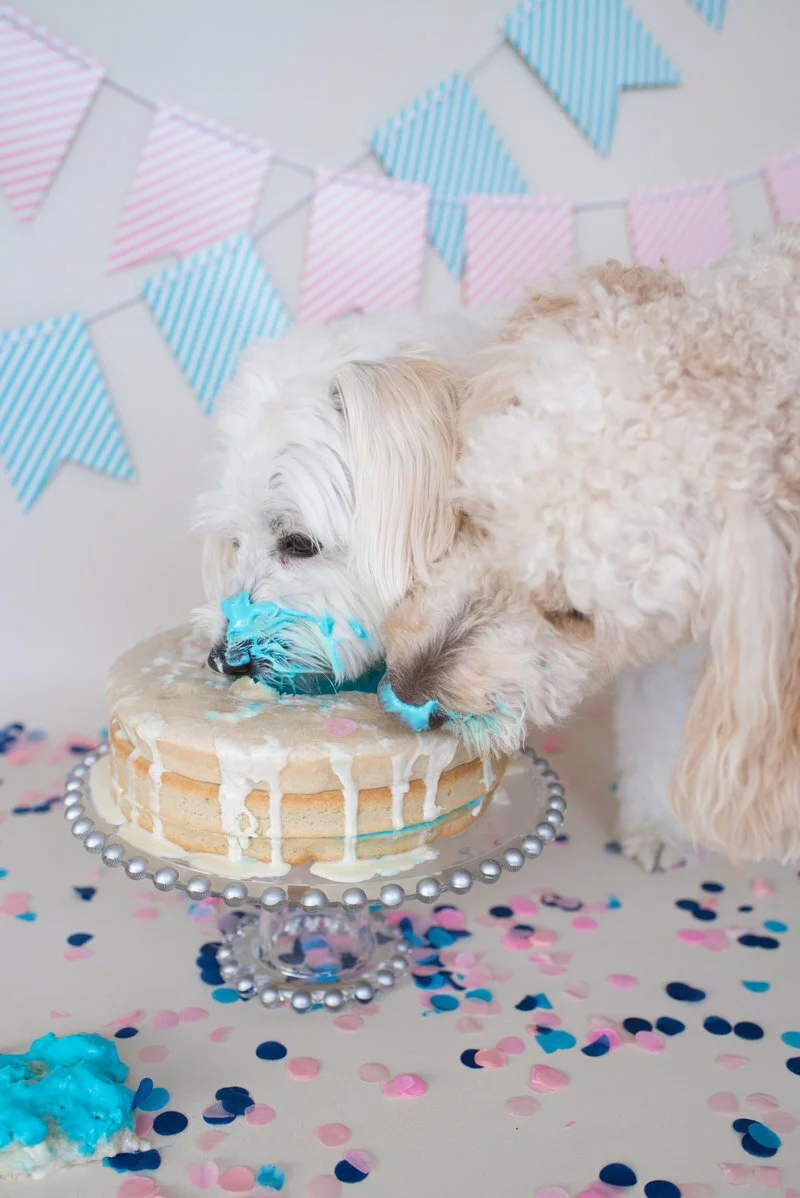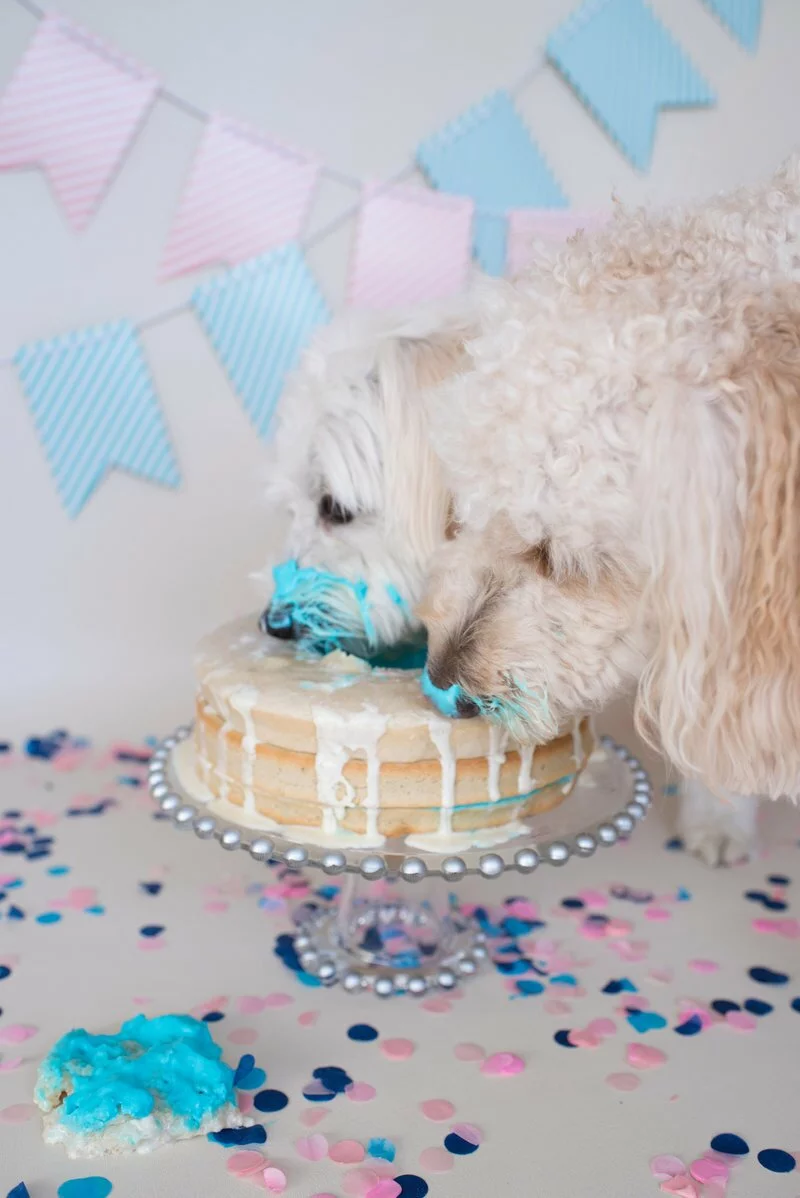 What has been your favorite part of your pregnancy so far?
Within the last couple weeks, I've started to feel him kick. Now I can SEE him kick and push out on my belly and it just makes it so much more real that WE'RE HAVING A BABY BOY!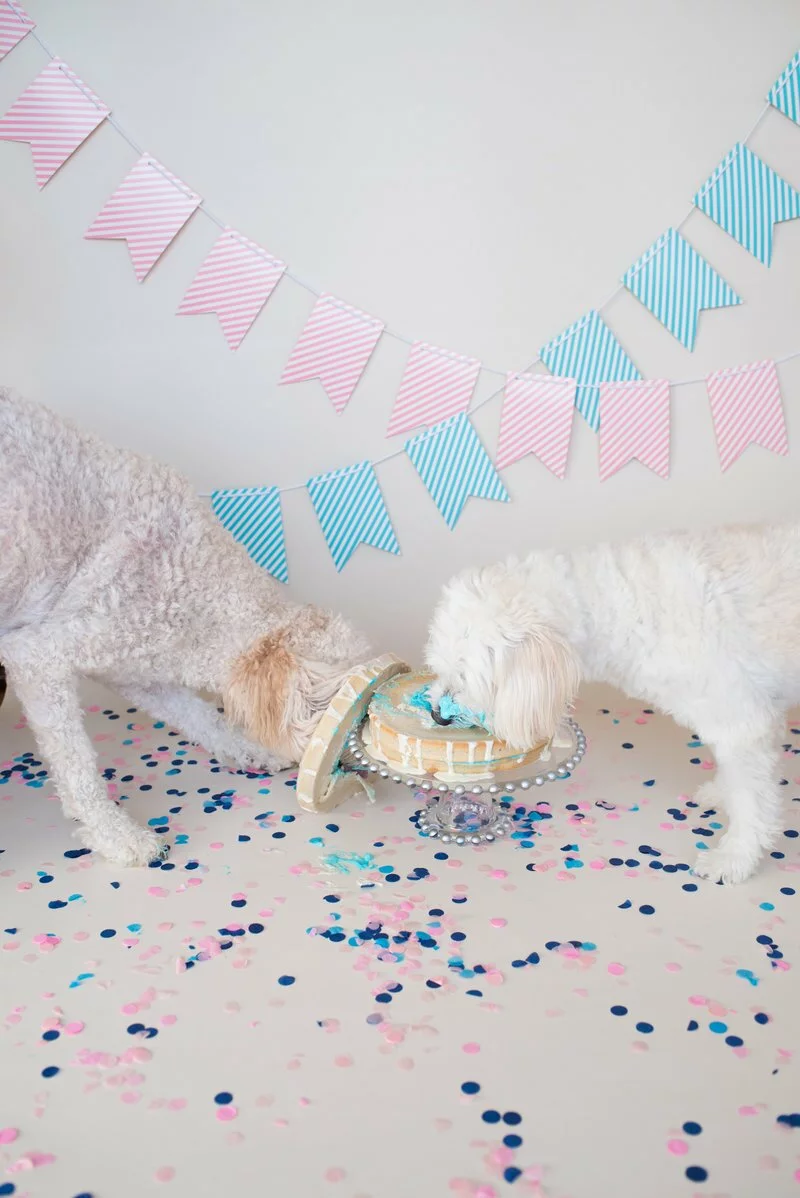 Do you think that having a dog (or two!) prepared you in any way for your first child? 
Absolutely 110% We often tell people we're ready because we have "a Tanner" (the name of our youngest dog who is always up to no good). Tanner is a Mini Goldendoodle, and as every Goldendoodle owner will tell you, they are constantly trying to find something to get into – especially anything paper related! Because of him, we are constantly on guard and aware of where he is in the house! It also makes us hyper-aware of things that aren't "Tanner-proofed" so it makes us think like a chess player – a few steps ahead! 🙂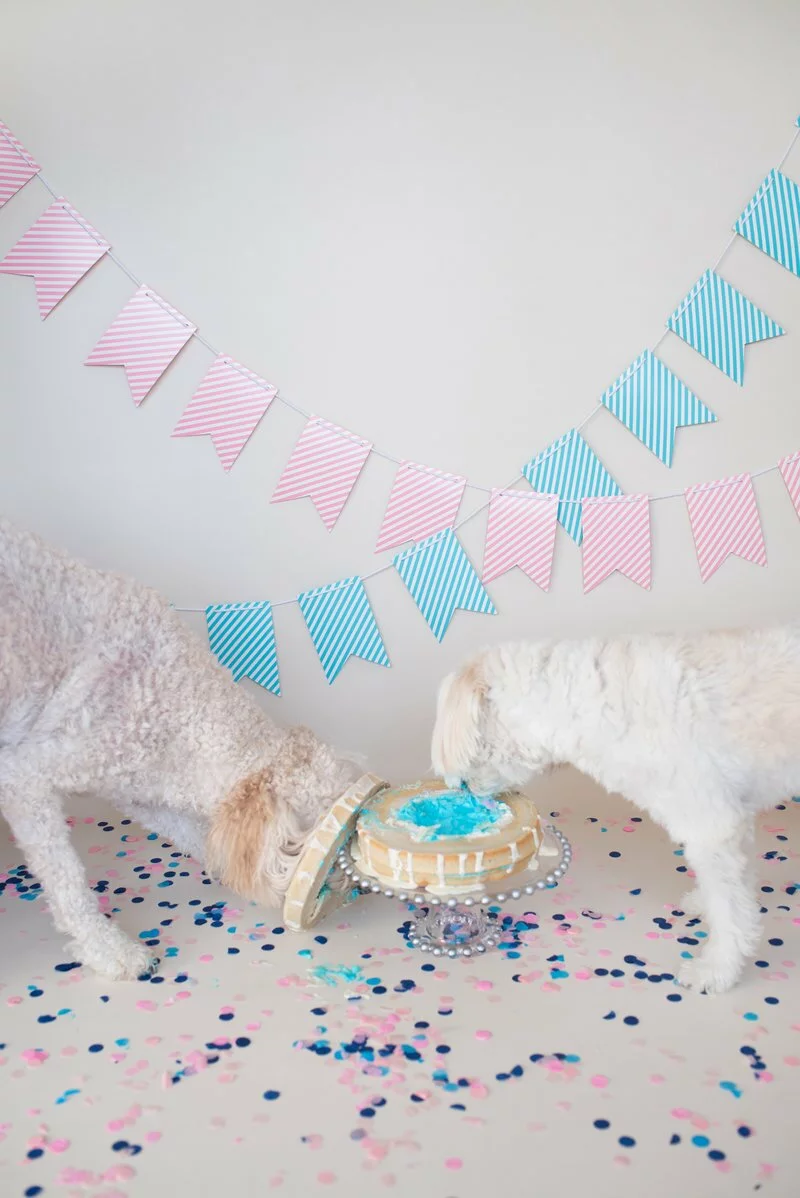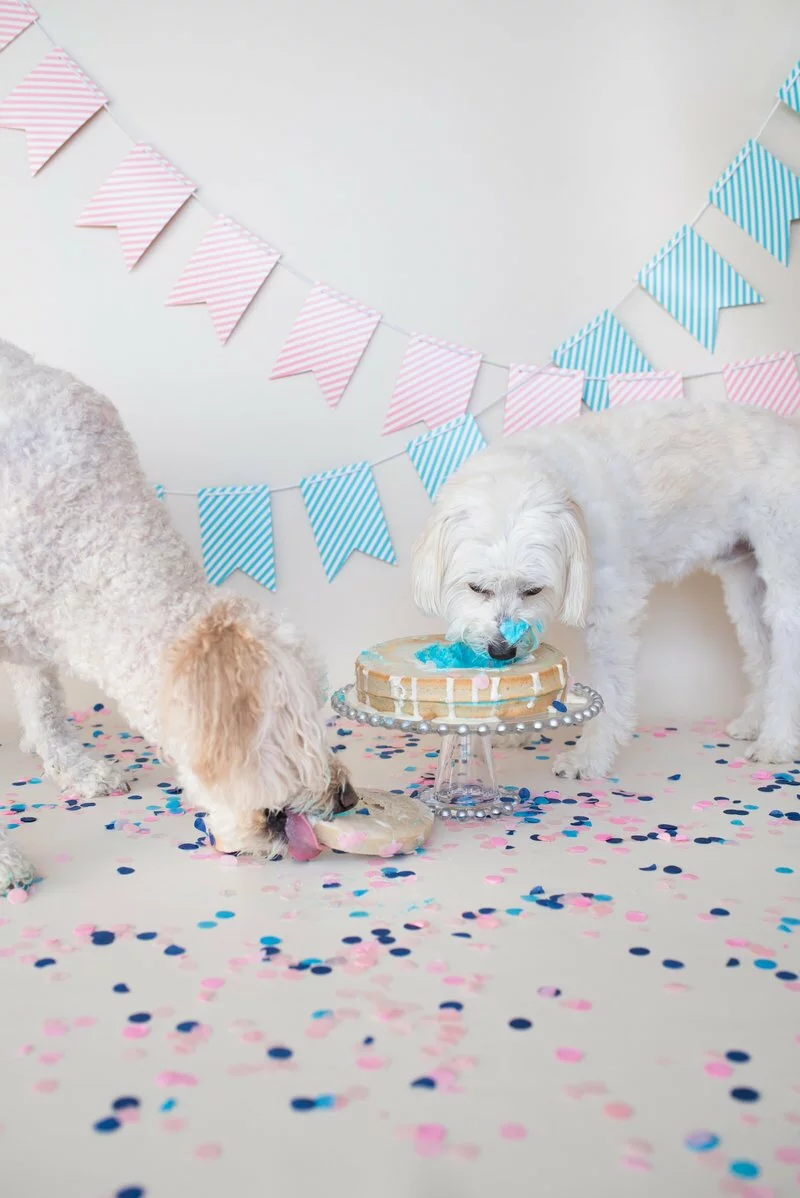 Have you considered any names yet? If so, would you be willing to share with us a few of them? 
We have a few names that we've narrowed it down to, but we're keeping those a secret. Check back with us after the baby boy gets here 😉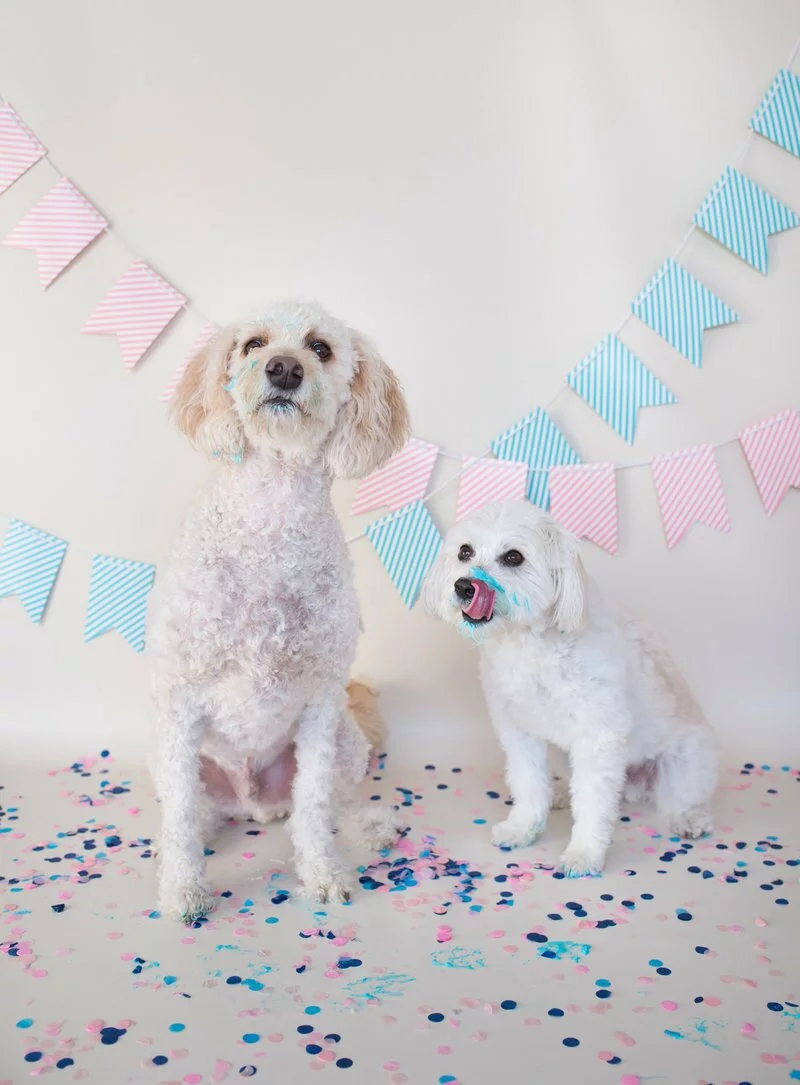 Anything else that you would like to share with us about you, your dogs, or your business: please do!  
I started my business out photographing mainly families and newborns, but over the years have transitioned to mainly weddings and engagements. But the experience I had early in my business helped me come to the idea of getting the dogs involved in a cake smash gender reveal! The cake smash was chaotic (as we expected), but oh so worth it in the end!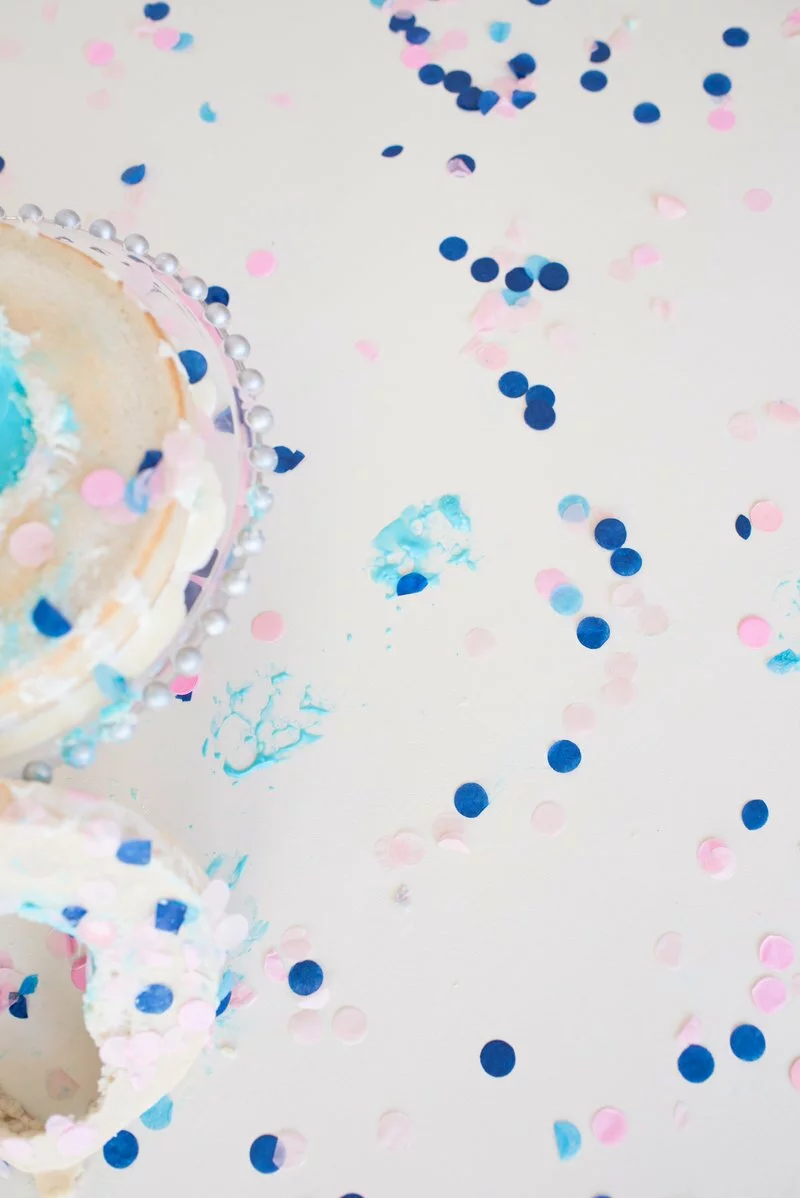 Photographer: Elizabeth Moore Photography