Shades of purple & turquoise along with rustic details marry together to create this countryside purple & turquoise wedding inspiration board!
Our inspiration came from our love of outdoor weddings, the fresh air and natural elements are alluring and breathtaking! So for this board we combined some of our favorite rustic and natural elements with a modern twist of color!
  We love when brides put their lovely bridesmaids in different color coordinating dresses, and these long lilac and violet bridesmaid dresses by Amsale are a perfect match to our color scheme! Ties, suspenders & a freshly cut boutonniere in purple of course, are a befitting look for the groom and his fellas!
Rustic touches like this beautiful wooden table pops to life when turquoise dinnerware and bright turquoise vases with overflowing deep purple flowers are added. Incorporate other fun and rustic touches like wooden chargers and turquoise bird cages to tie your color scheme together. Let's not forget about the cake.
Celebrate your "I do's", with a ruffled ombre butter cream cake topped with real flowers! It's the perfect mix of rustic, modern & fun!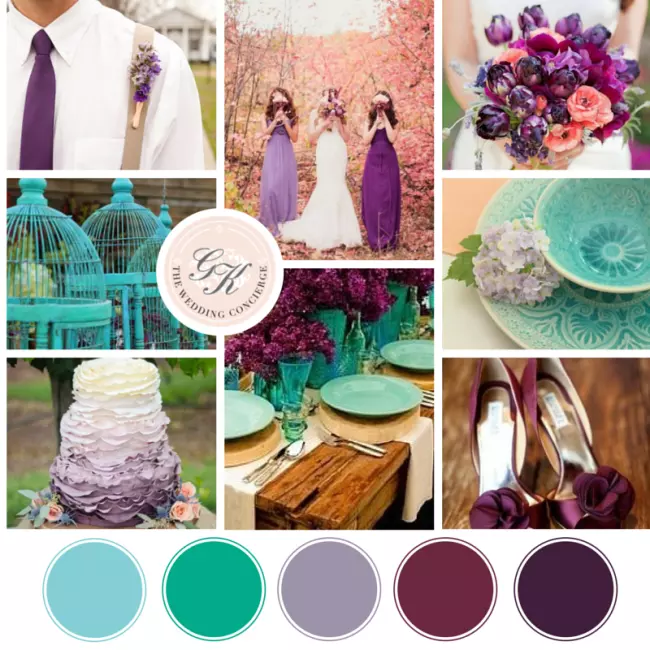 Image Credits:
Boutonniere – Stephanie Yonce Photography – Honeydew Events via Ruffled // Bridesmaid Dresses – Alixann Loosle Photography – Michelle Leo Events via Pinterest // Bouquet – I Heart Photo Art – Krista Jon via Weddbook // Birdcages – Flickr via Pinterest // Table Scape – Adrianne Smith Floral Design – Dapper Images via Pinterest  // Place Setting – Citrus and Orange via Pinterest // Wedding Cake – Sky's the Limit Bridal Sweets – Catrina Earls Photo – Red Bridge Floral via Project Wedding // Shoes – Southern Weddings via Pinterest