Today I am super excited to share with you this Art-Deco Designed Wedding not only because it is gorgeous but because it is from my home State of Nebraska! Martina and Shea had been dating for 6 years before Shea surprisingly popped the question! Martina's response to him was rather comical (make sure to keep reading to find out what she said)! Martina's bejeweled ballgown was shockingly stunning and we loved the bold blue shoes she chose to wear with it. The completely beaded bodice on the gown with the airy horse-hair trimmed skirt made it a true knock-out!
Also, how adorable are the two dogs that got to be apart of the big day? I can't imagine how the tiny dog and the big Doberman play together but it looks like it makes the perfect family for Martina and Shea. Photographer, Andrea Bibeault: A Wedding Photojournalist captured the personality and excitement of the wedding day extremely well. And the unique beauty of the huge art installation made the reception space an unforgettable one!
Make sure to also check out the couples video here!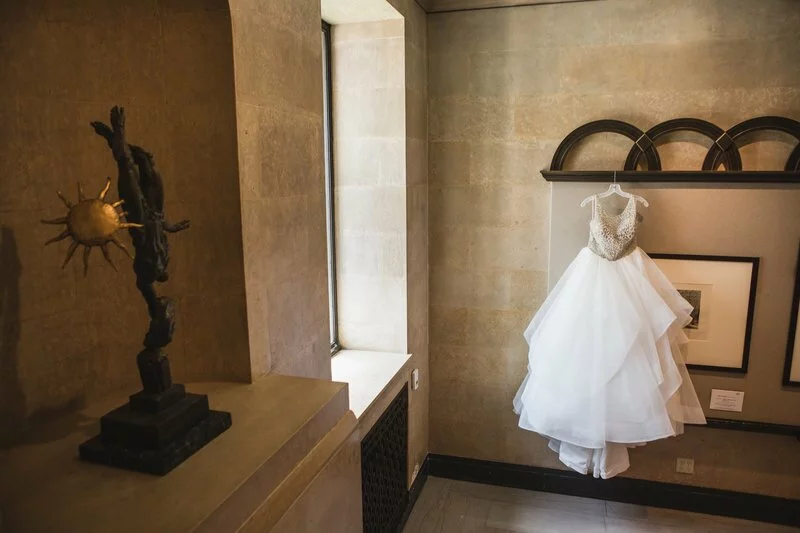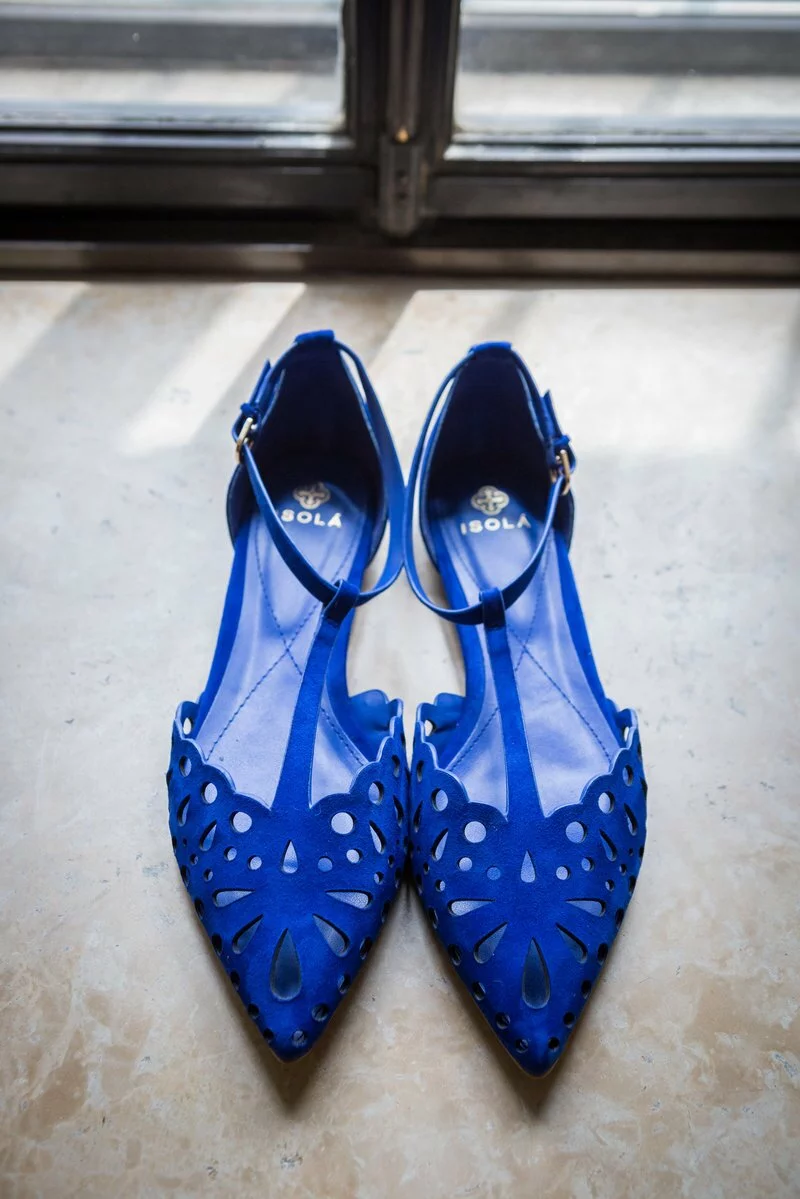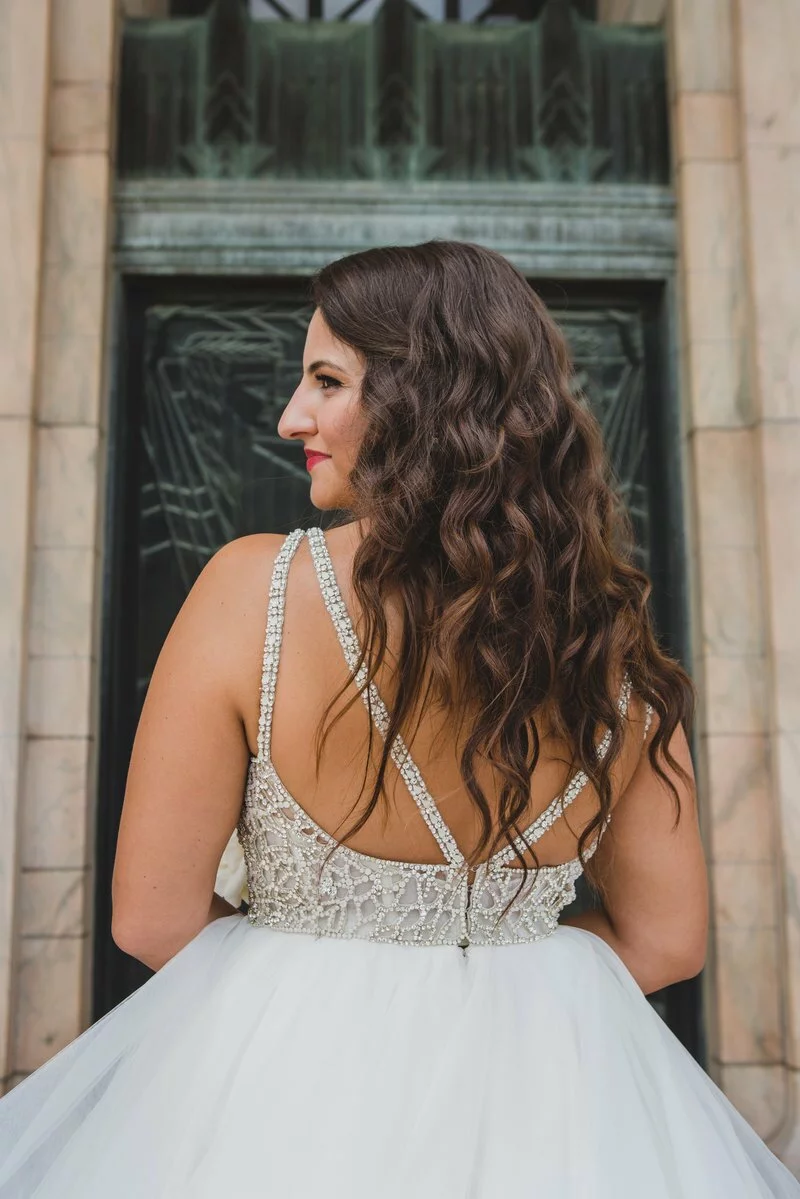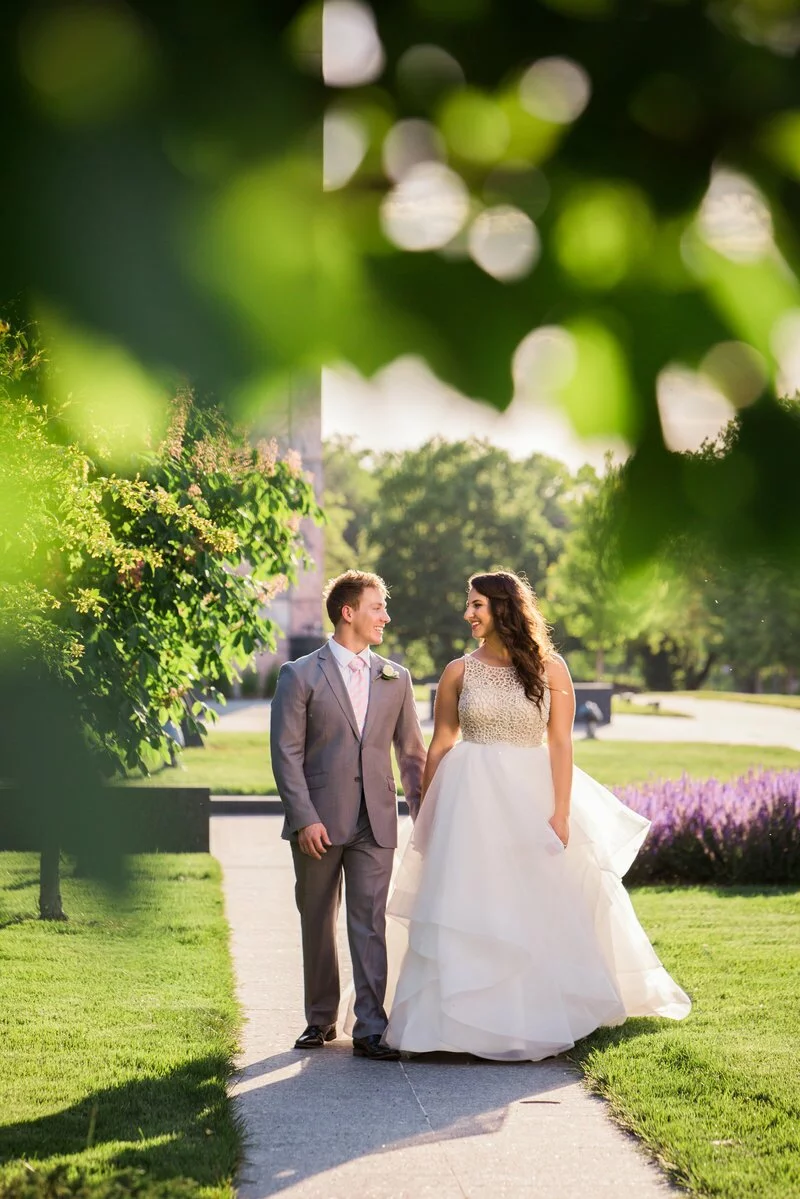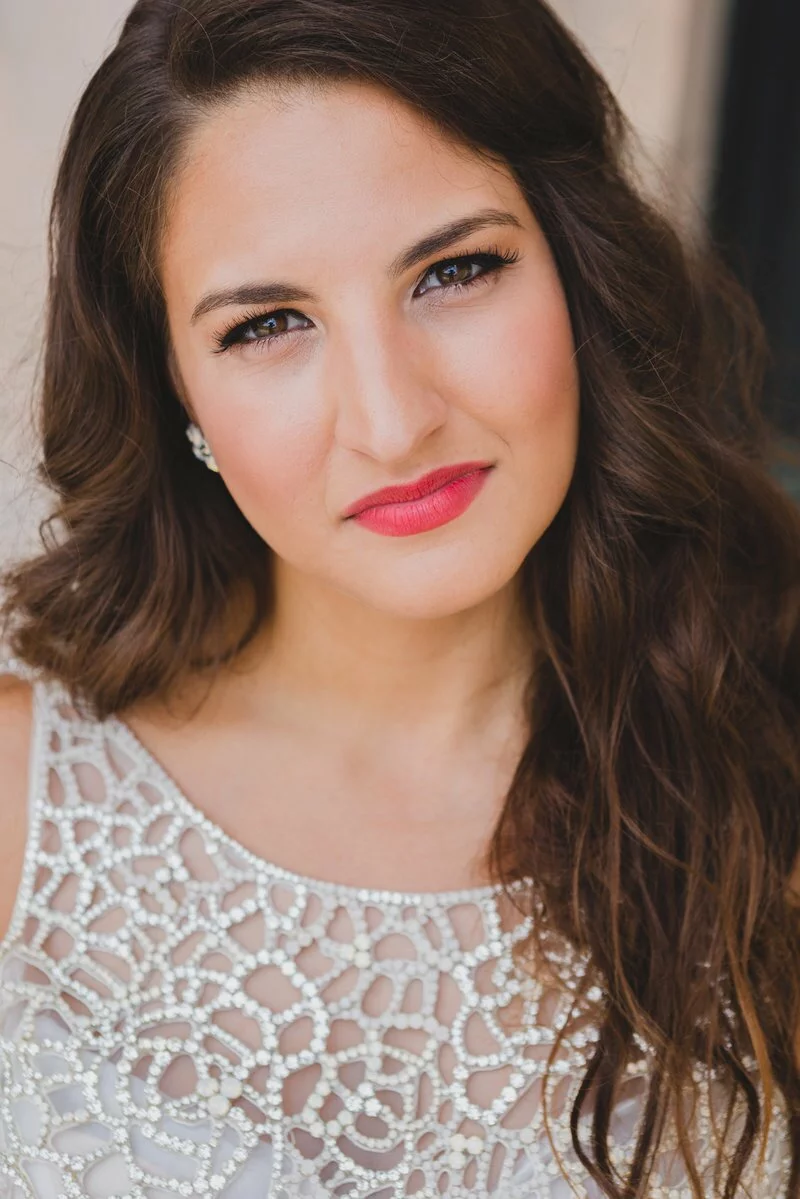 How did you two meet?
We met in college while working together at a wireless carrier.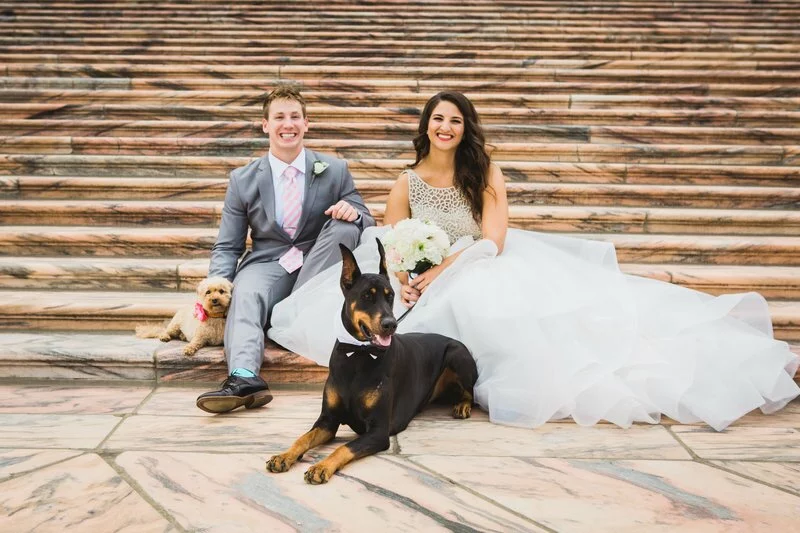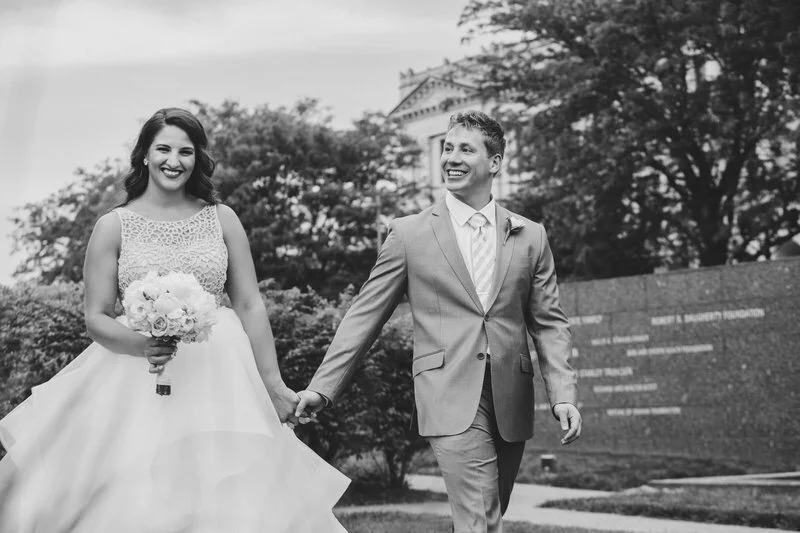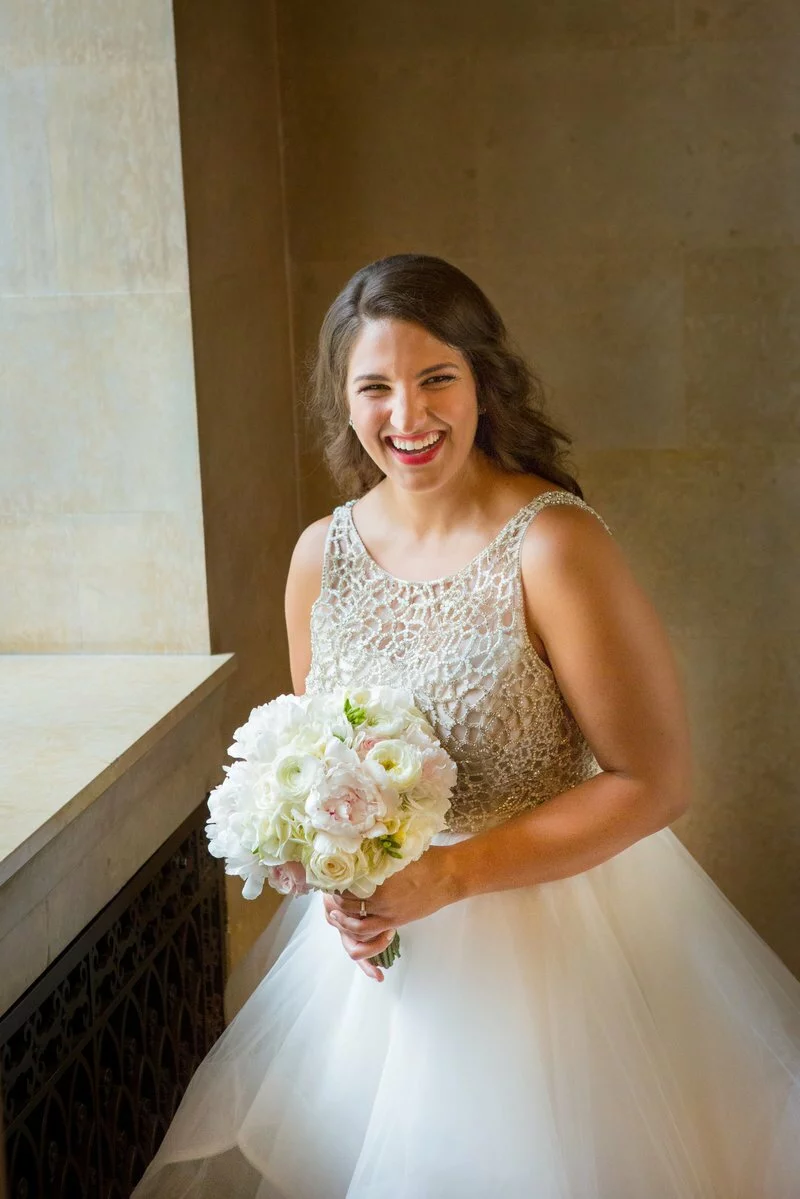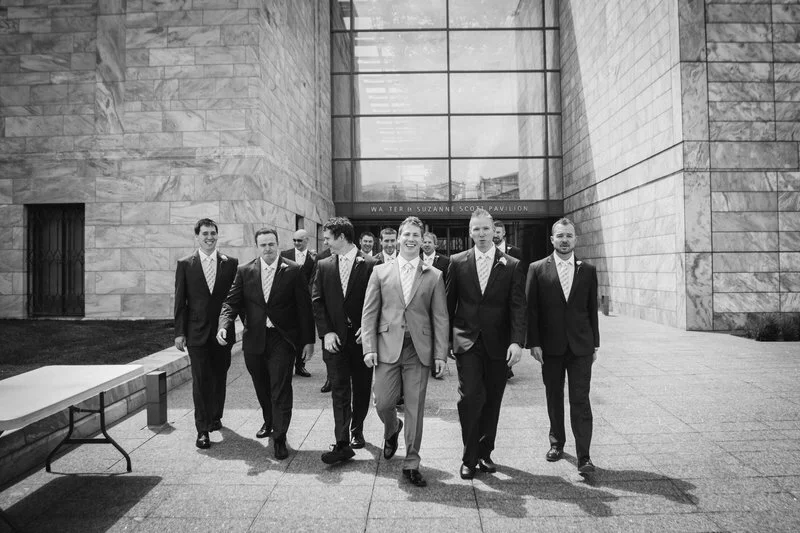 How did he/she propose?
Shea proposed during a trip to Croatia to visit my family. It was a complete surprise, we were staying in the beautiful town of Baska Voda and decided to take a stroll on the beach. I was so surprised that the first words out of my mouth were "Are you F***** Kidding me?" then a immediate "YES!" We had been together for 6 years at that point and knew we would get married eventually, but had no hurry. Shea wanted to make sure my grandmothers and family overseas could celebrate the proposal with us it was really thoughtful.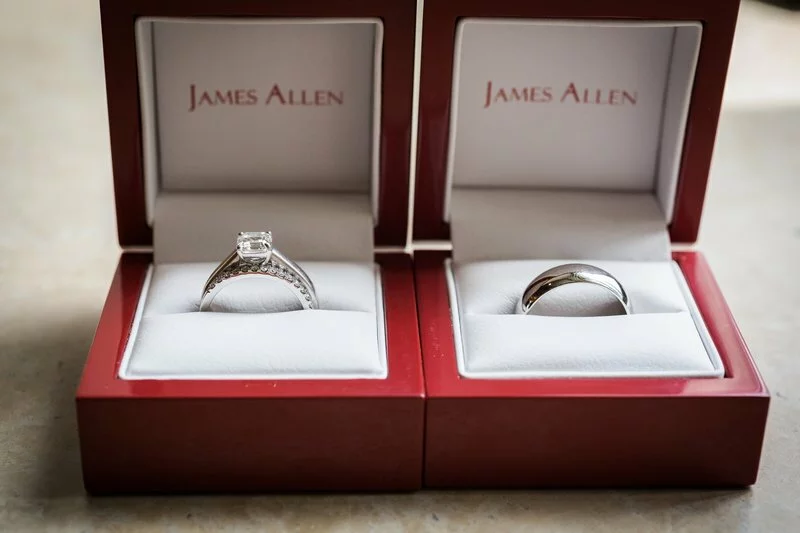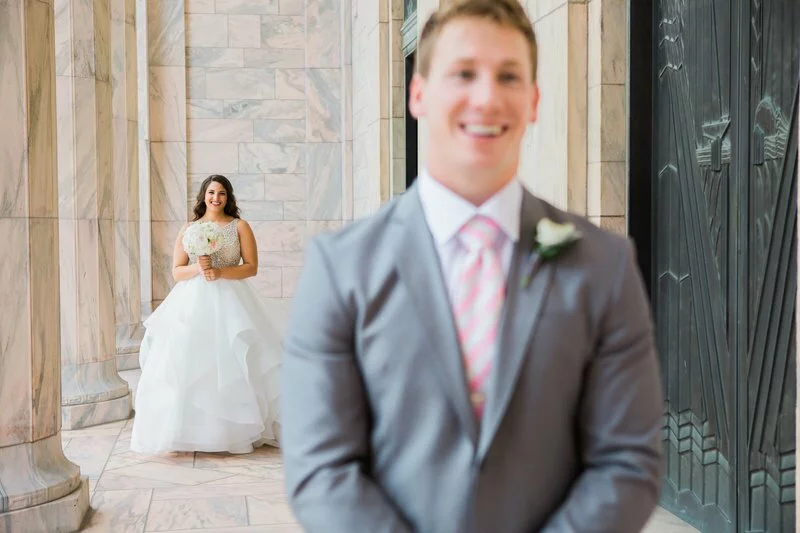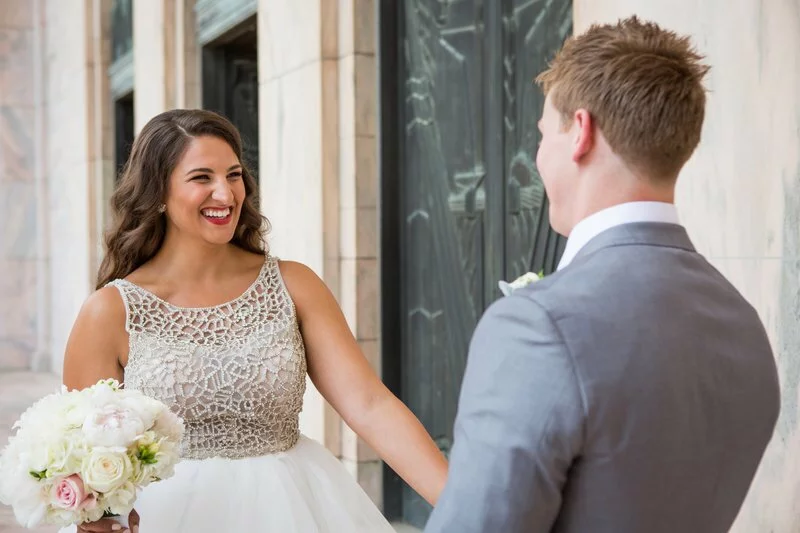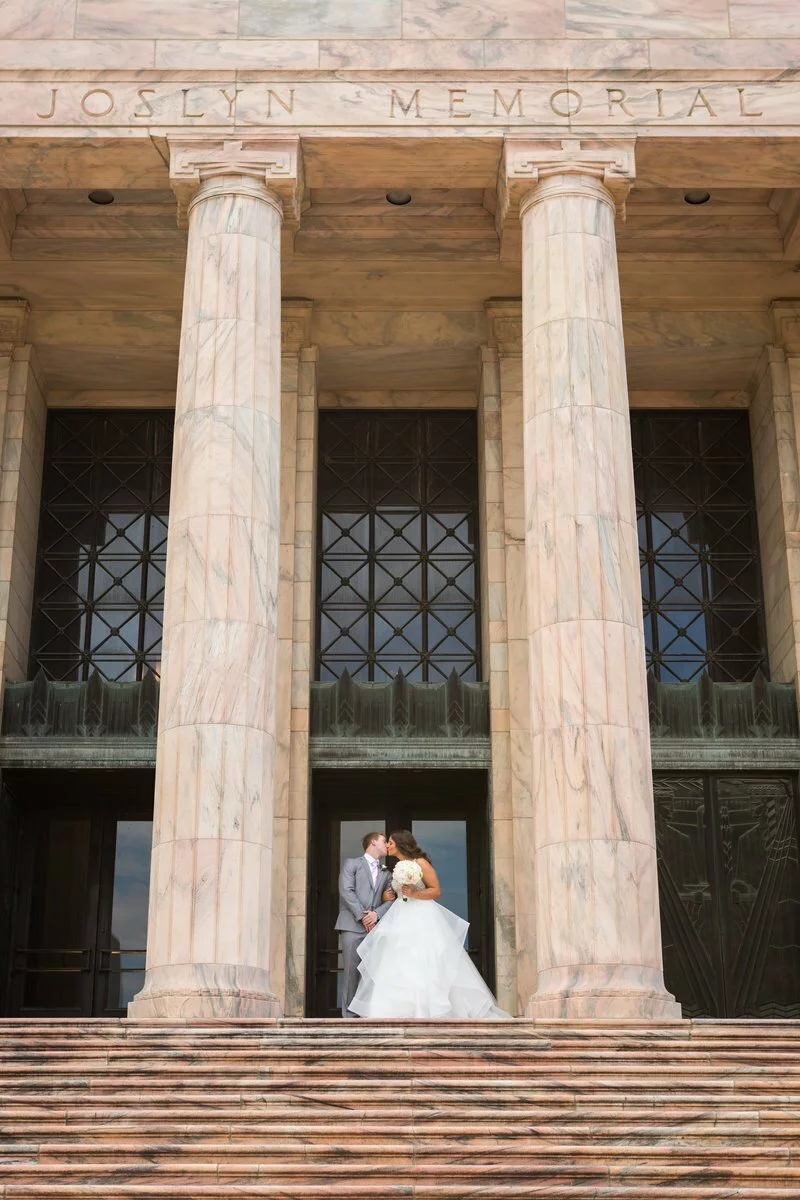 What was your vision for your wedding day?
Fun party! We like to have a good time and always host people at our house. We wanted to have a great time at our wedding and wanted the same for our guests. Food, drinks, and dancing were top priority.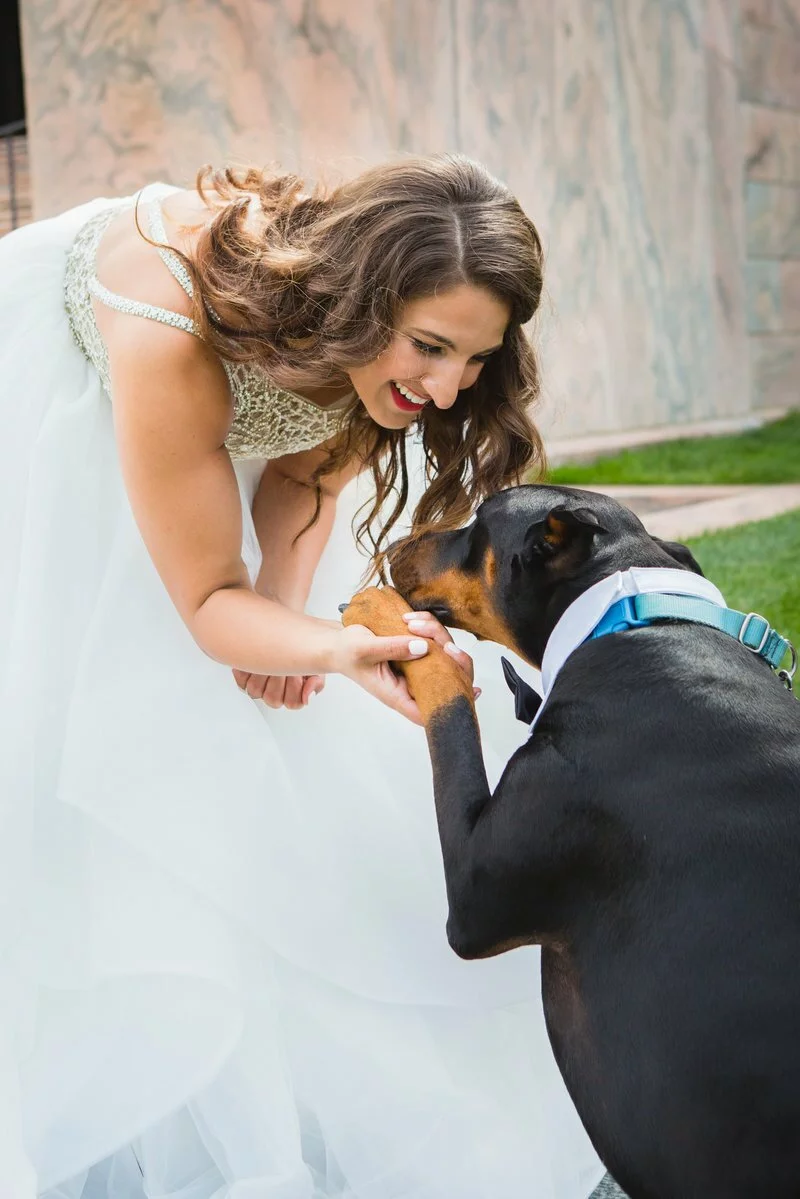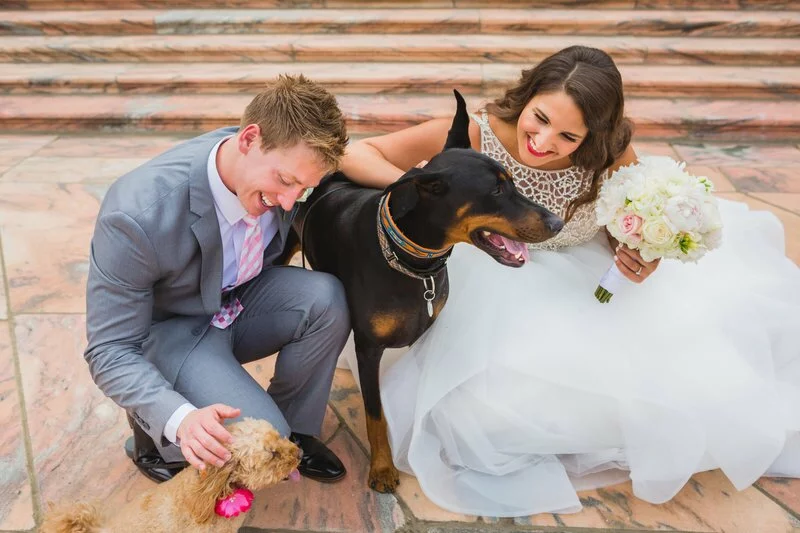 What were your wedding colors & theme?
Our colors were grey, blush, white, and gold. We wanted simple romantic theme that highlighted but didn't take away from the beauty of the Joslyn Museum.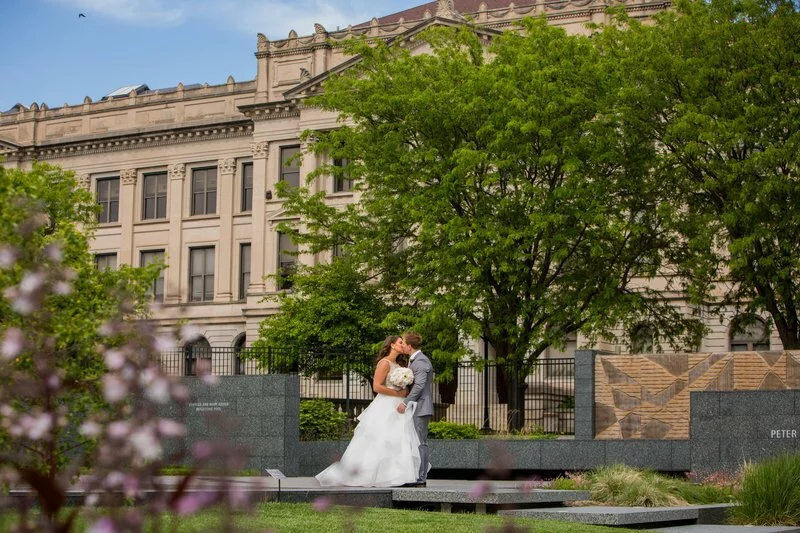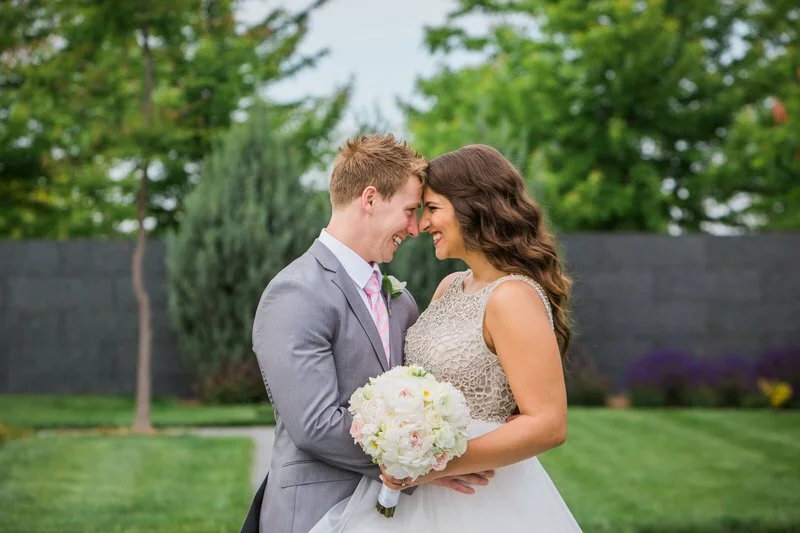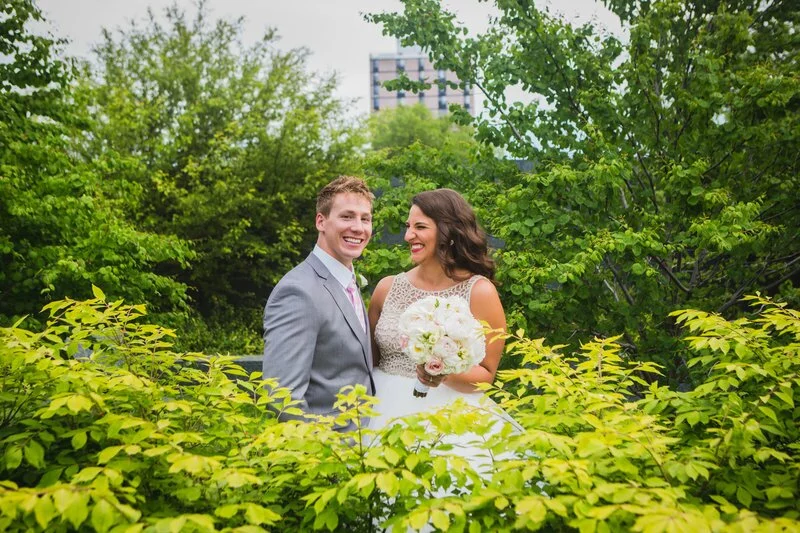 Were there any family or cultural traditions that you did on your wedding day?
My mother and her friends made lots of amazing desserts for the wedding. We also had Cevapcici as one of the dinner options, it is a traditional dish in the Balkans and featured at many family dinners with my parents.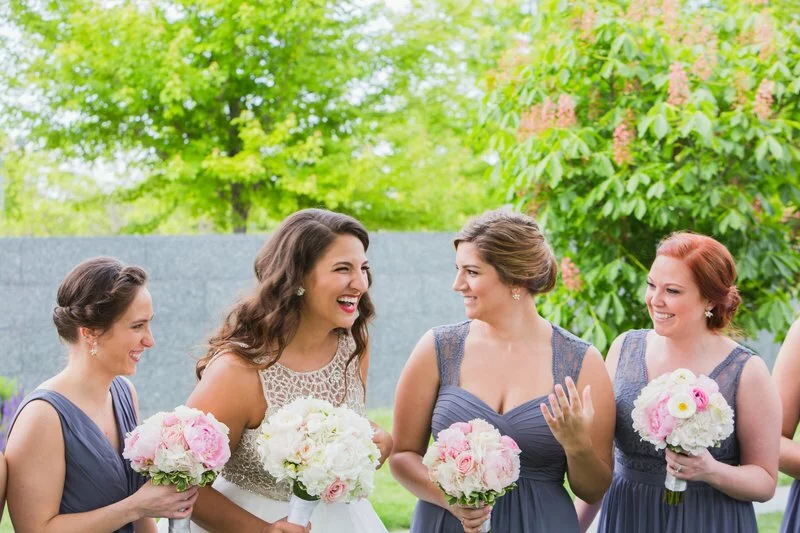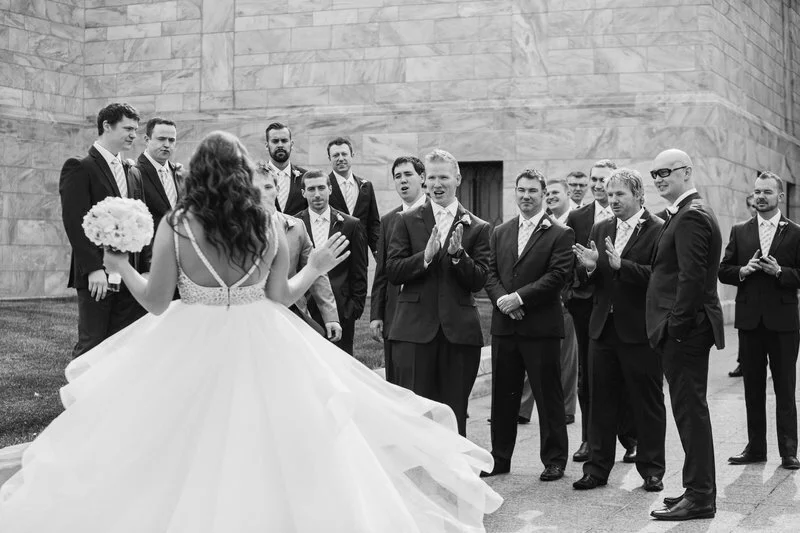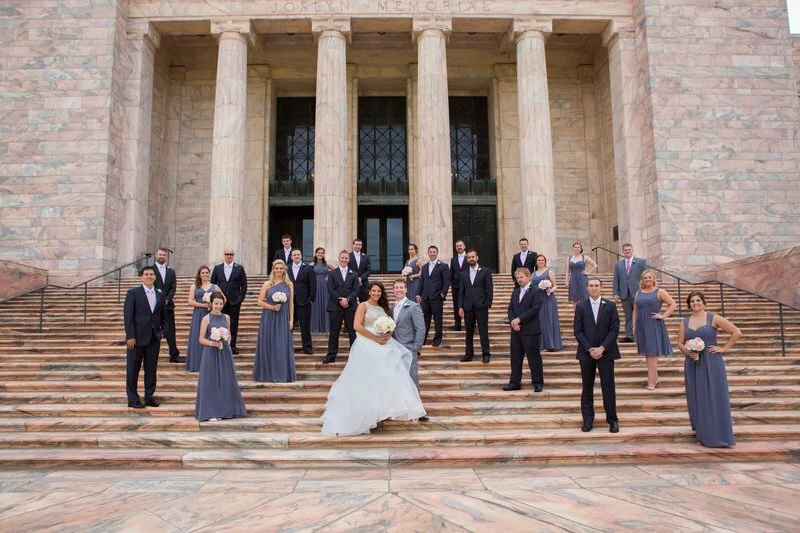 What was your favorite part of the planning process?
We would have to have two. First we were married by our close friends Chris Tow. He was at our house one evening for dinner (and several drinks) to chat with us to help us plan the ceremony. He asked us a lot of great questions like what we loved most about each other. During a time when wedding planning stress is at an all time high it was just a fun time! Second our wedding planner, Tracey Fricke at Occasion Designed was amazing and let us enjoy the process while minimizing stress. We both have demanding jobs and I am not the kind of bride that gets excited about planning the details.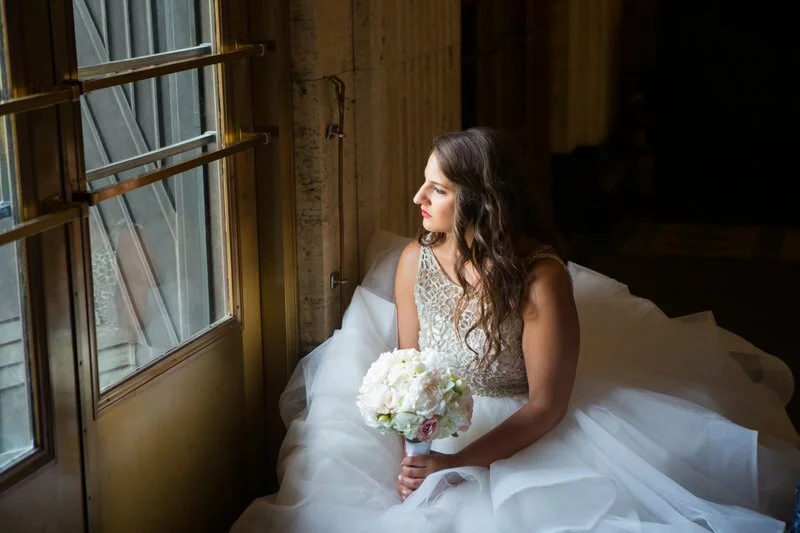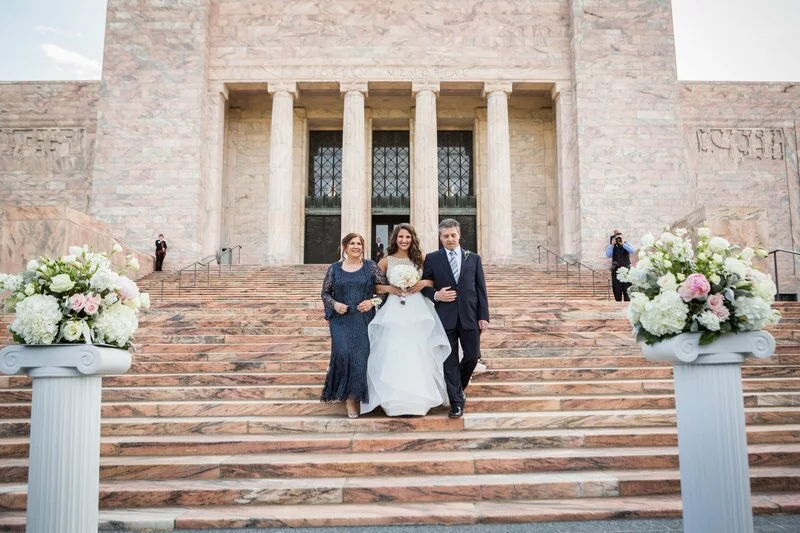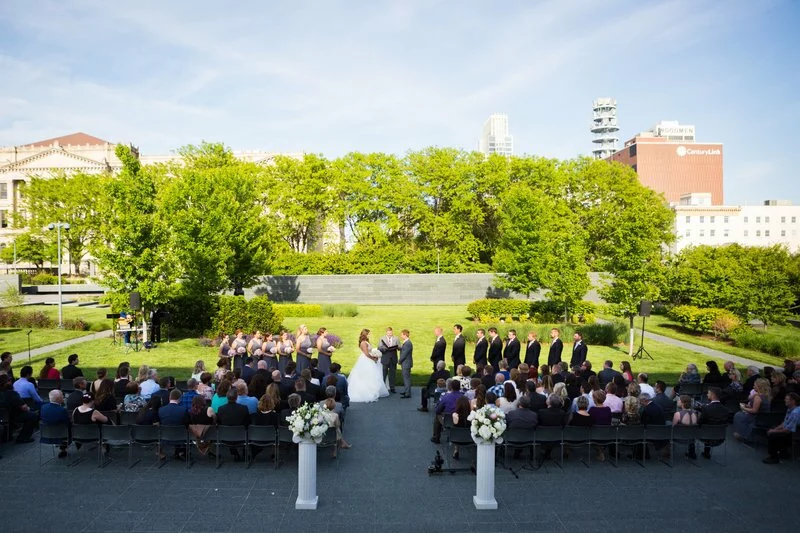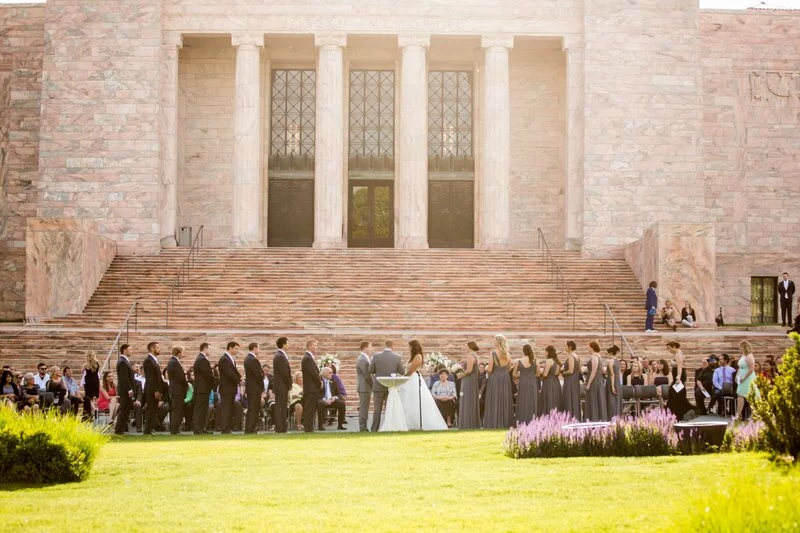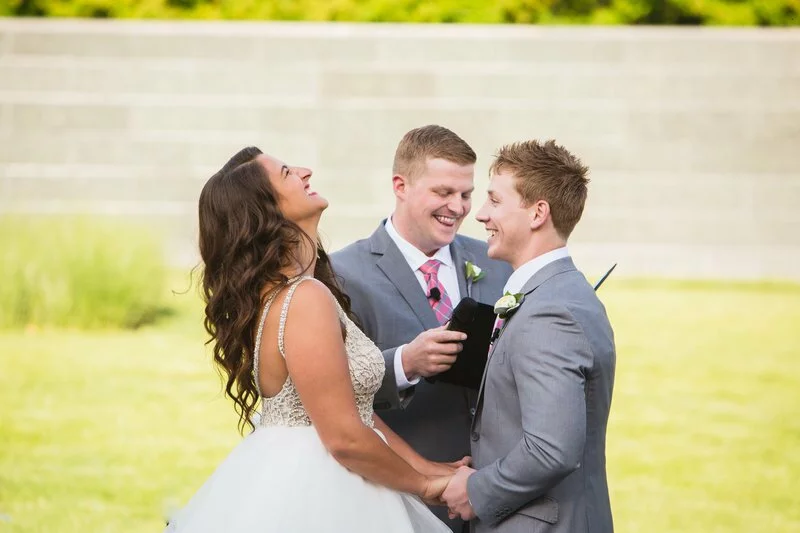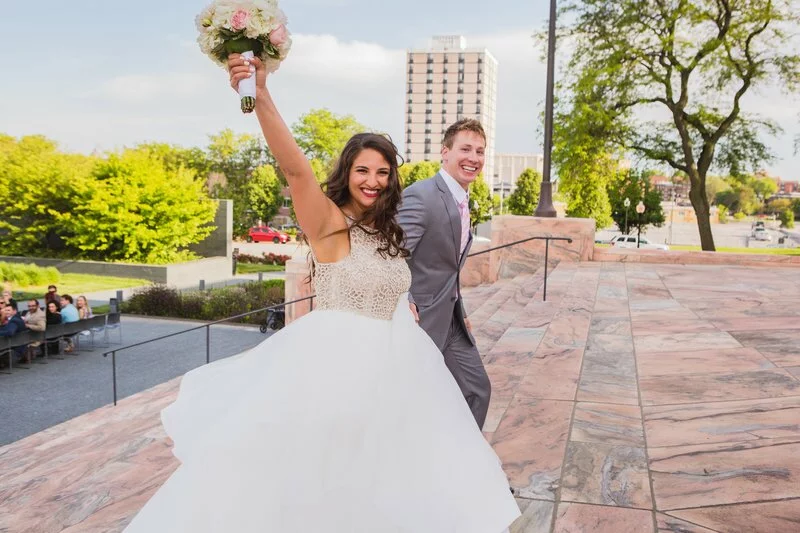 Do you have any advice to other couples planning their day?
Something will go wrong don't stress it deal with what you can and move on. About 20% of your guests will be watching everything with high intent (close friends family) the rest are there to eat, drink, and have a great time. No one will notice if your first dance is off or if there is wrinkle in your dress. Also drinks and food for the wedding party at all times before the event. It is a long day and often they have to hang around waiting for the ceremony or pictures to start. Make it fun and part of what was great.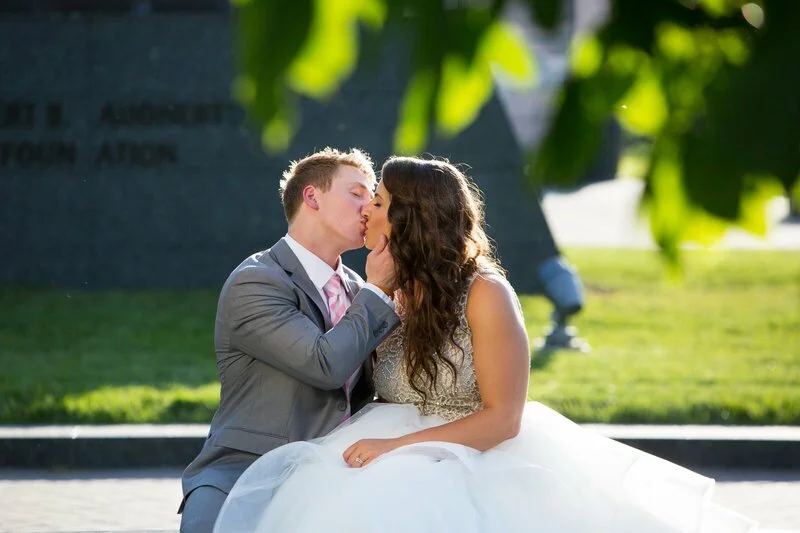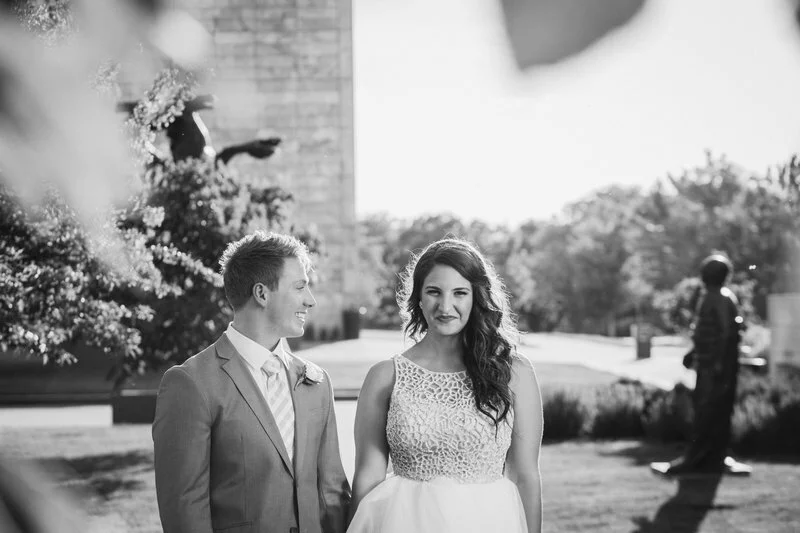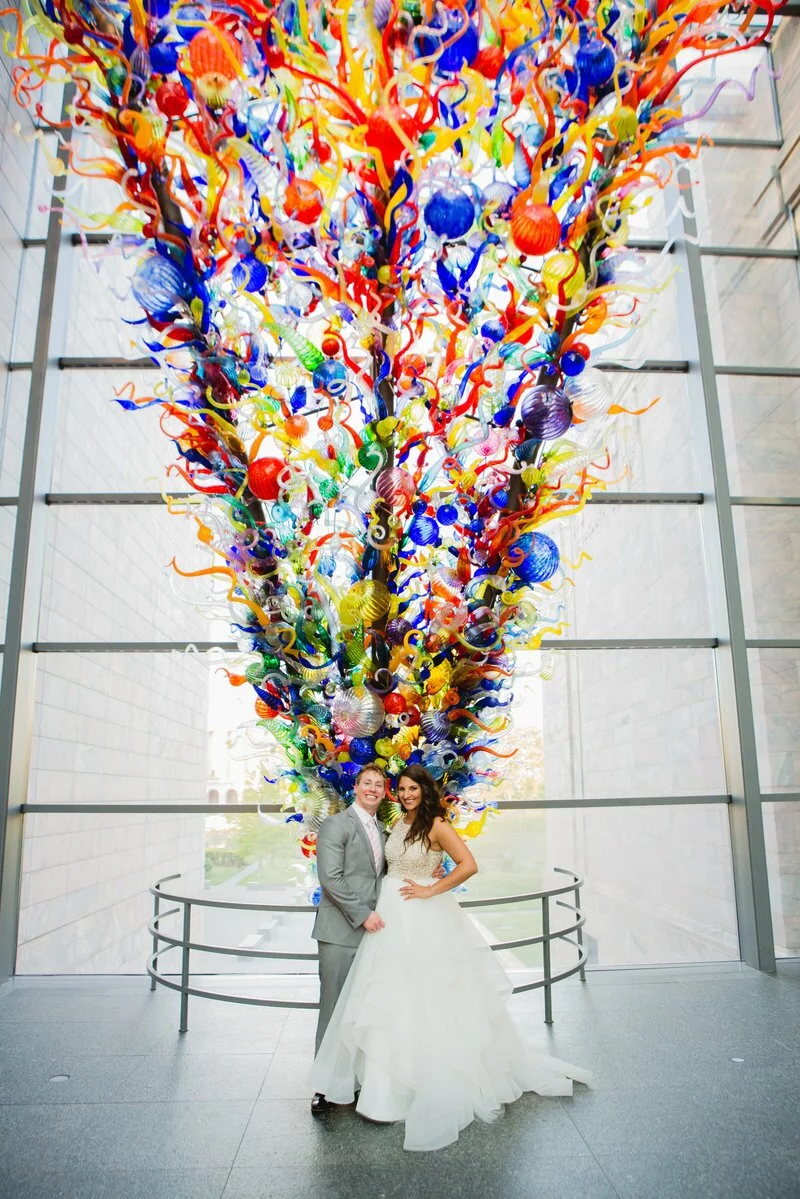 How did you go about finding & hiring your wedding vendors?
I had worked with our wedding planner Tracey Fricke for two years on some corporate events and I knew she talented and a pleasure to work with. She led me to many of my vendors and they had relationships with her before so it was very easy. The Joslyn we knew was a top choice for location because it was such a beautiful setting. Other vendor we found online.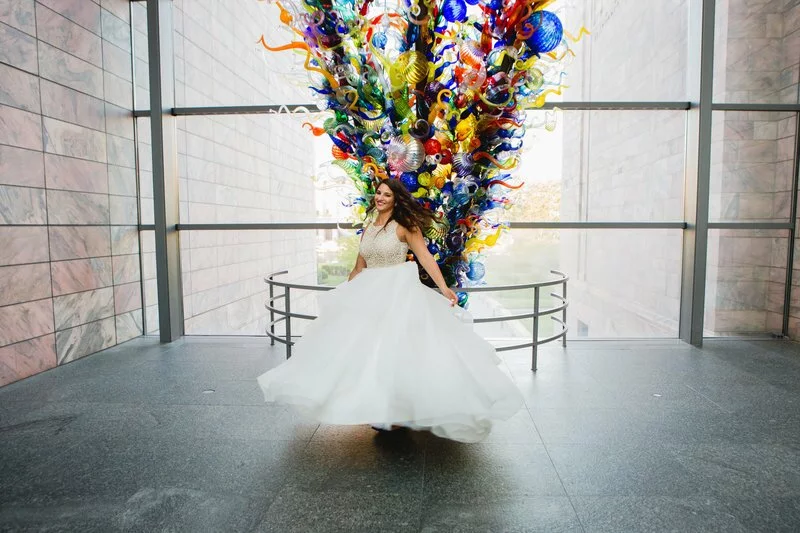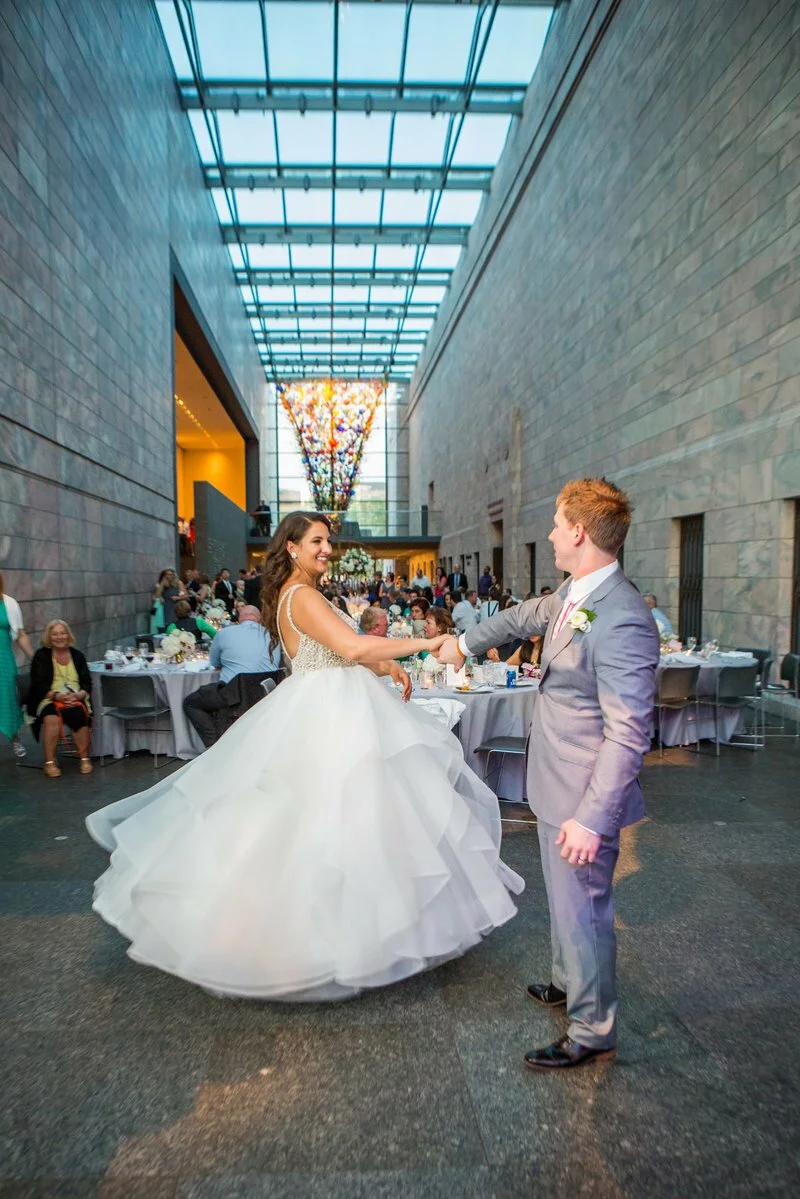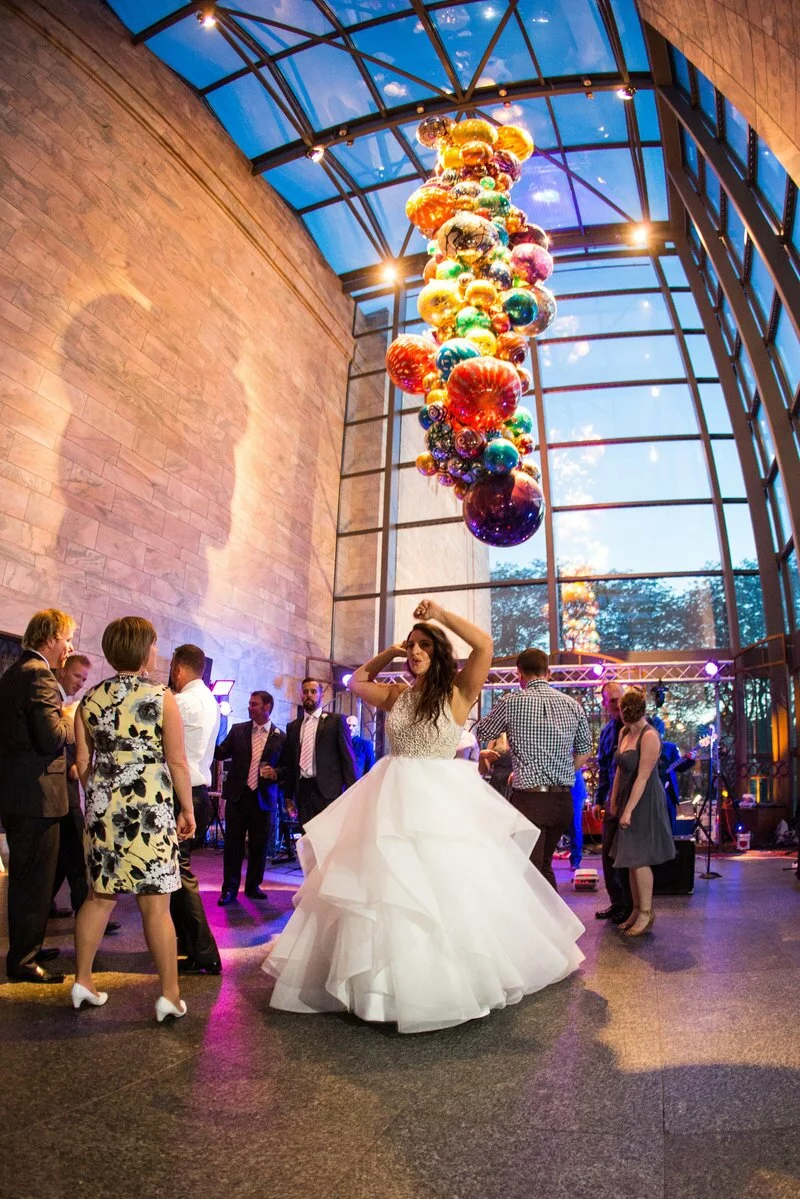 Looking back, what was the best decision you made when planning your wedding day? Is there something you wish you had done differently?
Best decisions for us: Having a planner, having a friend marry us and doing our own ceremony, hiring a great band. What I would change: We were so busy dancing and chatting that we missed getting to eat any of the desserts at the wedding, besides a quick taste at the cake cutting.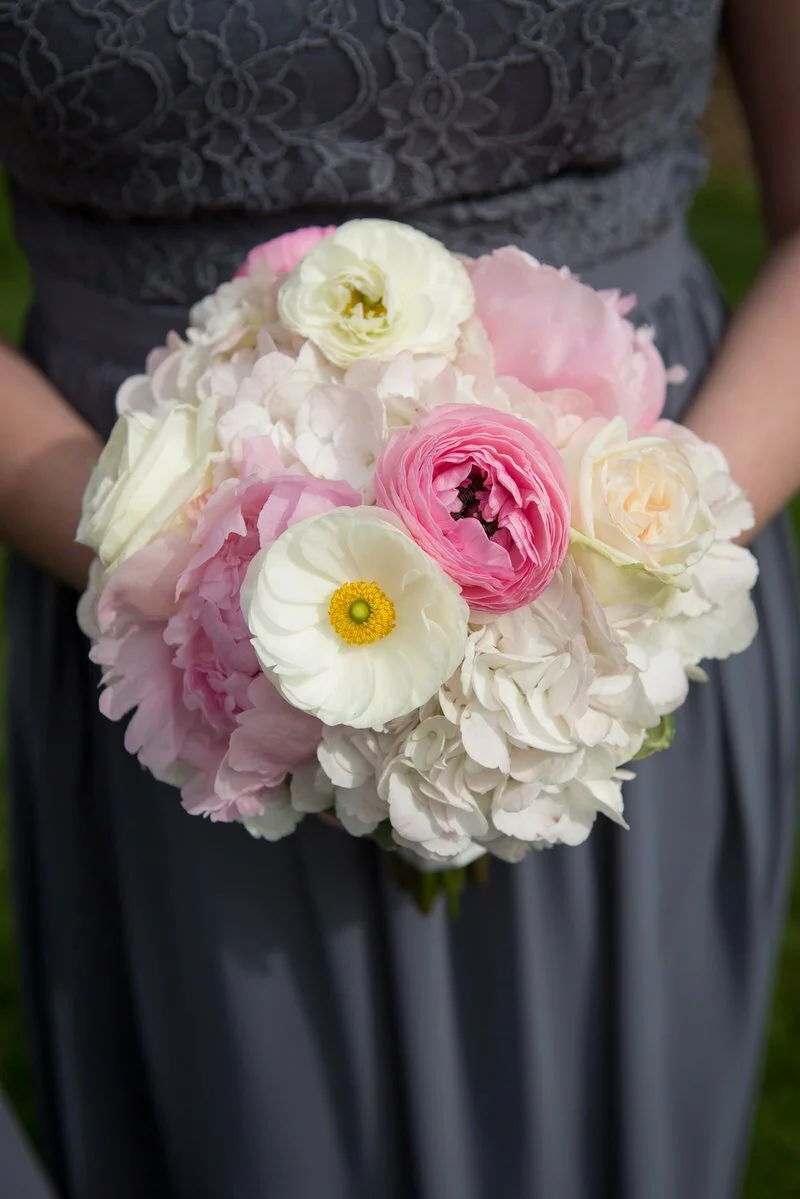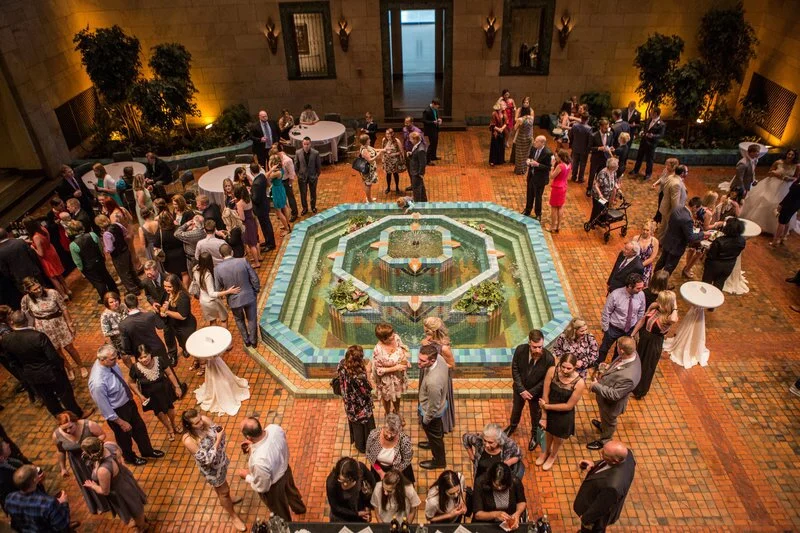 What was your favorite moment of the day?
This is so tough, but I would say standing over the balcony with Shea when we first walked out and seeing all of our closest friends and family. We have built some amazing relationships together and are so lucky to have so many wonderful people there. They have seen us grow and spent so many memories with us.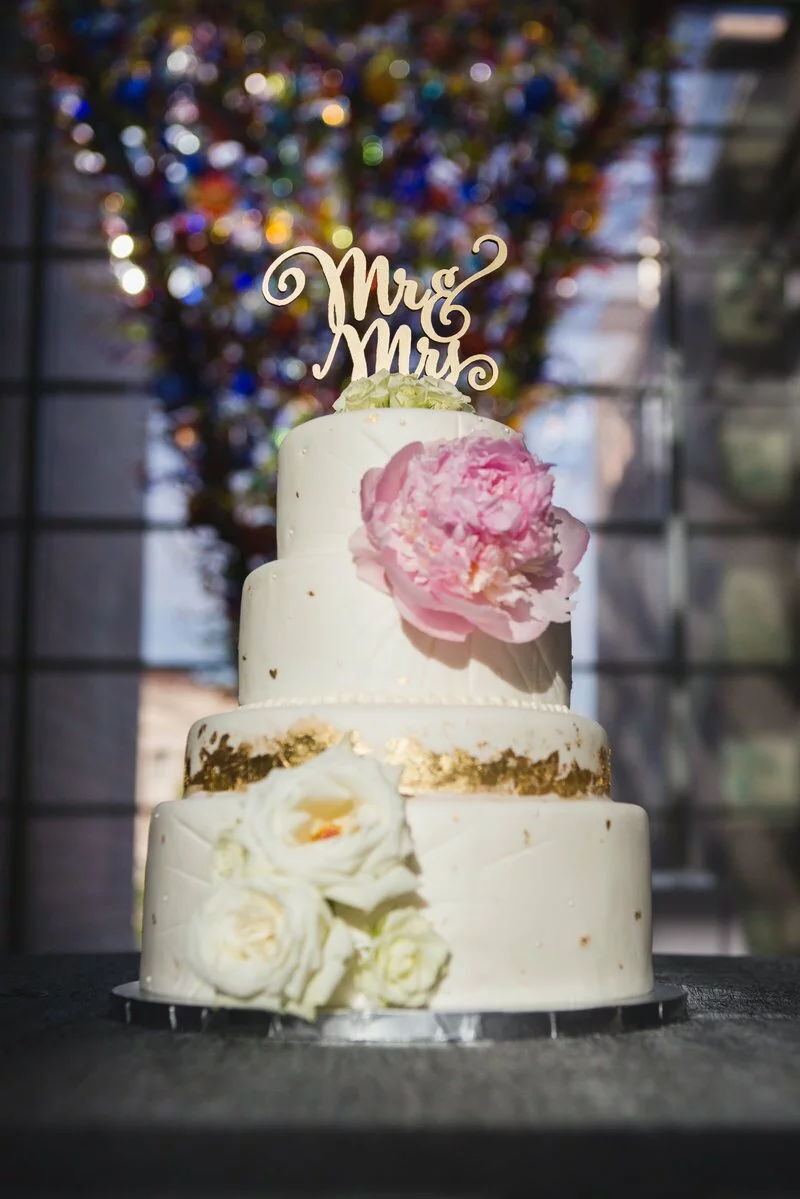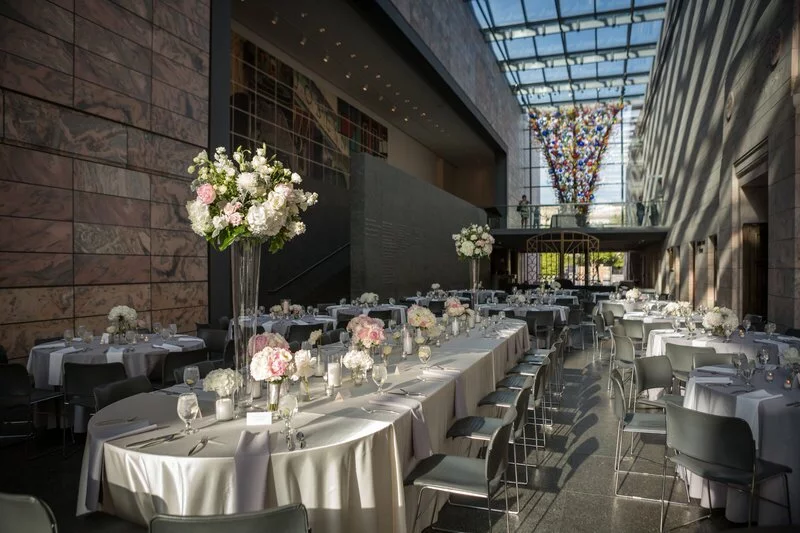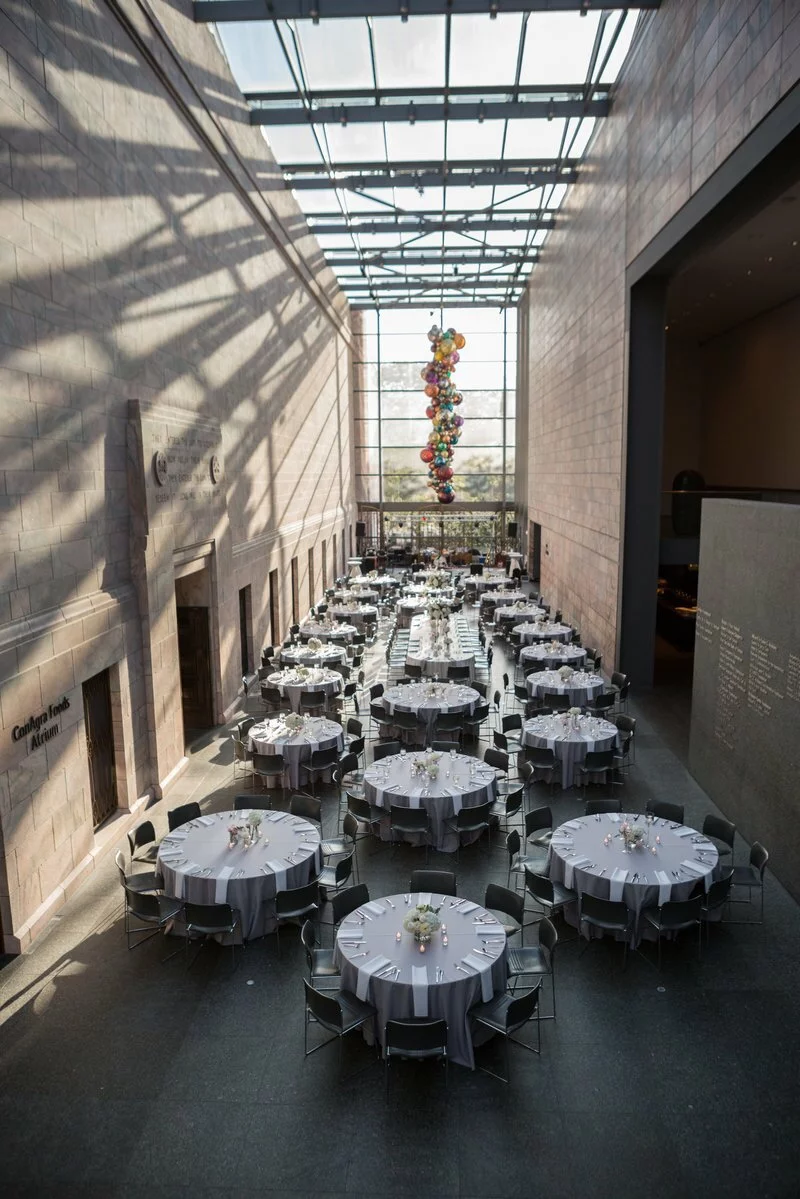 Where did you go for your honeymoon? Would you recommend it to others?
We went to Costa Rica for our honeymoon. Spending 3 days in Arenal at Nayara Springs and 3 day at the Andaz in the Guanacaste region. I would highly recommend it we got to be bums and lay around beach side having drinks on the same trip we got to zipline the rainforest. It is a great mix.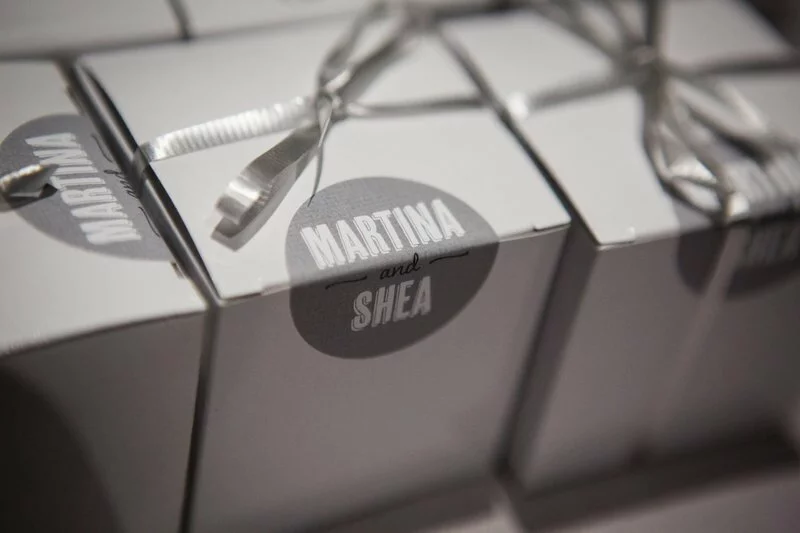 Design Team:
Photographer: Andrea Bibeault: A Wedding Photojournalist / Wedding Planner: Tracey Fricke Occasion Designed / Venue: Joslyn Art Museum / Florist: Flowers for Special Occasions / Cake: Katie's Cakery / Makeup Artist: Ashley Gaa / Hair: Michael Harting at Victor Victoria / Videography: Quiet Chap