With Valentine's Day right around the corner, it's a great time to think about styling the perfect date night outfit – and I'm talking date night with your beau or your girlfriends! Braving the weather and impressing a date? It sounds stressful but it doesn't have to be! Today I'm helping you out by sharing 3 tips to help you style the perfect Valentine's Day date night look.
One: Dress for the Weather
If it's freezing cold outside, bundle up. If there's a foot of snow on the ground, wear appropriate shoes. Sounds simple enough but we've all seen that girl trying to stomp through the snow in her 5" heels. There are ways to dress for the winter weather for a date and still look stylish. And let's be honest, your date will not think it's cool if it's obvious that you're uncomfortable in what you're wearing. You will be more confident if you're comfortable, too!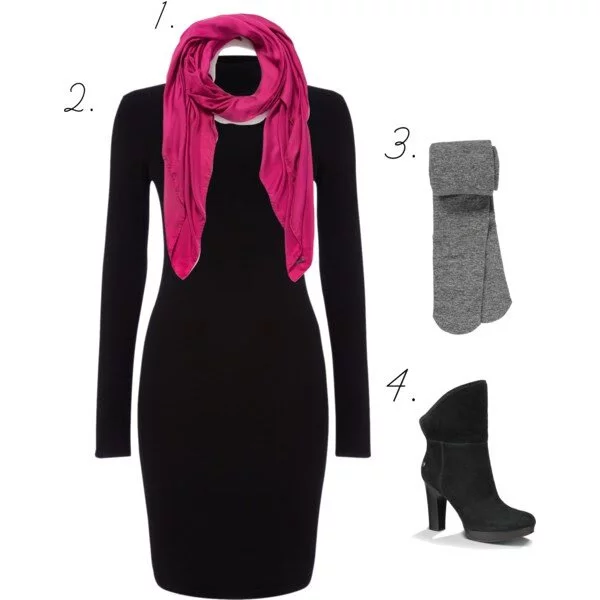 1. Festive Scarf 2. Turtleneck Dress 3. Fleece-Lined Tights 4. Shearling-Lined Booties
Tips
Wear a scarf that you don't necessarily have to remove once you get inside. A colorful scarf against a black dress looks intentional.
Opt for a cozy pair of fleece-lined tights on brutally cold days. Your legs will thank you.
If your feet get cold even when you're wearing boots, you may want to consider shearling- or fur-lined boots. If you're going to wear a heel, a chunkier heel is the way to go if there's ice or snow on the ground.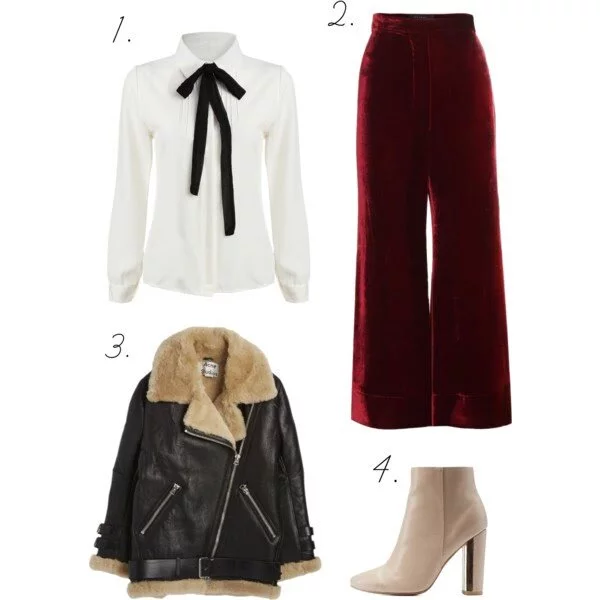 1. Tie Neck Blouse 2. Velvet Trousers 3. Shearling Lined Leather Bomber Jacket 4. Chunky Heeled Booties
Tips
Velvet is in style right now, so take advantage! It's super cozy, and unexpectedly sexy for a date.
Shearling + leather is the ultimate winter coat combo. It's stylish and it will keep you uber warm so that no layering underneath is necessary.
Two: Less (Skin) is More
Confidence is sexy. You don't need to bare your midriff – or anything else – on a date to impress anyone. In fact, you might do the opposite. People appreciate class and elegance, so by, "less is more", I mean, leave something to the imagination. Wear something that you're comfortable in. Your date will take notice and your confidence will shine through. Plus, you won't freeze your butt off!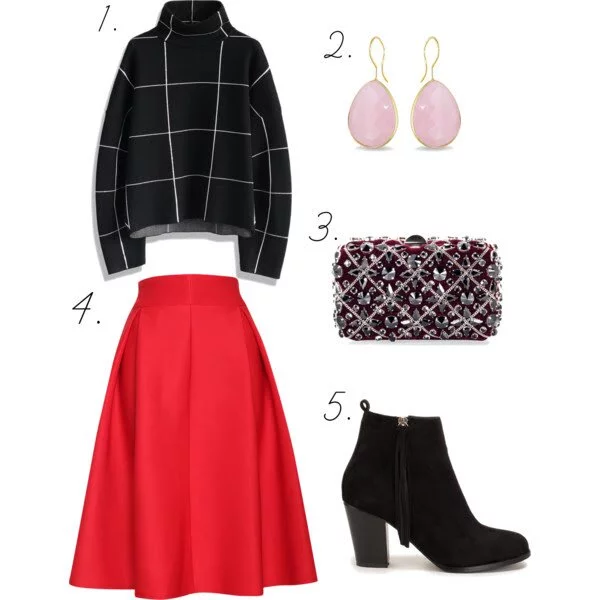 1. Mock Turtleneck Sweater 2. Festive Earrings 3. Sparkly Clutch 4. Flowy A Line Skirt 5. Chunky Heeled Ankle Boots
Tips
Turtlenecks are classy and flattering (unless you are really busty). I'd suggest a slightly cropped turtleneck to pair with a high-waisted skirt, so that you don't look too boxy. The bottom of the turtleneck should hit at the waistline of the skirt, to cover the midriff. Or tuck in a longer turtleneck for a streamlined look.
A line skirts are a great choice for something flirty without being form fitting.
Three: Dress for the Occasion
Mini skirts have no place at ice rinks or bowling alleys, and torn jeans have no place at charity events or five star restaurants. Catch my drift? Don't wear something you'll be uncomfortable in on your date. Ask where you are going or what the appropriate dress code is if you are unsure.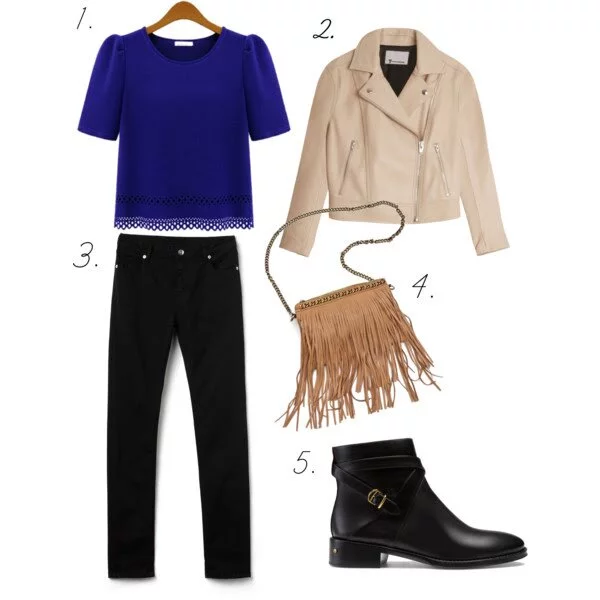 1. Bright Colored Top 2. Leather Bomber Jacket 3. Dark Denim 4. Fun Bag 5. Flat Ankle Boots
TIPS: Casual Date Night
No need to store your cute short sleeved tops during wintertime. Wear them with a cute jacket for a casual date night.
 If you are unsure about wearing jeans on a date, opt for a dark denim pair which is more formal than lighter denim.
 Sleek flat boots are a great alternative to heels, to pair with jeans.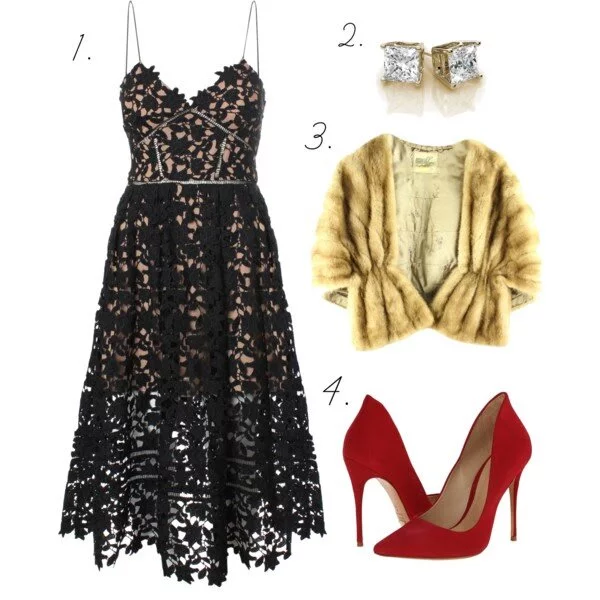 1. Spaghetti Strapped Midi Dress 2. Diamond Studs 3. Fur Shawl 4. Red Pumps
TIPS: Formal Date Night
A tasteful thin strapped midi dress is a great choice for a more formal date.
Fur shawls are warm and stylish: perfect to pair with a sleeveless dress.
Pumps are sexy and they elongate your legs, but make sure you can walk in them all night long!
Bonus Tip: Be yourself!
Don't wear something you wouldn't normally wear in order to be comfortable and confident in yourself!
***
For more styling tips, be sure to follow along with Alyssa over on her blog and instagram!