Welcome to our new wedding theme edition! Creating fresh designs for brides & wedding professionals gives us so much joy and this weeks Wedding Theme Wednesday | Gilded Crimson Inspiration will leave you feeling exhilarated.
While Marsala has been the color of the year, we wanted a slightly bolder look so we opted for a brighter crimson color. Our design transpired from this brides amazing embroidered floral dress, her stunning bold lips & her soft updo bridal hair. Matching to this red rose shade we chose it's perfect mate…gold. There is something so captivating when these hues get together that it's only natural they be side by side.
Throughout our inspiration we favored red floral details with touches of gold accessories. We love gold chargers, they can be used for all your special occasions with just a switch of the dinnerware, it's always a great idea to have other gold accent pieces like candle sticks, cake stands and vessels for decorative centerpieces. Our rustic wedding cake brushed with gold powder, escort cards written in gold calligraphy and crisp white stationary brings our look together.
We hope you love this inspiration board as much as we do, for more lovely details follow along with us on Pinterest.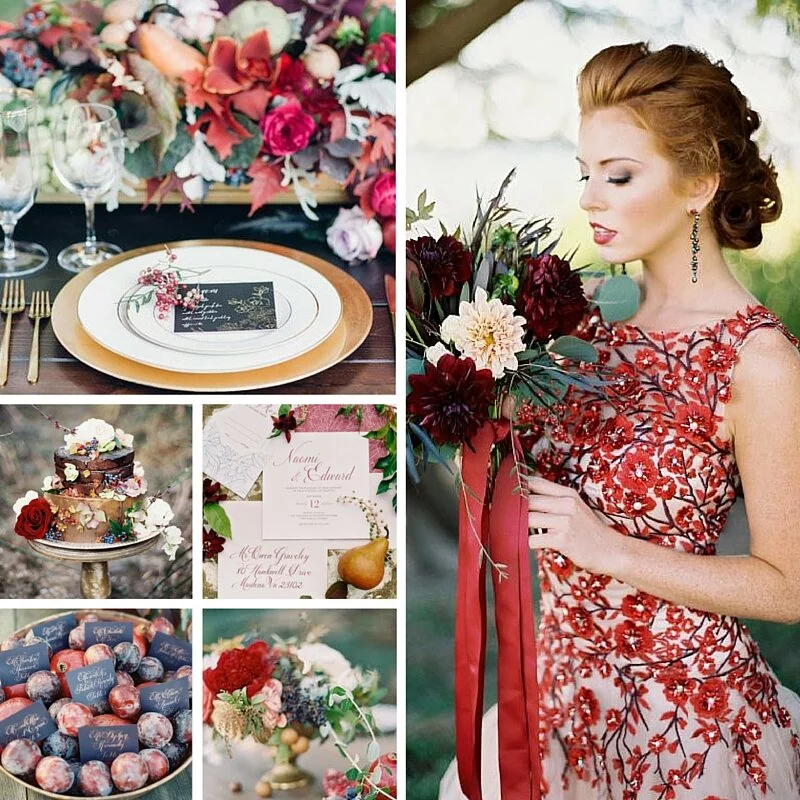 Image Credits:
Dress – Ginger Root Florals – Blushing Bride Boutique –  Dallas Hair & Makeup – Jeff Brummett // Place Setting –  Leslie Dawn Events – Sax Romney –  Peter Loves Jane –  Diamond Rental –  Megan Robinson via Green Wedding Shoes // Cake – Pippa Cakery – Allison Baddley of La Fete – Green Apple Photography via Magnolia Rouge // Stationary – Sue Corral Ink –  If So Inklined – Nature Composed – Ashley Baber Weddings – Katie Stoops Photography via Green Wedding Shoes // Escort Cards –  Laura Hooper Calligraphy –  Paisley and Jade –  Festive Fare –  Ashley Baber Weddings –  Adam Barnes via Wedding Chicks // Centerpiece – Rosegolden Flowers – Simply Charming Socials – Odalys Mendez via 100 Layer Cake