Melissa & William became engaged while on a camping trip to the lake, so it was only fitting that they use a similar setting, plus a really cute canoe ride for their engagement session with Spencer Studios.
A couple who rows together, grows together.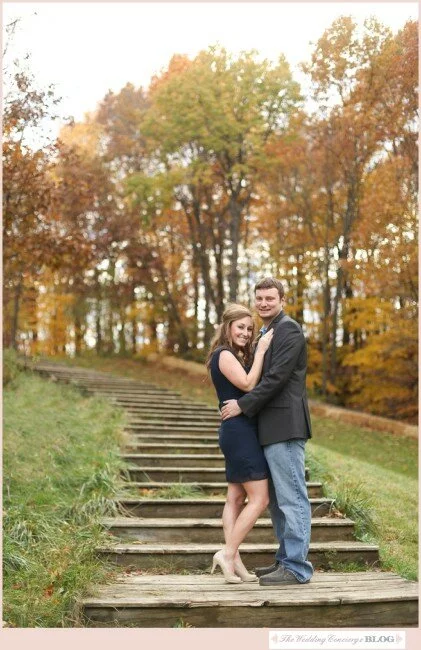 Engaged Since: July 29, 2013
How did you meet?
William and Melissa met on August 7, 2009 through mutual friends. They became friends and quickly started hanging out. Melissa wasn't looking for a significant other, but William kept up the chase anyways. She tried to deny that she was falling for him, but she secretly loved every minute they spent together. They would spend hours talking about life, and hours making each other laugh. They were a quirky pair and brought so much life out in one another. He kept telling her that they'd be dating soon enough, and of course, they were…. the rest is history!
How did he propose?
William and Melissa got engaged during a week-long vacation. They camped in Mackinaw City, Michigan and had planned to go to Mackinaw Island the first full day of their trip, however it was raining on and off, so they decided to taste some great food and go to all of the little shops in Mackinaw City for the day. William had been preparing to propose, but Melissa had no idea. He suggested they go walk down and see if they could get a close-up photo of the bridge, so off they went to walk by the lake and look at the Mackinaw Bridge. After getting some good pictures, and talking a bit, they turned to walk back but William gave Melissa a hug and started talking about how much fun he was already having on the trip, how he wanted to have fun together for the rest of their lives, and got down on one knee at the end of a walking path near the beach, asking Melissa if she would marry him. She started crying and said yes. He got up to give her a hug, and asked her if she wanted to see the ring. She was so shocked she hadn't even looked at it. William showed her the ring and placed it on her finger. She cried even harder because it was so beautiful. William suggested they take pictures of the ring with the bridge in the background, so they got a few good pictures. Melissa was so overwhelmed with emotion that she made them go back to the car and call their family members and friends. A bit later, they sat down to eat at a local restaurant, and their server was so excited to be serving a newly engaged couple. She made it such a fun celebration meal, kept looking at the ring, and gave them a free drink on the house. After they left there, they went to the winery and the young woman pouring also made it so much fun to be newly engaged. They bought a bottle of their favorite wine and enjoyed walking around the shops the rest of the day. It was fun to be engaged throughout the rest of their vacation, where they went to Mackinaw Island, and campground-hopped down the Lake Michigan shoreline. What a great trip with so many memories!
Tell us about the ring!
William chose it on his own, trying to decide between this ring and another ring somewhere else. He thought about it for a month before purchasing it. It has a vintage look to the band and a halo diamond setting. It's perfect for me!
Have you set a wedding date & location?
August 2, 2014 in Lansing, Michigan
Can you tell us a little bit about your wedding plans so far?
We are having a classic, romantic wedding with a lot of ivory, white, silver and petal pink. The groomsmen, ushers and ring bearers will all wear classic black tuxes with bow ties. The bridesmaids will have petal pink sweetheart neckline short chiffon dresses, and the bride will be in a classic ivory gown. White roses will be incorporated throughout, and guests will enjoy a cocktail hour, a plated dinner and a night of dancing with a fun DJ.