A bride with a great personal style is a bride that we simply just can't get enough of.
Today, we bring you the romantic elopement in Paris of Burgess, who is the talented Editorial Director & Stylist behind The Southern Style Guide to her beau, Joshua.
When Burgess & Joshua began planning a traditional wedding, they quickly became overwhelmed with a lot of things that seemingly didn't matter to them. Then one day Joshua asked Burgess, "If you could have anything in the world, what would you want for our wedding?". Her answer came quick and natural. PARIS. She wanted to get married in Paris after she had visited the year prior with her Mother, she saw a bride and groom walking through the city and thought to herself how romantic that would be. They were soon planning their Paris elopement with just the two of them and it was absolutely perfect.
Photos by Catherine O'Hara Photography
Can You Tell Us About Your Personal Bridal Style?
My dress and belt was Ashley Lauren. I loved the drama of the ruffle detail and I thought the dress was structured enough to hold it's own next to the Eiffel tower. I wore Bagley Mischka shoes.
There was a flower shop right up the street from our hotel so I asked Catherine, our photographer, if we could pop in quickly to find some flowers before we headed to the ceremony. I found some beautiful dahlias and had the shop owner put them together in a bouquet with wispy greenery. I loved them so much.

-Burgess
How Did He Propose?
He planned a photo shoot for us with one of our friends who is a photographer. In the middle of taking pictures, he starts to tell me how wonderful I am and then he gets down on his knee and pops the question. Lucky for me, every moment was all captured on film!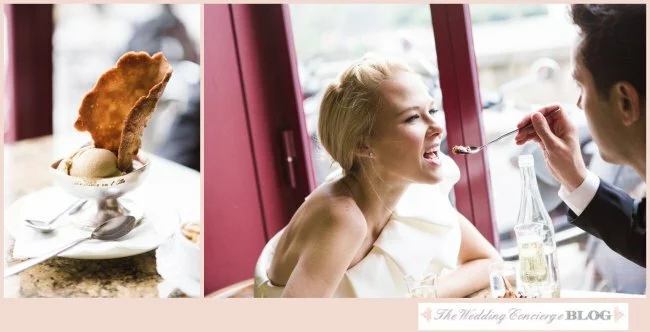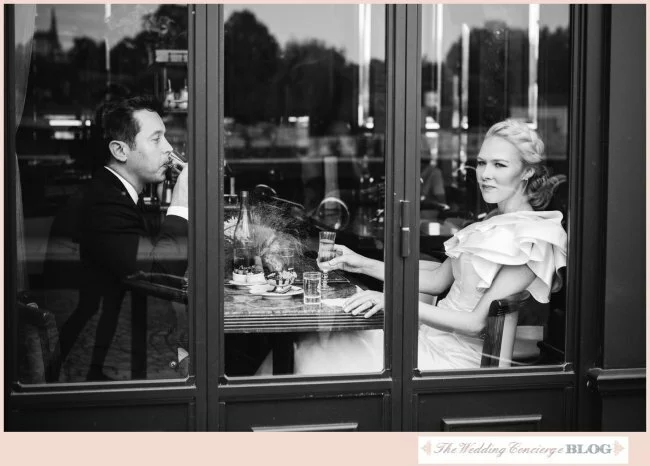 What Was Your Favorite Moment of Your Wedding Day?
We had some time to kill before our ceremony and Catherine suggested that we pop in a café and grab some berthillon ice cream (famous to Ile Saint Louis). We had ice cream and champagne all decked out in our wedding attire before we said, "I do". It was fabulous! A close second would be after the ceremony, at dusk, watching the Eiffel tower sparkle with my husband.
Grooms favorite moment: While we were exchanging vows, a crowd started to gather around us. After the ceremony strangers started cheering and sharing congratulations (in many languages). It was a special moment.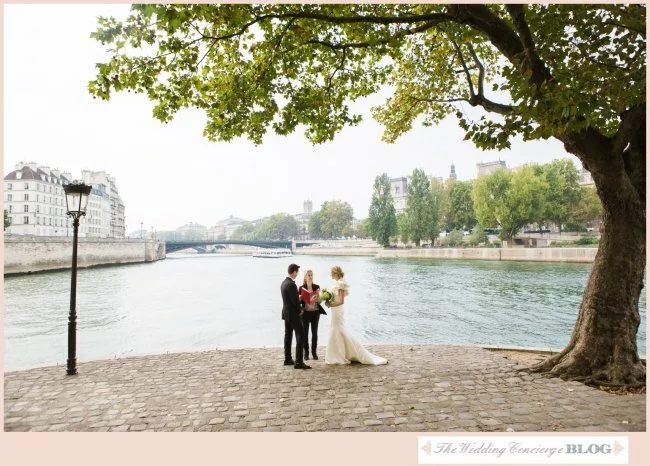 Where Was the Location of Your Wedding?
Our ceremony was on the bank of the Seine at Place Louis Aragon on Ile Saint-Louis.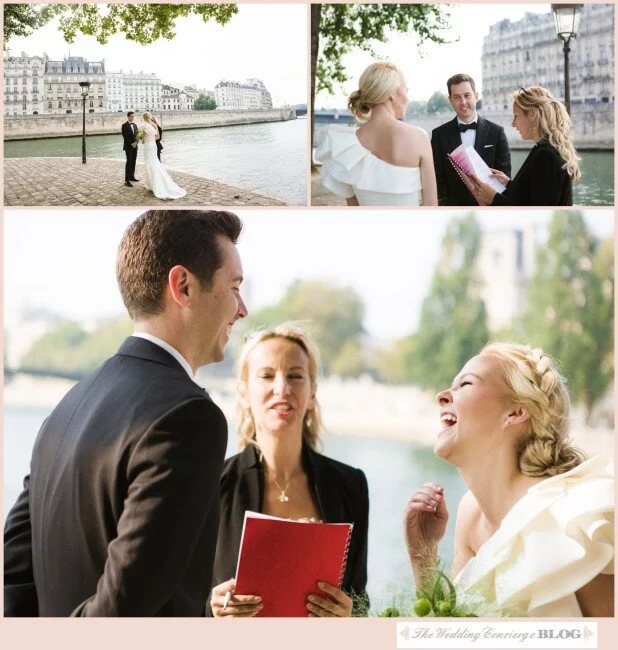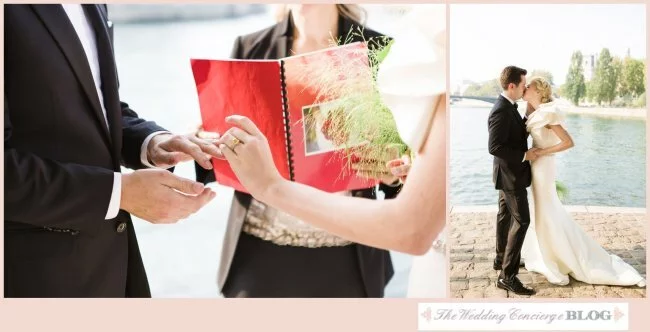 What Was Your Vision For Your Wedding Day?
We wanted it to be classic and elegant but most of all, meaningful and special. When planning a wedding today, you can easily get caught up in the production of it all including everyone's opinions, the designer of your dress, the gigantic guest lists. Our goal was to stay true to ourselves and make the day all about us.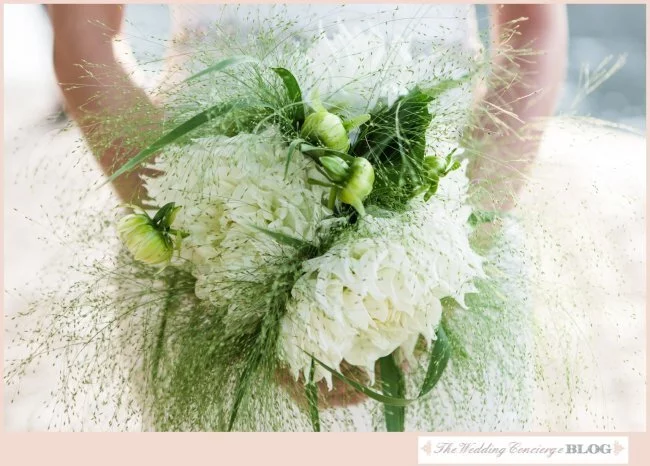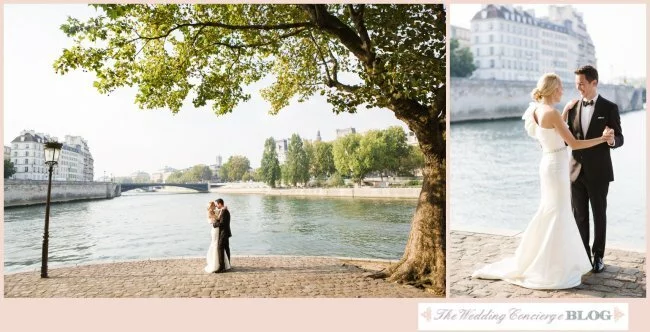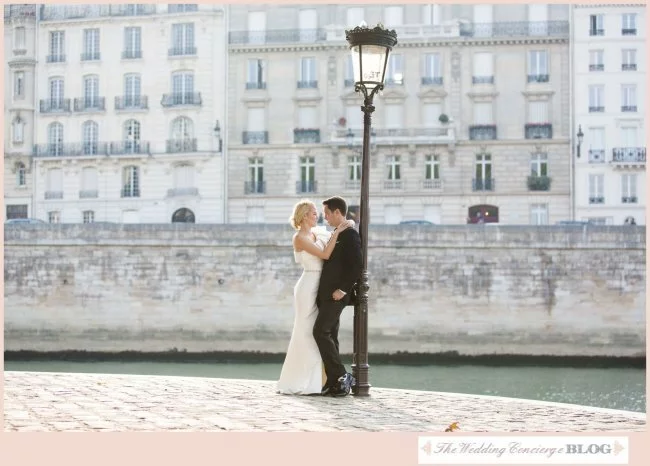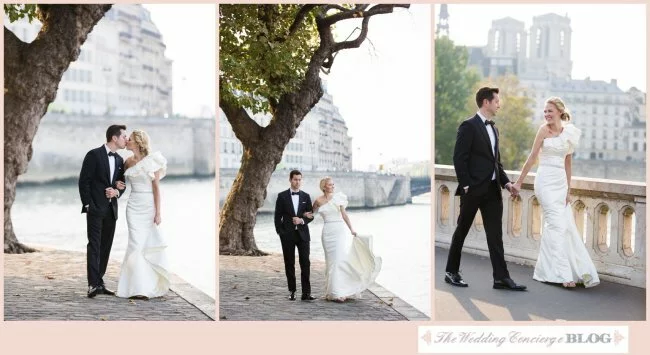 Looking Back, What Was The Best Decision You Made When Planning Your Wedding Day?
Planning a wedding to take place in another country can be intimidating. But with the internet, especially Pinterest, we didn't have a problem at all. I came across our photographer through a feature of her previous work and instantly knew I wanted to work with Catherine O'Hara. She was so laid back and easy to work with and she spoke English, which was a plus! She knew all the places to get the essential shots of Paris landmarks and also some unexpected places as well.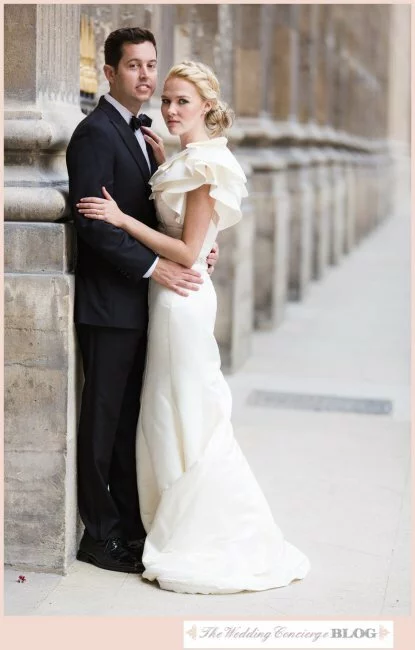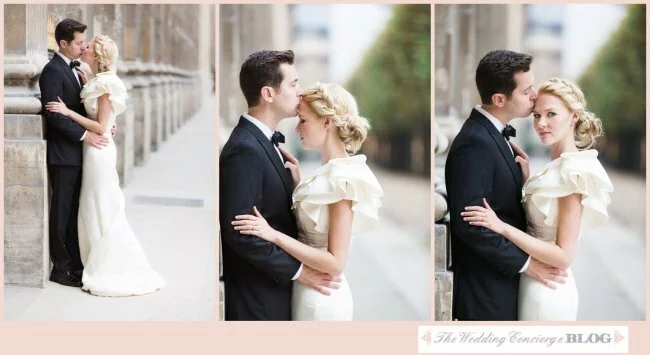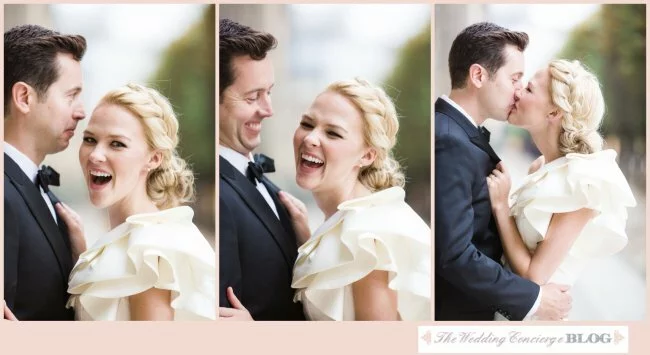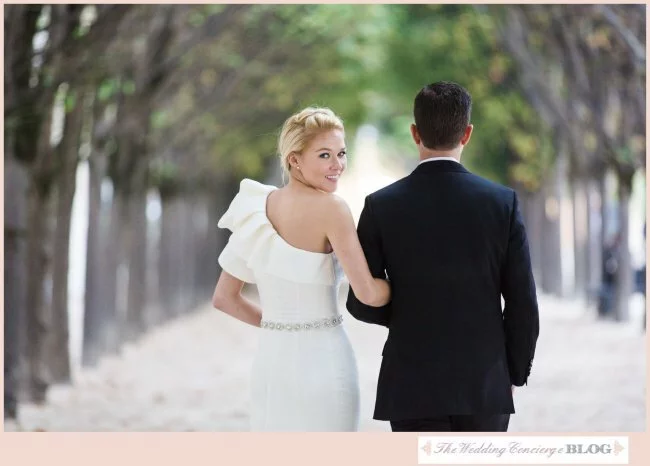 Do You Have Any Advice For Other Couples Planning Their Day?
Be selfish. Do exactly what you want. If it's a huge wedding with all the bells and whistles, do it. If it's eloping just the two of you, well, I can't recommend that option enough! Best decision ever.
After our wedding, we spent the next few days as newlyweds in Paris before heading off to Italy where we ate and drank our way through Rome. It was the perfect trip.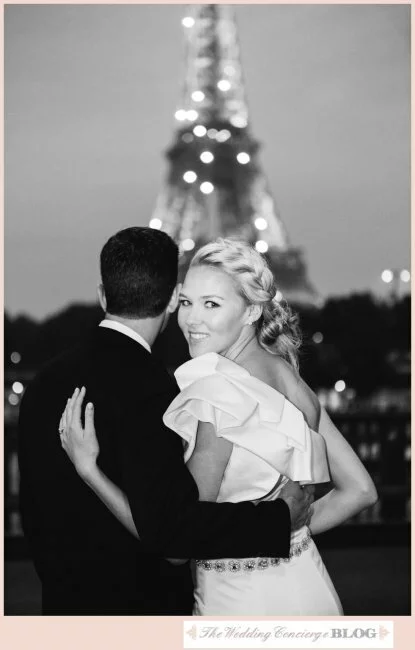 Vendor Credits:
Photography – Catherine O'Hara // Dress – Ashley Lauren // Dress Shop – Viola Bridal // Bridal Shoes – Bagley Mischka  // Grooms Attire – J Crew // Celebrant – Aude Abadie