Introducing our juicy, fruity, vibrant Pineapple Bridal Shower Inspiration Board!
Pineapples seem to be taking over summer so we figured what better way to jump on the bandwagon than by giving brides-to-be some fun inspiration. First of all can we just say how much we LOVE the beautiful hues of yellow in pineapples? Yellow instantly makes people happy and makes you think of warm sunny weather, but oddly enough our inspiration all started when we first set eyes on a pink pineapple. Can you believe it? A Pink Pineapple! Instant fun!
These 2 colors go hand in hand and bring our board together, from coordinating smoothies with straws to the oh so cute Lilly Pulitzer v-neck dress. What party wouldn't be complete without cupcakes and these sweets have an extra special pineapple cookie treat to boot. Jazz up your place setting with fun patterned dinnerware & accessories, and don't forget to add MORE PINEAPPLE!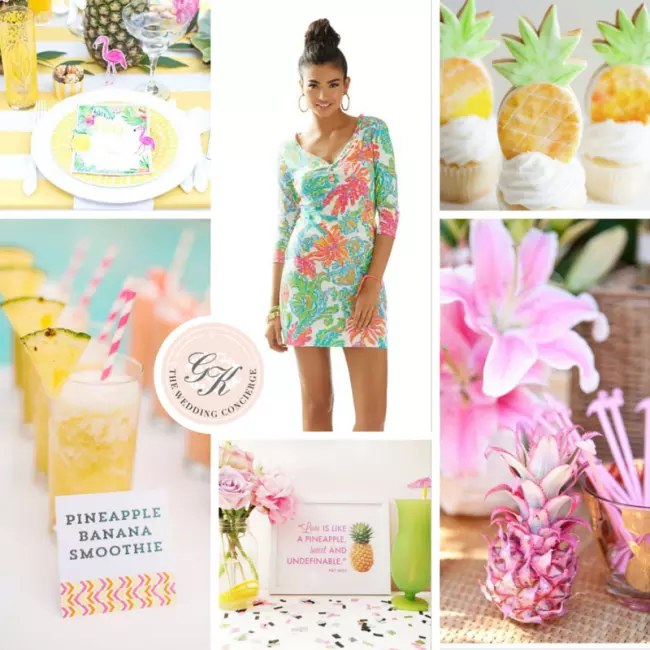 Image Credits:
Place setting – Pizzazzerie via Pinterest // Dress – Lilly Pulitzer // Cookies – Alfajores. Cake. Craft – Andressa Hara of Twinkle Twinkle Little Party // Smoothie – Joanna Meyer – The Tomkat Studio – Ten 22 Studio // Sign – Etsy Shop, All Glammed Up via Pinterest // Pink Pineapple – The Little Branch – Birds of a Feather via 100 Layer Cakae