This gorgeous couple just knew they had to be married on top of the mountain at Chalk Hill Estates in Sonoma. They wanted a traditional wedding paired with a modern luxury style. For the ceremony, the bride and groom donned traditional wedding garb and had a Hindu priest, but their mandap was contemporary and elegant in style, Raksha choosing cream colored draping and blush florals. The effect was stunning! The creamy white mandap created an ethereal glow over the ceremony, and it offset the gorgeous attire of the bride and groom while elegantly framing the spectacular mountain scenery. The day was hot but that didn't interfere with the celebrations of the day. These beautiful images were captured by the talented Evan Chung Photography.
How did you two meet?
Match.com….I "winked" at him and he emailed me back and that was it. He was actually my first ever match.com date….I was probably his 100th. =)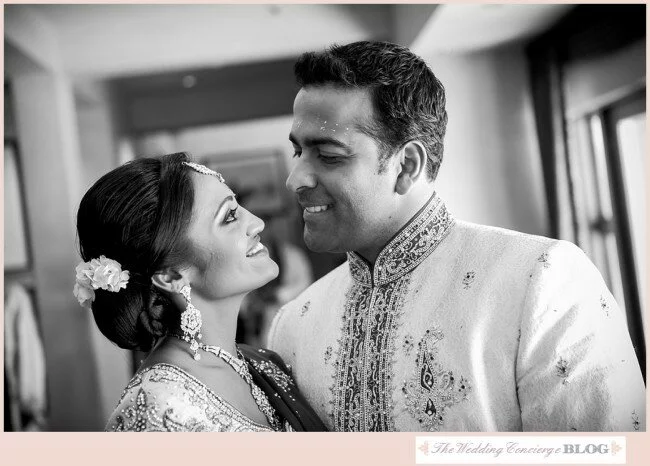 How did he propose?
At the beach, near the Golden Gate Bridge.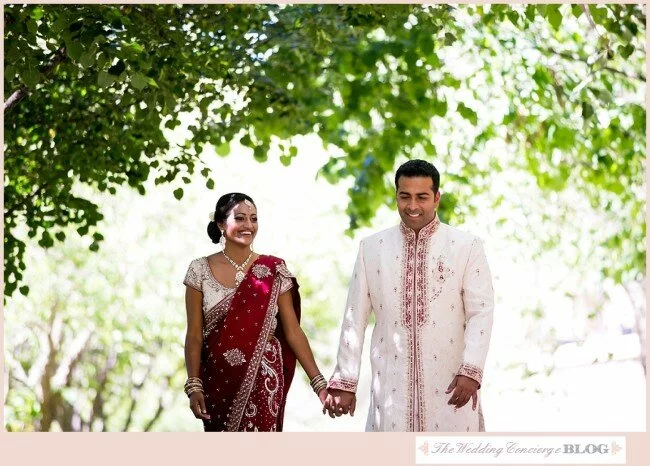 Tell us about your dress!
I wore a traditional Indian attire—a red and cream sari adorned with sworovski crystals for the wedding and for the reception I wore a traditional Lengha which was turquoise and cream with copper threaded embroidery and swarovski crystals all over.
What was your vision for your wedding day?
Elegance, romance, light and a airy blush color scheme.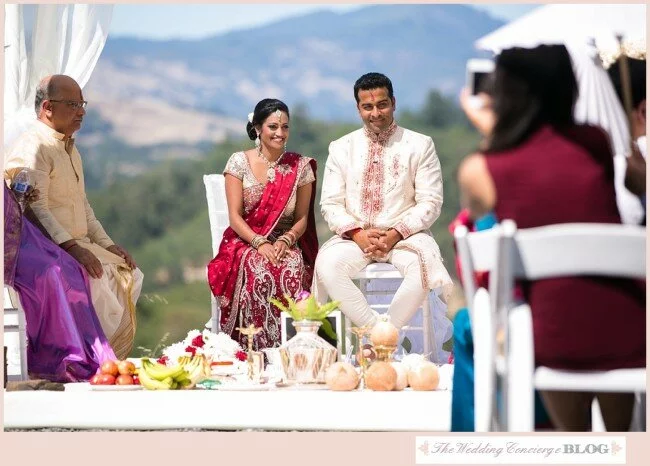 What type of ceremony did you have?
We did a traditional Hindu ceremony that lasted about 45 minutes.
What were your favorite moments from the day?
My favorite moment was waiting outside to do the "first look" with him and the photography prior to the actual wedding. I remember shaking in excitement and disbelief that I was really marrying him that day. His favorite moment was the first look as well as it was the first time he saw me all dressed up.
What was your favorite part of the planning process?
I enjoyed food and dessert tasting!
Do you have any advice for other couples planning their day?
You will likely go over budget so when planning, always make your budget less than you can do.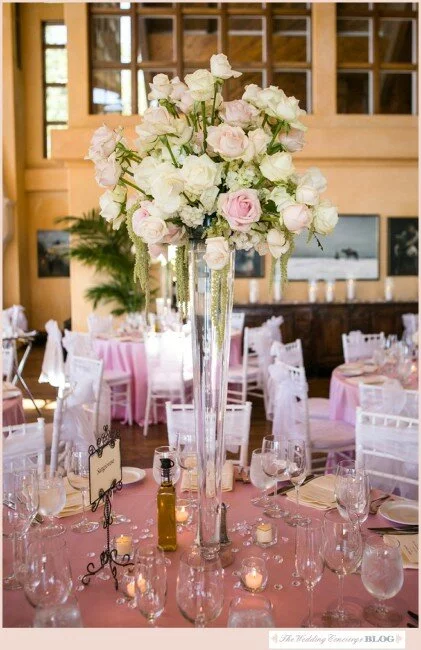 Looking back, what was the best decision you made on your wedding day?
Well the best thing I did was actually see the center pieces prior to the wedding day. Surprisingly enough, I had several conversations with the florist and she assured me that my vision will come to reality so I almost didn't ask for a mock up. However, I started to worry and asked for a mock up and it actually was not what I had envisioned. So within 2 days she re-did the floral design completely.
Vendor Credits:
Wedding Planning – Christine Andrews | Venue – Chalk Hill Winery
Photography – Evan Chung | Catering – Park Avenue Caterers