Kelsey & Dan braved the freezing cold in order to get these romantic engagement photos taken by the talented Willow Lane Photography. I have to say, that their love is so warm, I can barely tell how cold they really were.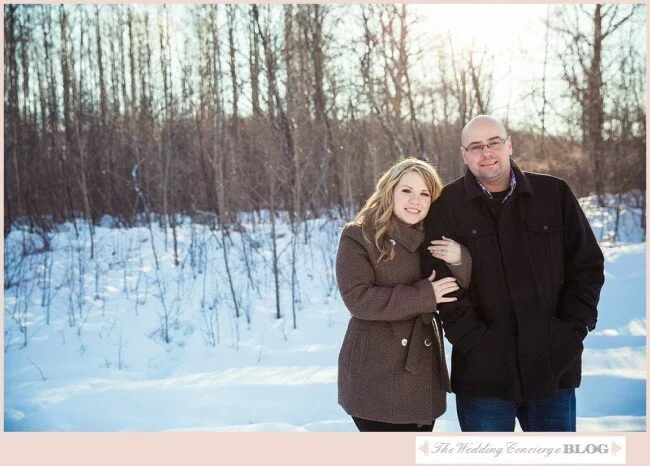 Engaged Since: January 27, 2013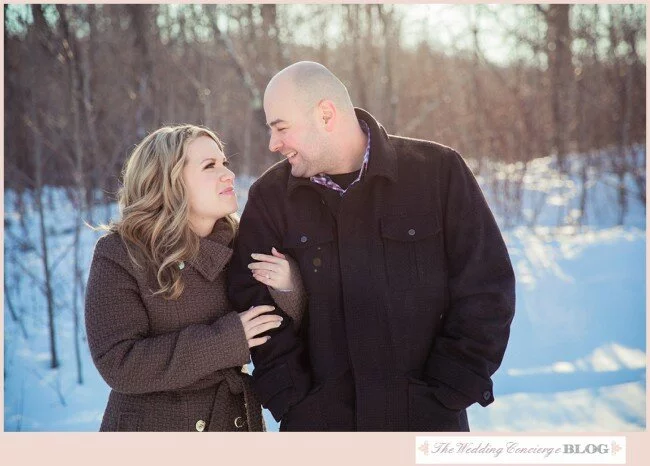 How did you two meet?
Dan worked with my Dad and he soon became a close friend of the family. We first met each other during the summer of 2006 on a camping trip that Dan came on with my family. The moment I saw Dan, I felt it in my heart – this would be the man that I would marry one day! Three years later, we began dating and we have been inseparable ever since!
How did he propose?
It was a cold Sunday morning in January and Dan asked if I wanted to take our dog Mya to our acreage lot so we could let her run around and get some exercise. Somewhat reluctantly, I piled on layers of my winter gear, filled the thermos with hot chocolate and we headed out to the acreage. The sun was shining but the wind was bitter so after about an hour, we decided to head back home. As I was going to start walking back to the truck, Dan got down on one knee in the middle of our snow filled, tree lined driveway, pulled out the ring box and asked "Will you marry me?" We have since begun building our forever home on our acreage lot. The proposal will be a moment that we will both cherish forever as it happened in the place where we intend to raise our future children and grow old together.
Tell us about the ring!
My ring was designed by Natalie K. It is 18 kw white gold with a cushion shaped, pave halo encompassing a 1.03ct princess cut Forevermark diamond for the center stone. The band is lined with a single row of diamonds which extends up the side of the shank.
Have you set a wedding date and location?
Our wedding date is August 2, 2014. The ceremony will be held at Our Lady of Lourdes Catholic Church in Lamoreux, Alberta, with the reception to follow at West River's Edge in Fort Saskatchewan, Alberta.
Can you tell us a little bit about your wedding plans so far?
Our plans are really starting to take shape as we approach the last few months leading up to the wedding. We chose to have a fairly small, intimate wedding with 50 of our closest family and friends in attendance to celebrate with us. Our theme is rustic romance, with lavender and ivory as our wedding colors. We are planning to add a lot of personal touches throughout the reception so that our family and friends really feel engaged. We can't wait to share our day with the people that mean the most to us!
Photography- Willow Lane Photography
Makeup – Makeup by Elizabeth