Winter weddings are so beautiful & magical but sometimes brides are a little intimidated when it comes to designing their seasonal event. Having a winter wedding doesn't always mean you have to incorporate "Christmas" into it, and often many Brides get stuck when seeking inspiration.
Have no fear, today our wonderful contributor Alyssa from CoChic Styling is sharing her expert advice on How to Style a Winter Wedding that are sure to dazzle up your day!
***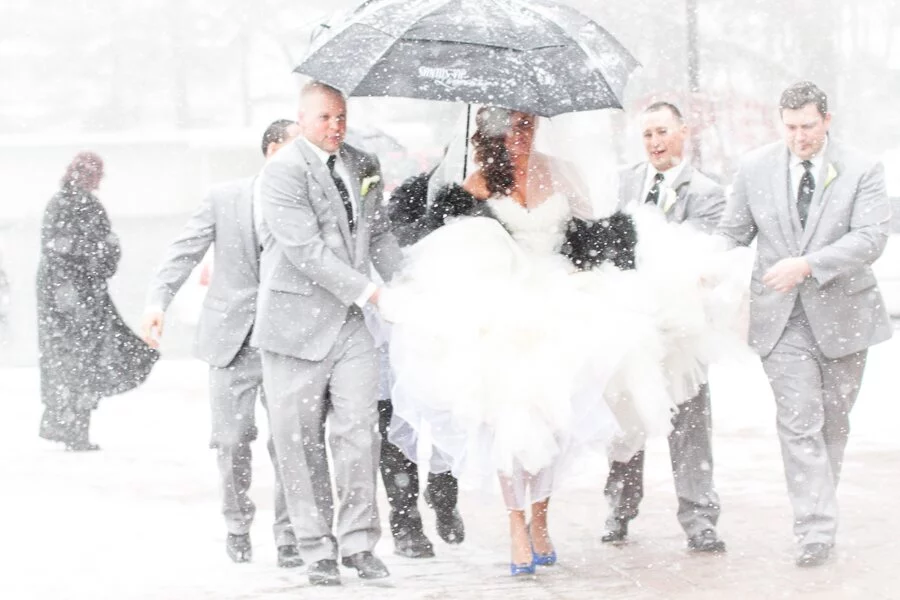 Image by Great Heights Wedding
Winter is not the most popular season chosen by brides- and grooms-to-be, but it is a beautiful time of year for a wedding! You've got a snowy wonderland which makes for stunning photos, snow might be falling to enhance the romantic ambiance, and you can wear fun accessories like fur shawls! While the season may require a darker color scheme or some layering, winter weddings are easier to style than many brides think – and not much different from styling a warm-weather wedding. Here are three styling ideas for a magical winter wedding.
Glitz & Glam
Even if you're not a huge fan of glitter, you can pull off a glitz and glam winter wedding without looking over-the-top or cheesy.
Here's how:
– Choose beaded dresses, instead of full-on sequin gowns.
– Choose a bridal gown with hints of glitter like the rose gold dipped dress in the photo below.
– Incorporate "glitz" in the details, such as the table settings and the bride's purse and shoes.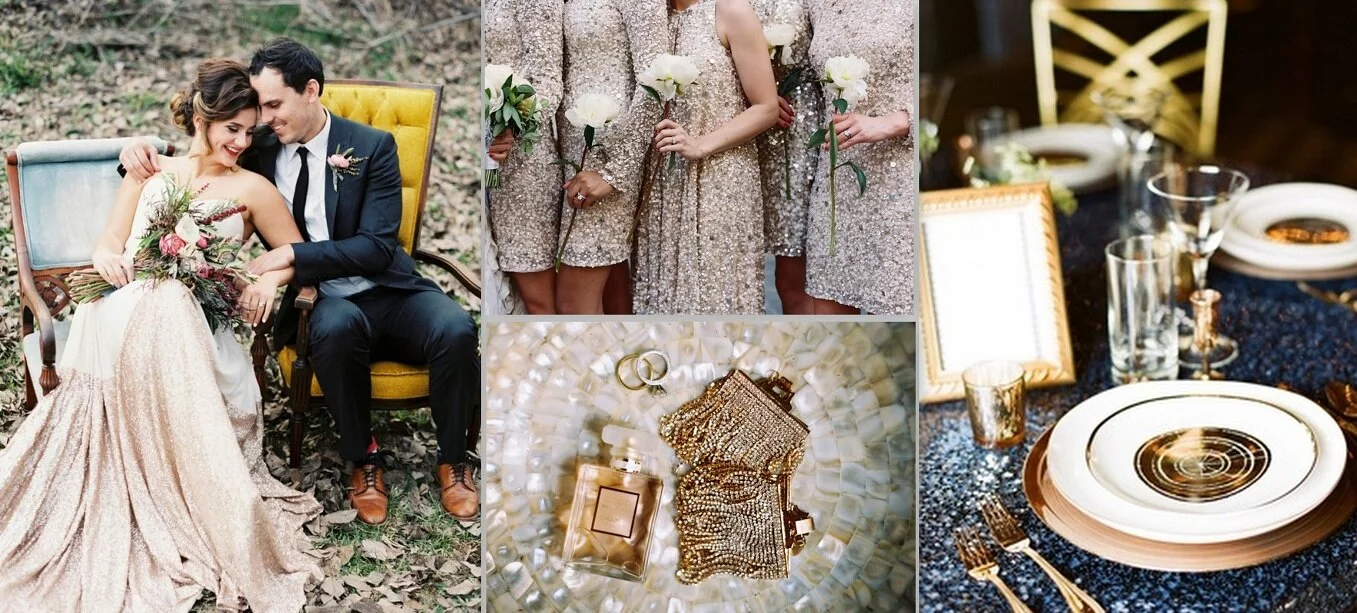 Images by :
Caitlin B Photography // Tec Petaja Photo // Melissa Jill Photography // Tec Petaja Photo
Romantic & Chic
Snow and tasteful fur (or faux fur) make everything look and feel more elegant. Here are some tips for the perfect Romantic & Chic wedding:
– Wear a fur stole over a wedding dress or bridesmaid dress and it instantly elevates the look.
– A deeply hued color scheme makes the wedding more formal, and is appropriate for the winter season.
– A long-sleeved bridal gown can be worn for a winter wedding! Kate Middleton. That's all I have to say about that.
– Long bridesmaid dresses will not only keep your bridesmaids warm; they will look more appropriate for the season. No one want to wear short dresses in February (if you live somewhere cold)!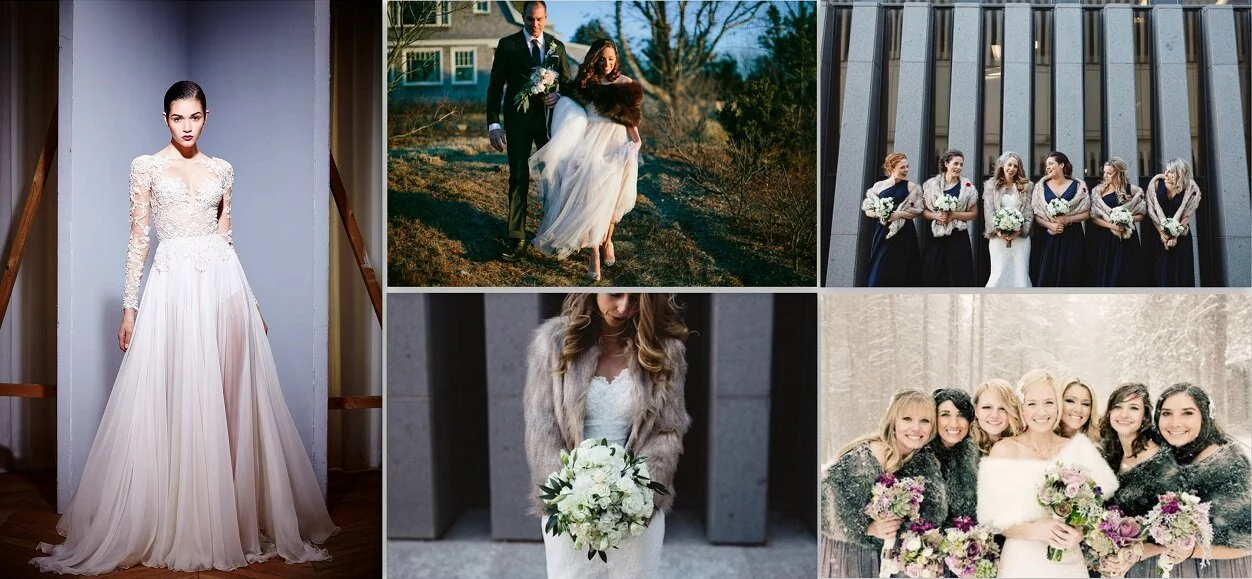 Images by:
Zuhair Murad // Lisa Rigby Photography // Modern Pixel Photography // Green Wedding Shoes // Modern Pixel Photography
Winter White
I absolutely love when the ladies in the bridal party are wearing all white, or shades of white. And it's even more stunning in the winter with a snowy white backdrop. It's an antiquated sentiment that only the bride can wear white! Here are some tips to pull off this unique style:
– The bride needs to be differentiated from the bridesmaids if everyone is wearing white tones. This can be done by making sure the cut of the bride's dress is different from the rest, adding accessories like a colored shawl (either for the bridesmaids or the bride), differentiating the fabric of the bride's dress from the bridesmaids' dresses, or by the bride wearing a different shade of white from the bridesmaids.
– Mix different shades of white or dress styles to add interest.
– Your flower color options are endless with white dresses. That's where you can choose to add pops of color or stick with a pretty, white palette.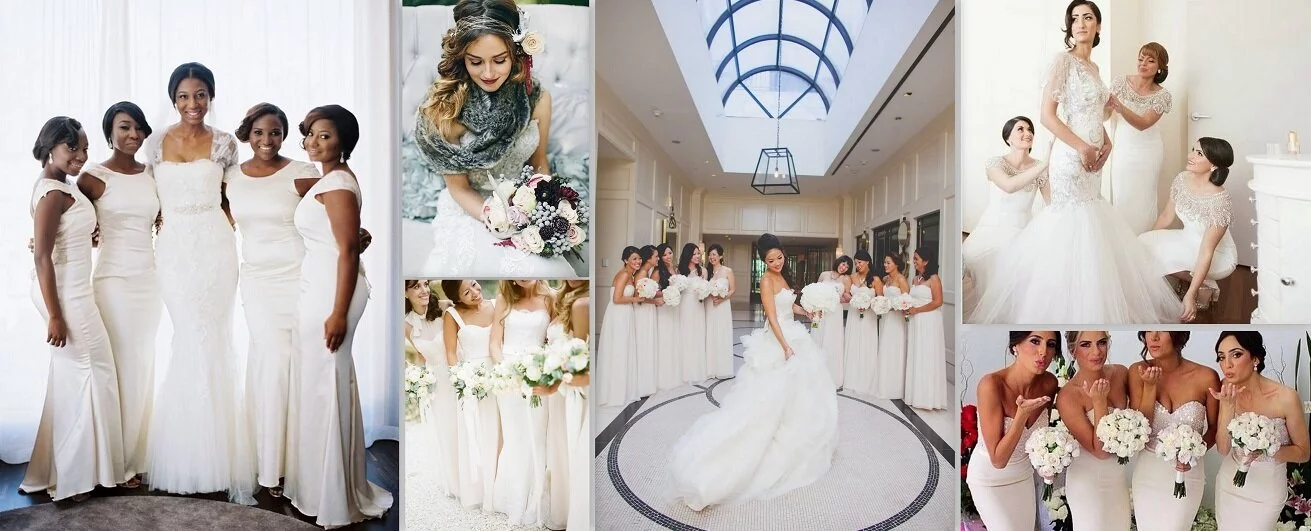 Images by:
 2brides Photography // Photography by Charise // Christine Farah // Emilio B Photography //  It Girl Weddings // Brosnan Photographic
***
Thank you so much, Alyssa for contributing. For more styling tips by Alyssa, be sure to check out her website, www.cochicstyling.com and follow her on Instagram.