We're thrilled to have a special guest on the blog today! Lauren Bialek-Sachs, Owner of Sweet City Candy, is here to answer a big question that many brides have when planning their wedding: How to create the perfect candy buffet? If you know that a candy table is a must have, and you aren't quite sure how to pull off the perfect display with just the right amount of candy for your guest count, then there's no better person to educate you on just how to achieve this to a level of pure perfection than Lauren!
Look for more of Lauren's beautiful creations and tips on various candy table themes in upcoming blogs here on The Wedding Concierge!
******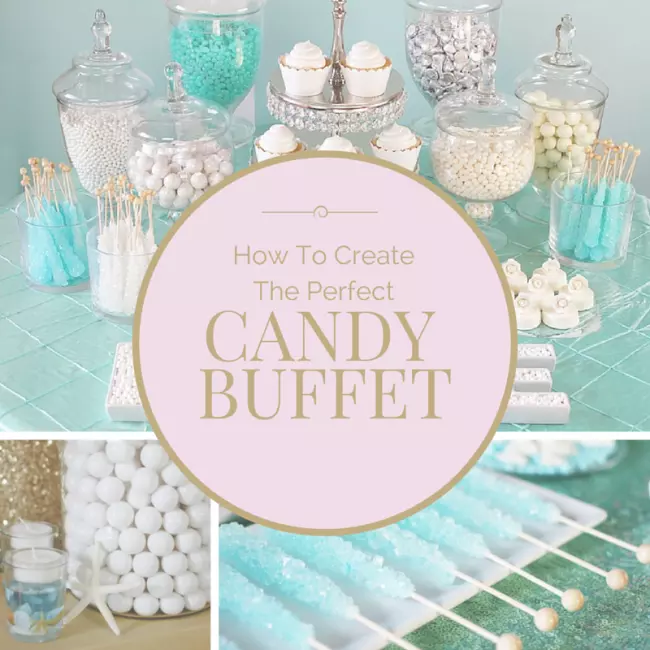 Your big day is coming soon and it's time to put the finishing touches on your wedding reception. The venue is booked, the DJ or band is scheduled, the cake is ordered, and the décor details are falling into place. What's left to do? Put together the perfect candy buffet for your guests. Candy buffets are still trending as one of the most popular activities at weddings because it checks off so many things on the must-have list:
– Something sweet for guests of all ages to partake in
– Party favors that make everyone happy
– An activity for people to do between dancing, drinking, eating and mingling
– A gorgeous display that is coordinated to complement the wedding color
palette and theme
What's that, you say? How do you get your candy buffet to coordinate with and complement your color palette and theme? We're here to tell you exactly how to do that.
Step One – Quantity
First things first – how much candy should you buy? This is the most common question we get when helping brides and event planners plan their buffet. The rule of thumb is 8-ounces or a half-pound of candy per guest. Some guests will take more than their share and others less, but it usually evens out. Therefore, if you have 150 guests at your wedding, you should plan to have approximately 75 pounds of candy for your candy buffet.
Step Two – Colors
Take a look at the wedding inspiration board and color palette that you (most likely) got from The Wedding Concierge. The colors in your palette can easily be matched with candy to ensure that this buffet is on point with the style of your wedding. You'd be surprised how many types of candy are sold in individual colors, making it easy to pick and choose only what you want. By the way, it's perfectly acceptable to have various shades of one color as part of your buffet, and it actually adds to its visual appeal. It's virtually impossible to guarantee that colors will match exactly across types of candy, especially if they're coming from different manufacturers. The key is that there is a cohesive element to the candy, so it doesn't look totally random.
One great way to personalize the table is to have a special section of Bride's Favorite and Groom's Favorite candy. If the so-called favorite candy doesn't match the color scheme, have no fear! Simply package that candy in a customized bag, box or wrapper that goes with theme and voila – problem solved.
Step Three – Selecting Candy
Ok, so you know your quantity and you know your colors. How do you ensure that you have a well-rounded candy buffet? You should plan to have not only a variety of candy types, but also candy sizes on your table. Milkies, Sixlets, gum balls, gummy bears, jelly beans and malt balls are the foundation of the smaller candy that fill the large containers. Including candy like Whirly Pops, rock candy, movie theater boxes (wrapped to match the color palette, of course), and chocolate covered pretzels all give the table the size and texture variety to really make a difference.
Step Four – Setting It Up
To display your coordinated candy, glass containers (or clear plastic) of varying sizes are the most common way to go. Cylinder glasses, apothecary jars, fish bowls, vases – they can all be used. Make sure each jar has a scoop, spoon or tongs. The trick to making sure your buffet has some order and logic is to have different tiers – highest jars in the back, mid-sized jars in the middle, and small containers or serving dishes in the front.
One thing that works great is to use one type of candy as the base for another type of candy. For example, fill the bottom third of a jar with Sixlets then place rock candy face down on top. Or use gum balls as a layer underneath sugar cookies or chocolate covered pretzels. The layering gives any extra candy a purpose and really adds an eye-catching element.
Step Five – Finishing Touches
Here are some tips to add the perfect finishing touches to your buffet to make it absolutely perfect for your event.
 Don't forget a coordinating tablecloth, table skirt, and backdrop for your candy display. The backdrop is especially important if your candy buffet is against a wall. These things will help bring it all together and make your table a focal point for the reception's décor.
 Make sure to order some extra smaller floral arrangements to use on the candy buffet, or if you're on a tight budget reuse some from the ceremony or ask your bridesmaids to "loan" theirs out as additional décor during the reception. If you have a very specific wedding theme then this is also a great place to reinforce that with coordinating items. For example, if you're having a beach themed wedding, use seashells, sand dollars and other beach items on your table. Candles can make great additions too, just be careful where you place them so no one accidently sets himself on fire while reaching for the chocolate.
 Printables are a MUST for your candy buffet, not just because they help hammer the theme home, but people really appreciate candy being labeled in case they are allergic to nuts or aren't sure if they're looking at a gum ball or a jawbreaker. Plus, coordinating printables like circle tags, name placards, bunting, etc. – can really take your buffet over the precipice from DIY to professional.
By following these simple steps, you can easily create the perfect candy buffet to seamlessly match your wedding theme and color palette. Now you have all of the tools – and a few tricks of the trade – to make a memorable, coordinated buffet table for your upcoming wedding!
Brief Bio: Lauren Bialek-Sachs is the founder and owner of Sweet City Candy, an online destination for premium quality bulk candy, nuts and chocolates based in New York City. Sweet City Candy offers an extensive variety of traditional, novelty and gourmet candy at wholesale prices, shipping nationwide. Additionally, Lauren provides customized on-site candy buffet services for weddings and events in the New York Tri- State area.
All photography was styled and photographed by Tonya Coleman for Soiree Event Design, using candy from Sweet City Candy.