This weekend is Valentine's Day, couples around the world will be celebrating their love, but this year why not do something out of the ordinary and celebrate the love you have for your best ladies and have Gal-entine's Day!
Lately we have been seeing the word Gal-entines throughout all of our social media, and we Adore the idea of taking the time to Adore the girls closest to you, the ones who have been with you through thick & thin, the ones you call to go out for ladies night and the ones you call when you need a pick me up. That's why today's blog is all about rejoicing friendship, hello Gal-entine's Day Party Inspiration!
What would a valentines party be without lots and lots of pink & red hearts? In our opinion this is definitely NOT one of those times when less is more, we have jammed our fun, girly inspiration with as much frills as possible. Heart accents along with confetti, sequins & gold touches illuminate our vision bringing with words, "Girls Just Wanna Have Fun" to a whole new meaning.
With all this magic happening we are ready to get our party on! So, what are your plans for V-Day?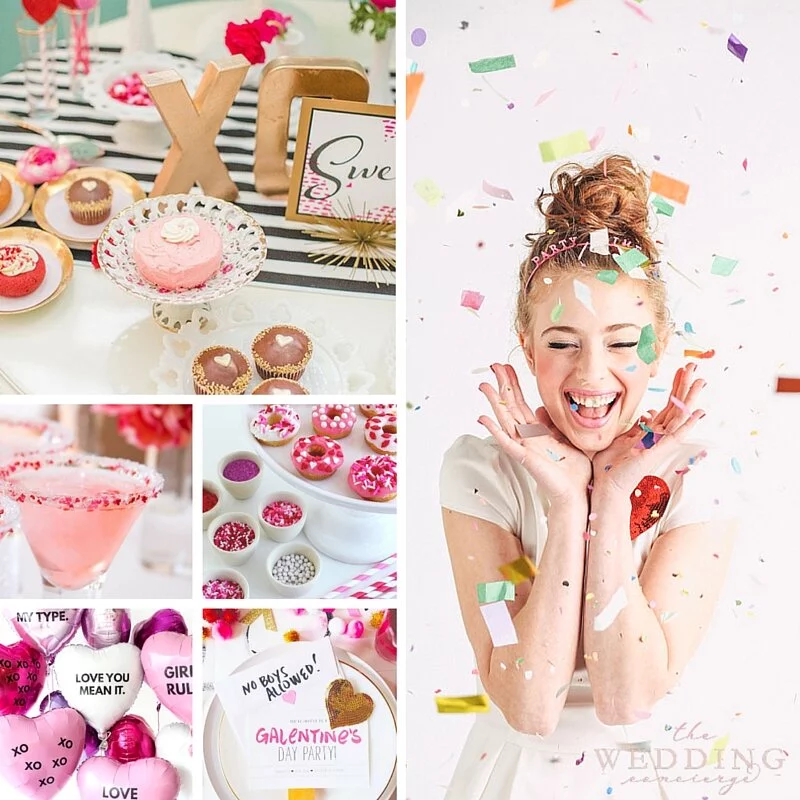 Image Credits:
Party Girl: Max Wagner via Decor 8 // Table Decor: StyleEsque – Topped Doughnuts – Gateway Market – The Cake Confectionery – Aly Carroll – Ephemera – Shelly Sarver Designs – Poppy & Olive's Vintage Rentals  via 100 Layercake // Cocktail: Dell Cove Spices // Donuts: Crazy Style Love // Heart Balloons: Studio DIY – Jeff Mindell Photography // Place Setting: Brooke Courtney – Walk in Love