Caila & Mike met when Caila's cousin got married, they were both in the wedding party and instantly hit it off. It wasn't until two years later that they would meet again, at another wedding, and luckily this time they were both single. While Caila lived in Georgia, and Mike in New York, it wasn't easy for them to casually go on a date. They exchanged information and spent the next weeks and months getting to know each other. Mike made a trip to Georgia to see Caila, and their fate was sealed. They knew they really wanted to make an effort at this relationship, despite the distance. After three and a half years apart, Mike proposed and Caila packed her bags and headed for the big apple to start a new life with her one true love, Mike.
Surrounded by friends coming from over ten different states, they were married this past May in a beautiful Casa Larga Vineyard Wedding!
Images by 13one Photography
How Did He Propose?
Caila had been working towards finishing college, while Mike worked out in New York. Each traveled back and forth every 3-4 months to see one another, all while remaining just as connected as they were on day one. On July 30, 2012, Mike flew into Atlanta for Caila's graduation. The day was full of celebrations being spent with family. That evening Caila, Mike, and her family, all sat around talking and reminiscing. As Mike patiently waited for what might have been the most nerve racking moment of his life, Mike insisted Caila needed to open his gift to her for graduation. The two of them walked over to the guest house and as Caila sat on the couch, Mike ran downstairs to grab his gift. Mike then gave Caila her gift that he spent so much time on. As she opened the gift wrap she noticed a beautifully engraved photo album with the words, "This Moment Contains All Moments", a quote by C.S Lewis, along with the words "My Love" underneath. As she flipped through the pictures of each of them together over the last three years, the two of them had tears in their eyes and smiles across their faces. It wasn't until the last two pictures were flipped that nothing but surprise, excitement and happy tears ran across their faces. The last two pictures contained a picture of the words "Will you marry me" written in sand, along with a picture of the ring that Mike spent hours designing. With tears running down both of their faces, Caila finally was able to verbalize the words "YES!", along with Mike reassuring her that, yes, her parents were very aware of all of this happening and gave complete support to this next step in their relationship. Throughout the week, the two of them were able to share the news with family and friends and celebrate what is now the best day of their lives.
Tell Us About Your Dress!
My dress was an ivory, A-line, Casablanca dress. A soft beaded lace gown, that has a deep sweetheart neckline with an organza and lace ruffle skirt. Matching lace covered buttons go down the entire bodice.
Something Old, Borrowed, & Blue
I had a mix of several things that signified my old, borrowed and blue; On my flowers, I had a piece of my grandmother's vail wrapped where my hands would hold it, along with a blue sapphire cross necklace that my mom gave me back in Highschool that I always wear. My mom also took a blue tie of my dad's and we had it cut into a heart shape and sewn into the heart of my dress. My mom also had my baby bonnet that I went home in from hospital stitched with my old initials (CAH) and my new initials (CHW), along with our wedding date, which was sewn into the skirt of my dress.
What Was Your Theme For Your Wedding Day?
We wanted it to be a vineyard theme, traditional, classy, and with a little funk to it!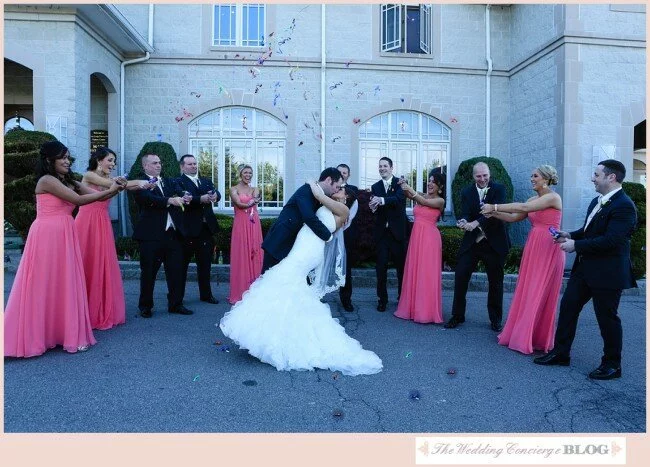 What Was Your Favorite Moment Of Your Day?
Caila: There are way too many! But I guess I would have to say, the moment I woke up! I was so relaxed and ready to take on the day and experience every moment! From spending time with my mom and bridesmaids, to getting ready, to seeing my dad and brothers and of course to seeing Mike and say our marriage vows, and then the reception was a blast! I could go on for days! I truly can sit here and say that I felt like I didn't miss a thing or feel like it flashed before my eyes. I got to embrace it all!
Mike: The limo ride after the reception and going to High Falls with our wedding party to take pictures! We had a blast and a lot of memories were made; Also enjoyed all the dancing and music at the reception after dinner.
Do You Have Any Advice To Other Couples Planning Their Day?
Yes! Embrace every moment of the process. You only do this once, so make it as memorable as it should be. There will be excitement, frustrations, tears, drama, laughter and each of these emotions should be embraced! Also, everyone around you will have their opinions. Take them with thanks, but always resort back to what you and your fiancé what your day to be like. In the end as long as you are accomplishing what you set out to accomplish, when he proposed, than that it all that matters! Remember, this is about you two, and you two only as you start this next step in your journey.
What Is Your Best Advice For Other Couples Dealing With Long Distance?
Communication is key! It will get you through the most difficult and most amazing times during your relationship! This will also be the best thing to have once you are together all the time. Many relationships struggle with this piece, and despite the long distance being a very difficult thing, it will also be a blessing in disguise for you both later down the road.
What Song Did You Use For Your First Dance?
We Both Know by Gavin Degraw and Colbie Caliet. We chose this song after going back and forth with many others. Then one night, Mike and I were sitting down watching the movie Safe Haven, based on the book by Nicholas Sparks (who Caila is a huge fan of), and during the end credits this song played. Both of us were sitting in tears as we immediately knew this would be our first dance song. It was relatable on so many levels in our lives and in our relationship (especially after spending over 3 years doing long distance).
Where Did You Go On Your Honeymoon?
We went to Riu Palace Aruba! It was absolutely phenomenal! We would recommend it to anyone!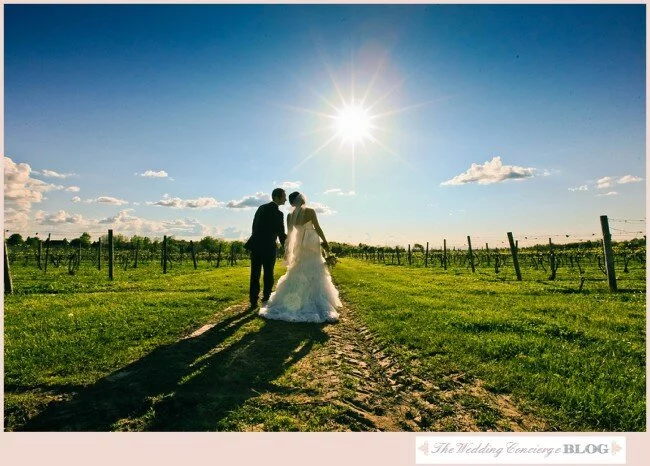 Vendor Credits
Venue – Casa Larga Vineyards // Wedding Planner – Amber Crawford of Casa Larga // Photographer – 13one Photography // Cake – Upper Crust Cakery // Hair & Makeup – Woodcliff Hotel & Spa // Dress – Casablanca Bridal  // Dress Shop – Wedding Angels // Bridesmaids Dresses – Bari Jay (style #555) // Florals – Wegmans Florist
Submitted via Two Bright Lights