Nina & Sammy's love story begins long before many couples' ever meet. They met when they were kids, she was 10, and he was 12. At the time, their families were attending the same church. Nina recalls having the biggest crush on Sammy. When their families ended up switching churches, Nina and Sammy didn't get to see each other anymore because they didn't live close. They did however grow up having a very important mutual friend, Dan, who would end up being the one to bring Nina & Sammy back together when Nina was 17. After reconnecting that day, they have never left each others' side again. Their wonderful friend Dan, was of course Sammy's Best Man at the wedding. They were married in an elegant celebration surrounded by all of their family and friends at Carlyle at The Palace in New York.
Images by EXO Photography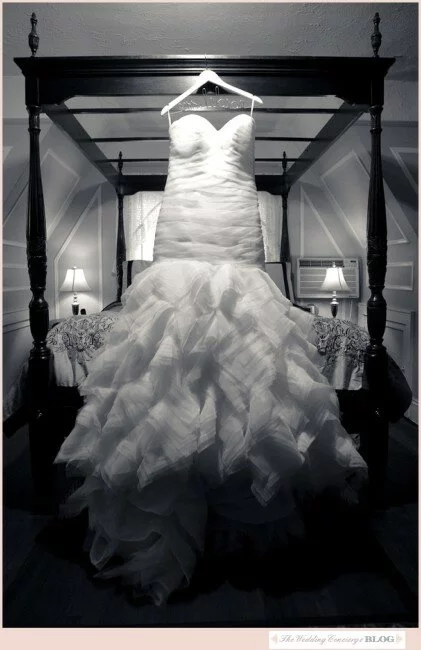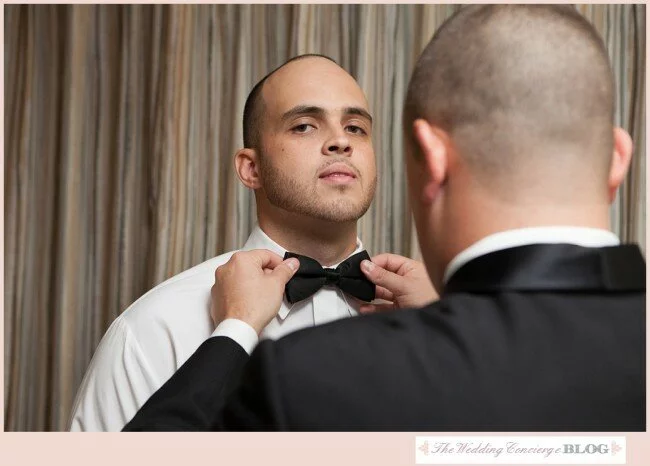 How Did He Propose?
Sammy proposed to me in Central Park in mid February 2013. He planned a whole day in the city, which started at the Empire State Building. We had never been there together so it was a really great experience. After, we had plans to "meet up" with friends to go ice skating in Central Park. That never happened. Instead, Sammy made it seem that we were searching for the ice rink, but instead he was searching for the perfect spot to propose. We came to a secluded section in the park where there was a little lake and the tall buildings in the city were reflecting in the water and it was just beautiful. I decided to take a picture, and when I turned around to show Sammy, he was on bended knee! I immediately started crying, and he said to me that he loved me more than anything in this world and asked if I would spend the rest of my life with him as his wife. I of course said, YES! Then when I saw my ring I said YES YES YES! It was the most perfect ring. He had it specially made and it was exactly what I wanted. After settling down, I called my parents, siblings, and close friends. Sammy then told me that he made reservations for us at an Italian restaurant in Times Square. At that moment we could have been going to eat garbage, I was so happy nothing was going to bring me down. When we got to the restaurant we walked upstairs to get to our seats and there sitting at a long table is every special person in my life, my parents, siblings, his parents, his sister, and all my close friends that would be in my bridal party, just waiting there to celebrate with us. It was an amazing moment. I can honestly say, it was the best day of my life (since this was prior to my wedding day, which is now the best day of my life!). My husband planned everything so perfectly, I couldn't have asked for anything better!
Tell Us About Your Dress!
Well, this is an interesting little story. My sister was engaged about 6 months prior to me. So she started her dress shopping before I was even engaged. The first appointment that she made was for Klienfelds in the City. Since they didn't have any availability right away she had about 2 months before she could go there, so in the meantime she shopped at other Bridal boutiques and ended up finding her dream dress! Since the Klienfelds appointment was so difficult to come by she didn't want to give up the appointment or the experience, so we still went in December of 2012. Well, on our way to the City my sister told me she had no intention of trying on dresses and that I was going to be trying on dresses. Since I wasn't even engaged at the time I thought that was absolutely ridiculous. Considering Sammy and I had been together for so long and we both knew he was going to propose soon she convinced me to try on dresses that day. The first dress I put on was absolutely beautiful, the second dress I put on blew me away and I instantly felt that feeling that every girl dreams about. The dress designer was Dennis Basso and it was a white fit and flare. I knew this was my dress. Without a ring or my mom even with me for the appointment I decided I could not leave that day without this dress being mine. So I said YES to the Dress! I called Sammy as soon as I got out of there and told him I got a dress, he said now all I needed was the groom! 2 months later I got him! My shoes were made by my cousin Madison. I really wanted teal/turquoise peep toe pumps with lots of bling! However, I could not find anything that resembled what I had envisioned in my head. So, my crafty cousin decided to take matters in her own hands and made me the most perfect shoes! She found teal peep toe pumps and hand placed over 600 gems covering the entire heel. THEY WERE AMAZING!
When Sammy and I first started dating we were pretty embarrassed to say 'I love you' to one another on the phone while we were in front of our parents. To avoid this embarrassment we decided to change up the words. Since we both LOVED the cereal Froot Loops, we decided that we would say "Froot Loop" instead! On our wedding day instead of bubbles or bird seed we had our guests throw Froot Loops as we walked out of the church!
What Was Your Vision For Your Wedding Day?
When I envisioned my wedding day I saw a great venue, with great food, and great music so all my guests were up on the dance floor. My vision came to life on September 14, 2013. My husband and I chose Carlyle at the Palace as our venue because it had the edgy modern vibe that we were looking for. Between the advanced lighting system in the room and the chandeliers hanging from the ceiling with the dark cherry wood floors, and the white lounge furniture; we knew we found the perfect place for us! In addition to the décor, the food was amazing! The variety of food from their extensive menu made it so hard to choose our final choices, because everything sounded so good. In addition, our DJ was amazing! He played all the best music that had our guests up and dancing the whole night! Overall, it was a perfect location and perfect DJ for us and all of our guests still talk about how great our wedding day really was!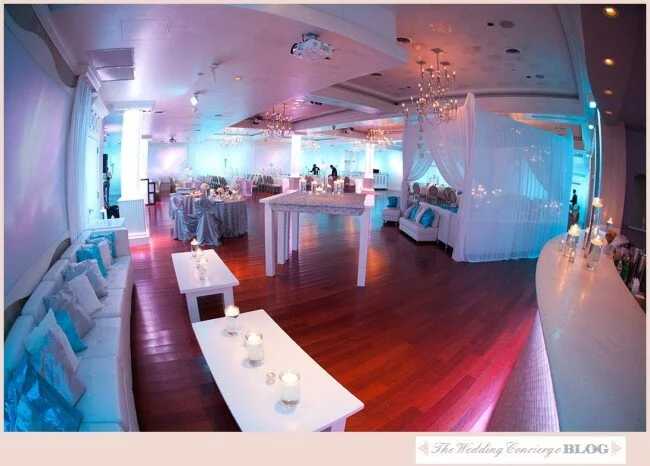 What Was Your Favorite Moment Of The Day?
Walking into our venue and seeing our room for the first time was so magical. The designer decorated the room exactly the way we wanted and the décor just blew us away. Also, hearing all the guests say things like this is like a David Tutera wedding was a huge boost of confidence that it all worked out perfectly! Every moment was truly my favorite moment that day, from my first dance with Sammy to dancing with all our friends and family and my dance with my father. It was just a perfect day!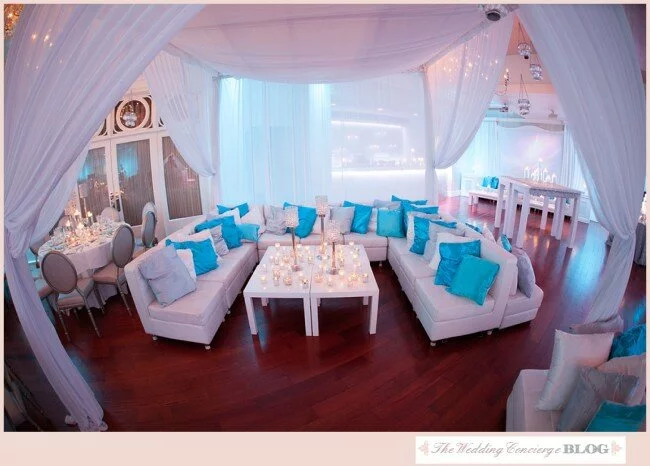 What Was Your Favorite Part Of The Planning Process?
I really did enjoy planning every aspect of my wedding! If I had to pick just one part as my favorite, I guess I would have to say choosing my venue! Sammy and I both wanted something with a cool vibe that our guests would feel like they had just stepped into a chic nightclub or lounge. We found that in Carlyle at the Palace. Overall though, the whole experience was such a great time in my life and I would do it all over again and again!
What Song Did You Use For Your First Dance?
Our first dance was to Alicia Keys, "If I Aint Got You." This song came out exactly around the time that Sammy and I started dating back in 2004. The song always meant something to us, so we knew there was no other option for our first dance!
Where Did You Go On Your Honeymoon?
We celebrated our honeymoon in St. Lucia. We stayed at the Sandals La Toc Resort. The resort was perfect and the island was absolutely beautiful! We had an amazing time and I would definitely recommend other couples to honeymoon there!
Vendor Credits
Photography – EXO Photography // Venue – Carlyle at The Palace // DJ – Enriquez Entertainment // Florals – Flowers by Burton // Dress – Kleinfield Bridal // Transportation – RJ's Limo // Cake – Francesco Bakery // Grooms Attire – Esquire Tuxedo // Bridesmaids Dresses – Joielle
Submitted via Two Bright Lights